Tributes for ex-Iran President Akbar Hashemi Rafsanjani
08:28 • 09.01.17
Iran's Supreme Leader Ayatollah Ali Khamenei has led tributes to former President Akbar Hashemi Rafsanjani, who has died at the age of 82, the BBC reports.

Ayatollah Khamenei hailed a "companion of struggle" despite their differences, saying this was a "difficult" loss.

President Hassan Rouhani praised Mr Rafsanjani as a great man of the Islamic revolution.

The government has announced three days of mourning, making Tuesday a public holiday for his funeral in Tehran.

Mr Rafsanjani, who served as president from 1989 to 1997, was pivotal in the 1979 revolution. But later in life he became a counterpoint to hardline conservatives.

"The different opinions and interpretations at time in this long period could never entirely break up the friendship between us," said Ayatollah Khamenei.

Mr Rafsanjani died on Sunday in a hospital in Tehran after suffering a heart attack.

His body was taken to Jamaran prayer hall, the residence of the founder of the Islamic Republic, Ayatollah Rohullah Khomeini, where relatives, politicians and religious figures gathered to pay their last respects.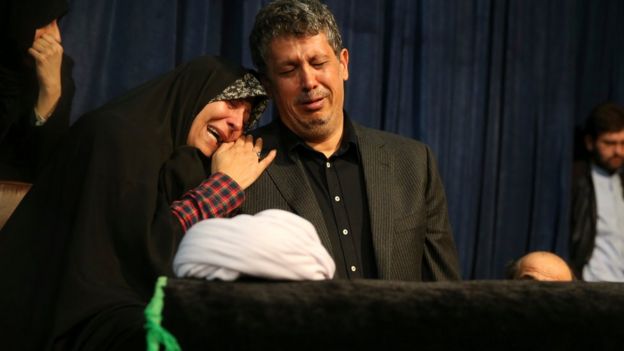 Mr Rafsanjani's daughter Fatemeh and son Mahdi mourn over the ex-president's coffin


LATEST NEWS • All Today news
14:47 • 21/10
Russia wants Armenia to be key economic role-player in region – expert
14:06 • 21/10
US closely working with Turkey to fight terror
13:32 • 21/10
Armenian female weightlifter named U-20 European champion
13:12 • 21/10
Angelina Jolie sophisticated chic in gorgeous couture gown as she walks red carpet with daughters Shiloh and Zahara
12:58 • 21/10
Two Armenian soldiers fatally wounded in Nagorno-Karabakh  
12:43 • 21/10
Civil funeral rites for Levon Hayrapetyan attracts over 1,000 people in Moscow
12:04 • 21/10
Richard Giragosian: New EU-Armenia agreement to mark important breakthrough
11:12 • 21/10
Bill Gates to invest more than $1 billion in public schools
10:57 • 21/10
Azerbaijan continues ceasefire violations after Geneva summit
10:04 • 21/10
Grizzly bears find the perfect pole to scratch their backs at the side of a road in Canada
09:40 • 21/10
Spain expected to impose direct rule over Catalonia
09:18 • 21/10
Dozens killed in Afghan suicide bomb attack
17:58 • 20/10
Artsakh foreign minister hails EU cooperation as 'stabilizing factor'
17:38 • 20/10
Mariah Carey's Los Angeles mansion burgled
17:10 • 20/10
New nuclear power plant project absolutely feasible for Armenia – energy
16:20 • 20/10
Young Armenian weightlifter named winner of European Cup
15:53 • 20/10
Azerbaijan's respect for Vienna arrangements would have paved way to confidence-building – analyst  
15:00 • 20/10
Ookla® awards Ucom with 'The Fastest Mobile Network in Armenia 2017'
13:48 • 20/10
Introducing the house of the future: From smart mirrors that recommend outfits to fridges that peel and cook food
13:38 • 20/10
Bako Sahakyan, Catholicos Aram I discuss Armenia-Diaspora agenda  
13:12 • 20/10
EU reaffirms commitment to Iran nuclear deal
13:07 • 20/10
North Korea 'months' away from capability to nuke US, CIA director says
12:42 • 20/10
State Department announced 'Progress' between US and Turkey on visa crisis
12:24 • 20/10
Last vehicle rolls off production line as Australian car manufacturing ends
11:57 • 20/10
Russia always pursued expansionist ambitions in post-Soviet area, says Nagorno-Karabakh lawmaker
11:15 • 20/10
Medvedev to attend Eurasian Intergovernmental Council's session in Yerevan
10:50 • 20/10
Azerbaijan Laundromat shows UK is choice of crooks and despots, says Labour MP
10:33 • 20/10
EU-Armenia agreement not translated only by one member state – European Commission  
10:10 • 20/10
Chorrord Ishkanutyun: Armenia's transport minister under inspection bodies' spotlight?  
09:41 • 20/10
North Korea urges Australia to distance itself from US
09:16 • 20/10
EU rules out involvement in Catalan crisis
18:14 • 19/10
Messi eats a 'glucose tablet' hidden in his sock during Barcelona win over Olympiakos
17:55 • 19/10
New EU-Armenia agreement 'very ambitious project', says expert
17:10 • 19/10
Pussycat Dolls deny prostitution claims
16:52 • 19/10
iPod designer Tony Fadell named winner of Armenian president's IT award
15:52 • 19/10
Is Melania Trump using body double? Conspiracy theory suggests replacement is traveling with the President using a fake nose and giant sunglasses
15:36 • 19/10
Uranus up close: Giant ice planet set to be its closest to Earth and visible without a telescope
15:22 • 19/10
Azerbaijan's territorial claims not limited to Karabakh, says parliament member
14:36 • 19/10
Canadian Boy, 10, falls down Niagara Gorge after losing balance on railing
14:30 • 19/10
New Zealand has youngest ever prime minister
14:08 • 19/10
Nagorno-Karabakh development programs discussed in Brussels
13:34 • 19/10
Spain to trigger suspension of Catalan autonomy on Saturday
13:21 • 19/10
Sargsyan-Aliyev talks important effort against April tensions, says Armenian expert
12:06 • 19/10
Turkey may soon close Iraqi border, says Erdogan
11:47 • 19/10
EU-Armenia agreement mutually acceptable  –  Republican MP hits back at critics
10:38 • 19/10
Zhamanak: Azerbaijan's interest to reduce frontline tension positive sign, says Russian politician
10:09 • 19/10
Hraparak: Signing of EU Neighborhood Policy may be postponsed until late 2017
09:37 • 19/10
Portugal interior minister resigns after deadly wildfire
09:11 • 19/10
Catalonia referendum: Spain ultimatum looms over independence push
19:30 • 18/10
France passes controversial anti-terror law
19:25 • 18/10
Spain issues clear threats on Catalan rule
19:08 • 18/10
Polish foreign minister to visit Armenia on Oct 20
18:58 • 18/10
Jennifer Lawrence: I was forced to stand in nude line-up
18:40 • 18/10
Mystery of Saudi Arabia's ancient 'gates': Google Earth spots 400 stone structures found on the edge of volcanoes
18:20 • 18/10
Tennis: Sharapova loses Kremlin Cup round one
17:59 • 18/10
Levon Hayrapetyan's image will always remain bright in our memory – Bako Sahakyan
17:29 • 18/10
Geneva summit marked regress for Armenia – analyst
16:38 • 18/10
Twitter pledges tougher anti-abuse actions
16:19 • 18/10
Azerbaijani FM unveils plan for meeting with Nalbandian
16:00 • 18/10
Canary island La Palma experiences 352 earthquakes in ten days as scientists continue to monitor its active volcano
15:42 • 18/10
The equipment which costs 76 million AMD donated by Karen Vardanyan to Hematology Center will save lives
13:51 • 18/10
Amazon and eBay warned about VAT fraudsters
13:12 • 18/10
War scenario not ruled out in future Karabakh settlement efforts – Russian analyst
12:30 • 18/10
Russian-Armenian philantropist Levon Hayrapetyan passes away
12:01 • 18/10
Hraparak: Medvedev to attend EEU summit in Armenia  
11:38 • 18/10
Turkey, Georgia and Azerbaijan sign defense agreement
11:18 • 18/10
Return to talks key achievement of Sargsyan-Aliyev meeting – European analyst
10:32 • 18/10
White House photographer reveals her favorite photos of the former First Lady
09:47 • 18/10
Weinstein scandal: Game of Thrones star accuses Hollywood mogul
09:30 • 18/10
Kenya election official quits before poll
09:15 • 18/10
Trump's fortune down $600m on Forbes ranking
18:00 • 17/10
Mourinho demands pay rise to sign Man Utd contract
17:35 • 17/10
Serzh Sargsyan's statement on Karabakh key moment of presidential summit – diplomat
17:07 • 17/10
Angelina Jolie to voice star in 'The One and Only Ivan' 
16:00 • 17/10
Energy policies run counter to Armenian government's market liberalization plan – expert
14:54 • 17/10
First shipment of Apple's iPhone X limited to 46,500 units
14:38 • 17/10
Singapore artist, 17, creates 3D Latte Art
14:29 • 17/10
EU urges US Congress to preserve Iran nuclear deal
14:15 • 17/10
German neo-Nazi, 88, is convicted for Holocaust denial after claiming there were no gas chambers at Auschwitz
13:53 • 17/10
Only cost-effective nuclear plant may be realistic for Armenia - minister
13:19 • 17/10
Syria crisis: US-backed forces 'control' Raqqa
12:08 • 17/10
Presidential summit affirmed urgent need to respect earlier commitments - Republican MP  
11:34 • 17/10
Cher to appear in Mamma Mia! sequel
11:25 • 17/10
North Korea ambassador says 'nuclear war may break out at any moment'
11:13 • 17/10
EU-Armenia framework agreement  offers extra guarantees over Nagorno-Karabakh - lawmaker
10:13 • 17/10
Zhamanak: Insurmountable obstacles to signing of EU-Armenia agreement
09:40 • 17/10
UN secretary general urges Armenia, Azerbaijan to intensify peace efforts over Karabakh
09:12 • 17/10
US urges calm amid escalating Kirkuk crisis
18:19 • 16/10
Inecobank offers US$ 25m new term facility agreement
18:00 • 16/10
Oil prices rise amid Iraqi tensions
17:53 • 16/10
Hurricane Ophelia: Thousands lose power as storm hits Ireland
17:42 • 16/10
Armenian-Azerbaijani presidential summit was held in constructive atmosphere, say foreign ministers
17:23 • 16/10
US Embassy in Yerevan announces date of restarting Diversity Visa Lottery
16:50 • 16/10
Armenia to fight historical negationism on international platform
15:28 • 16/10
US to ease visa rules for Turkish patients
14:48 • 16/10
Armenian, Azerbaijani presidents conclude talks in Geneva (video, updated)
13:57 • 16/10
Armenian man reported killed in Moscow
13:33 • 16/10
Serzh Sargsyan in Geneva for key talks over Nagorno-Karabakh
13:16 • 16/10
12:51 • 16/10
Nagorno-Karabakh president introduces key provisions of 2017-2020 Program