Mercedes-Maybach unveils G650 Landaulet, ultra luxury limited edition off roader
15:56 • 16.02.17
Mercedes has raised the curtain on their latest G-class vehicle, the G 650 Landaulet. The four seat car will make its official debut at the upcoming Geneva Motor Show. The Landulet combines the off-road capabilities of G class vehicles with the appearance of a semi-convertible SUV, Luxurylaunches.com reports.


The driver's seat and the front passenger seat are covered by the closed roof, however the passengers in the back seats can enjoy the sunshine thanks to the incorporation of a large folding top which can be opened or closed with the press of a button.

The rear seats are equipped with massage functions and can be fully reclined. If the rear passengers need a bit of entertainment, the glass partition features two 10-inch high-resolution media displays and can serve as personal entertainment systems.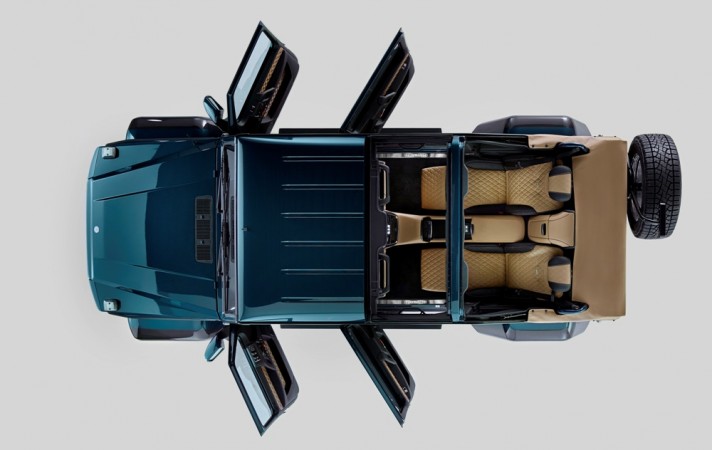 LATEST NEWS • All Today news
14:54 • 29/04
US growth rate hits three-year low
14:46 • 29/04
Art plane presented in Kiev for Eurovision
14:41 • 29/04
Tillerson eyes cutting over 2,000 jobs at State Department
14:27 • 29/04
Armenian premier discusses community development plan governors
13:59 • 29/04
Two pints of beer are better than paracetamol for pain relief and can cut discomfort
13:37 • 29/04
North Korea in new failed missile launch
13:12 • 29/04
Turkey blocks access to Wikipedia
12:40 • 29/04
Senior staffer of EU office in Armenia charged in embezzlement case
11:54 • 29/04
Maria Sharapova receiving 'extra help' says semi-final opponent
11:41 • 29/04
Zhamanak: Who will be Armenia's new minister of justice ?
11:13 • 29/04
Armenian president appoints new chief compulsory enforcement officer
10:11 • 29/04
10:00 • 29/04
Azerbaijan keeps Nagorno-Karabakh frontline under heavy fire  
18:01 • 28/04
DNA of extinct human species found in caves
17:53 • 28/04
Google, Facebook duped in huge scam
17:40 • 28/04
PACE impeaches president in absentia – Samvel Farmanyan
16:42 • 28/04
Armenian Security forces showed lack of respect for press in 2016 – Freedom House
15:52 • 28/04
Armenian diplomat warns of Turkish military base project in Nakhicevan - diplomat
13:43 • 28/04
US issues warnings over Turkish strikes on YPG in Syria
12:59 • 28/04
Nagormo-Karabakh reports loss of Armenian soldier in Azerbaijani gun attacks  
12:36 • 28/04
Emanuel Macron favorite candidate also among French-Armenians, says public figure
11:43 • 28/04
Turkey condemns Czech Parliament's Genocide resolution
11:18 • 28/04
Video of 'alien creature' squirming in a hand goes viral
10:58 • 28/04
Germany approved partial burka ban
10:30 • 28/04
Pasadena State Senate approves freeway sign for Armenian Genocide memorial
10:13 • 28/04
Azerbaijan keeps Nagorno-Karabakh frontline under fire
09:57 • 28/04
Minsk Group co-chairs to join new ministerial summit over Karabakh
09:30 • 28/04
US wants 'strong, democratic' Turkey ahead of Trump-Erdogan meeting
09:12 • 28/04
Trump says 'major, major' conflict with North Korea possible, but seeks diplomacy
17:53 • 27/04
'The Promise': an unflinching depiction of the Armenian genocide – The Economist
17:11 • 27/04
Turkish historian publishes new records on Armenian Genocide
16:25 • 27/04
NASA picks up Cassini radio signals from Saturn
16:10 • 27/04
PACE bans president from chairing Spring Session
15:31 • 27/04
We cooperate with Armenian authorities to combat travel fraud – US Embassy
14:54 • 27/04
Armenian premier orders plan for effective forest management  
14:25 • 27/04
Employee of EU mission detained on suspicion of embezzling funds
14:07 • 27/04
Ucom offers free mobile watching of 55 channels with 2-day catch-up possibility
13:12 • 27/04
EU-Armenia common air zone to facilitate travel terms – opinions
12:34 • 27/04
Couple married 69 years die minutes apart, holding hands
12:23 • 27/04
ISIS faces exodus of foreign fighters as its 'caliphate' crumbles  
12:09 • 27/04
Nagorno-Karabakh reports more Azerbaijani ceasefire violations
11:40 • 27/04
Iranian presidential hopefuls expect Armenian community's support
10:30 • 27/04
Israelis commemorate Armenian Genocide as government still doesn't recognize
10:06 • 27/04
168 Zham: No expectations from new ministerial summit over Karabakh  
09:28 • 27/04
Multiple strikes hit Damascus airport base used by Iranian-backed forces
09:08 • 27/04
US to tighten sanctions in North Korea
18:34 • 26/04
Ucom Subscribers Will Benefit from the New Roaming Tariffs in USA
17:50 • 26/04
World's youngest smoker kicks habit to become star pupil at primary school
17:40 • 26/04
EU to take legal action amid Hungary university law
17:28 • 26/04
Transport network needs systemic reforms in Yerevan, says deputy mayor  
17:00 • 26/04
Pope gives TED talk to address 'Revolution of Tenderness'
16:29 • 26/04
Skeleton of Russian soldier unearthed in Turkey
16:09 • 26/04
EU approves visa waiver for Ukraine
16:00 • 26/04
Russia sees key to Karabakh peace within Eurasian Union – Armenian pundit
15:23 • 26/04
Will Smith, Paolo Sorrentino join Cannes Festival
15:06 • 26/04
Turkey needs time to confront its history – German ambassador on Armenian Genocide
14:24 • 26/04
Print media are diverse and polarized in Armenia – report
13:59 • 26/04
New plan for Armenian-Russian-Azerbaijani ministerial talks finalized
12:54 • 26/04
Sex-selective abortions linked to mentality in Armenia, says minister
12:09 • 26/04
Ivanka Trump denies she was behind father's decision to strike Syria
11:52 • 26/04
Armenian defense officials to attend security forum in Moscow  
11:43 • 26/04
Brazilian footballer ordered back to jail
11:30 • 26/04
Amateur color photos document everyday life of Sweden in 1940s
10:40 • 26/04
Uber plans to test on-demand flying cars network by 2020
10:23 • 26/04
Coca Cola to cut 2,100 jobs amid slumping sales
10:09 • 26/04
Turkey won't wait at Europe's door forever, says Erdogan
09:47 • 26/04
Azerbaijan continues ceasefire violations on Karabakh frontline
09:35 • 26/04
Czech parliament approves Armenian Genocide resolution
09:23 • 26/04
China launches first domestic aircraft carrier
09:12 • 26/04
Theresa May says she wants UK to 'lead the world in preventing tourism'
18:34 • 25/04
PACE president expected to tender resignation on Friday, says member of Armenian delegation
17:42 • 25/04
Yahoo's Marissa Mayer to make $186m from Verizon deal
17:11 • 25/04
Donald Trump summons US Senate to White House briefing on North Korea
17:02 • 25/04
Armenian premier, Indian vice president discuss bilateral relations
16:57 • 25/04
Serena Williams 'disappointed' by 'racist' comments
16:47 • 25/04
Serzh Sargsyan hosts delegation led by Indian vice president
16:39 • 25/04
State Revenue Committee pledges measures to relieve vendors' tax burden
16:04 • 25/04
Russia sees OSCE's efforts to reach peace over Karabakh - Lavrov
15:50 • 25/04
Bernard Arnault's LVMH scoops up Christian Dior for £10bn
15:23 • 25/04
Ivanka Trump joins world leaders for G20 summit
15:09 • 25/04
PACE reopens monitoring against Turkey
14:46 • 25/04
Armenian vendors protest against government-imposed tax procedures
14:02 • 25/04
Trump to call International Space Station to congratulate record breaking female austonaut
13:20 • 25/04
Tourism is in beneficiary's role in practically all areas, says chief of state committee
11:17 • 25/04
Silent encourages tormentor - Khloe Kardashian remembers Genpcide victims
10:36 • 25/04
Turkey Foreign Ministry slams Trump's April 24 address
10:24 • 25/04
Samantha Power: 'I am Sorry that We in Obama Administration did not Recognize Armenian Genocide'
10:17 • 25/04
Historical record of Genocide is clear despite repeated denial – Nancy Pelosi  
09:59 • 25/04
Nagorno-Karabakh soldier fatally wounded by Azerbaijani bullet
09:43 • 25/04
Tens of Thousands hold march for justice to Los Angeles Turkish Consulate
09:39 • 25/04
Rising death toll reported in Venezuela protests
09:29 • 25/04
Elton John recovers from potentially deadly infection
09:12 • 25/04
We honor the victims of 'Meds Yeghern' – Trump's address on Genocide Remembrance Day
08:57 • 25/04
France elections: Le Pen steps aside to focus on presidential campaign
17:52 • 24/04
Pope Francis conveyed message of peaceful dialogue – Mikael Minasyan
16:28 • 24/04
Keeping the Promise – Huffington Post
16:12 • 24/04
Aurora names five finalists for 2017 award (photos)
15:28 • 24/04
Driverless car trials approved in London
15:02 • 24/04
Genocide remembrance not just experience of past grief – US-Armenian philanthropist
14:23 • 24/04