Now that's a man cave! 65ft-deep underground cave in Armenian village in Daily Mail's spotlight
12:49 • 23.06.18
These fascinating photos show how one man painstakingly created a jaw-dropping basement under his house, using just a hammer and chisel.

Builder Levon Arakelyan spent 23 years crafting the incredible 65ft-deep, 3,000-square-foot subterranean space and he was even working on the project on the day he died in 2008, aged 67. He began working on it after his wife, Tosya, asked for a cool space for her potatoes. He got carried away.

Today the hand-crafted cellar network in the village of Arinj in Armenia is open as a museum and New Zealand-based Radio Free Europe photographer Amos Chapple recently journeyed to the attraction to shed some light on it.

Apparently Tosya no longer ventures into the cavern as she's scared of having a fall, so the cameraman went down there alone.

Describing the cave, he told MailOnline Travel: "I went and scouted the place out with the lights on. I then went back up and asked Tosya to switch all the lights off and I would work down there alone to take photographs.

"So being down there in the darkness was amazing - there was utter silence and darkness, and it was easy to get lost.

"At first though I was a little nervous - Armenia is earthquake-prone and in the deeper caverns the rock crumbled under my fingernails.

"I tried to banish the thought of a collapse from my mind and just concentrate on photographing."

The walls of the cave feature a mix of hard and soft volcanic rock and the temperature remains around 10 degrees Celsius all-year round.



Լուսանկարների հեղինակը նորզելանդացի ճանապարհորդ, լուսանկարիչ Էյմոս Չեպլն է (բացի Լևոն Առաքելյանին պատկերող լուսանկարներից)
Լևոն Առաքելյանի կինը՝ Տոսյան, ներկայացնում է թանգարանում ցուցադրված նմուշները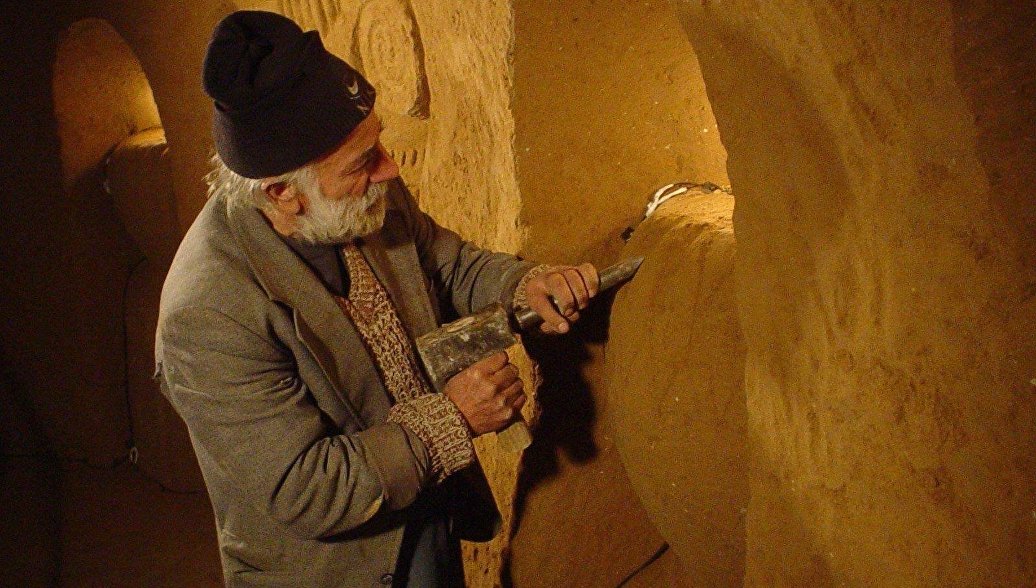 LATEST NEWS • All Today news
10:33 • 16/07
Italy to allow migrants to land in Sicily
10:05 • 16/07
Iran nuclear deal: US rejects EU plea for lifting sanctions
09:34 • 16/07
Trump calls EU 'foe' of the United States
09:18 • 16/07
France named 2018 FIFA World Cup winner
15:48 • 14/07
Facebook, Twitter, Alphabet to testify at US House hearing
15:15 • 14/07
Armenian parliament vice speaker thanks Poland for support to Genocide recognition efforts
14:25 • 14/07
11 Armenian companies named conscientious taxpayers  
13:50 • 14/07
Nancy Sinatra, Frank Sinatra's first wife, dies at 101
13:16 • 14/07
Two suspects released in Hrant Dink murder case
13:08 • 14/07
Armen Sarkissian issues congratulations to Emmanuel Macron on French national holiday
12:51 • 14/07
Armenian man killed in gang attack in Tbilisi
12:30 • 14/07
Congressman Sherman continues pressure to secure new US-Armenia tax treaty
12:14 • 14/07
168 Zham: Will Pashinyan meet Europe's expectations?
11:06 • 14/07
10:59 • 14/07
Elegant Melania Trump meets with Elizabeth II
10:38 • 14/07
Hraparak: Armenian authorities agree on timeframes of snap parliamentary election
09:53 • 14/07
Donald Trump arrives in Scotland amid protests
09:45 • 14/07
Trump opposes congressional restrictions on F-35 sale to Turkey
09:13 • 14/07
Trump-Putin summit 'is on' despite hacking indictment, says White House
18:26 • 13/07
Armenia, Russia send batches of food in humanitarian aid to Syria
18:13 • 13/07
Armenian president heads to Russia to watch FIFA 2018 World Cup finals
17:55 • 13/07
Protesters hold mass anti-Trump rallies in London
17:28 • 13/07
'New Armenia' is on the right foreign policy track, says politician
15:49 • 13/07
Supermoon Solar Eclipse reported this Friday the 13th for the first Time in 43 years 
15:27 • 13/07
Antonio Conte sacked as Chelsea manager
14:49 • 13/07
Euronews: Armenian PM urges NATO to send message to Azerbaijan
14:30 • 13/07
Armenian president visits French Embassy (photos)
14:16 • 13/07
Azerbaijan 'shells' Armenian border village                                  
14:00 • 13/07
Armenian-Belarusian parliamentary cooperation discussed in Warsaw
13:42 • 13/07
Time names Nikol Pashinyan 'crusader of world democracy'
12:59 • 13/07
Armenia's state revenues 'climbed 15.6%' in first quarter
12:01 • 13/07
Zhamanak: Armenia's ambassador in Prague to be sacked over ties with illegally enriched officials
11:39 • 13/07
Trump reveals giant baby blimp protest put him off London which 'he used to love as a city'... as the 20ft balloon now plans to follow him across the UK
10:54 • 13/07
Trump praises Boris Johnson 'as  future Prime Minister '
10:19 • 13/07
Game of Thrones leads with 22 Emmy nominations
09:53 • 13/07
Johnson & Johnson to pay $4.7bn damages in talc cancer case to US women
09:30 • 13/07
EU's Juncker filmed stumbling at NATO event
09:12 • 13/07
19:02 • 12/07
Fiat workers strike over Ronaldo signing
18:47 • 12/07
Developing relations with NATO to offer 'good security alternatives' to Armenia
18:06 • 12/07
French government 'completed' ratification of EU-Armenia agreement
17:29 • 12/07
US adult film star Stormy Daniels arrested in Ohio
17:11 • 12/07
Donald Tusk pledges EU's support to future reforms in Armenia
16:48 • 12/07
Attacks in Azerbaijan raise accusations of Islamist extremism, government skullduggery
16:37 • 12/07
Ameriabank wins Euromoney Award for Excellence 2018 as the Best Bank of the Year in Armenia
16:13 • 12/07
Whalers accused of killing rare blue whale off of Iceland - the first of its kind to be harpooned in more than 50 years
15:57 • 12/07
Rocket launch that made the sky ripple: NASA explains bizarre 'smashed sundog' phenomenon
15:39 • 12/07
Pashinyan meets with top EU officials in Brussels
15:20 • 12/07
Killing rats could save coral reefs
14:34 • 12/07
Armenia's democratic revolution 'stirs aggression' in Azerbaijan - Pashinyan  
14:12 • 12/07
New prosecutor of Yerevan appointed
13:30 • 12/07
NATO insists Georgia will join alliance 'despite separatist ambitions'
13:10 • 12/07
France 'committed' to banning weapons supply to Azerbaijan
12:26 • 12/07
Zhamanak: Minister unveils 'extremely low' economic activity index in Armenia
12:01 • 12/07
Yerevan City Council to elect new mayor on July 16
11:37 • 12/07
NATO vows to protect Turkey's southern border against threats
11:13 • 12/07
EU extends support to new electoral processes in Armenia
11:00 • 12/07
Armenian soldier killed in fight against terrorists in Syria  
10:39 • 12/07
Pashinyan attends special dinner event honoring NATO partner countries' leaders
10:04 • 12/07
Trump urges EU members to double military funding
09:39 • 12/07
Armenian, Azerbaijani foreign ministers discuss future steps in Karabakh peace
09:07 • 12/07
NATO leaders to focus on Afghan conflict
15:28 • 11/07
Irrigation system launched in the borderland village of Dovegh
13:26 • 11/07
Special Offer from Ucom: Xiaomi Smartphone and Smart Band in a package
11:46 • 11/07
Ardshinbank partners with international investment bank to support trade finance in Armenia
16:32 • 10/07
The IFC Names Ameriabank Best Issuing Bank Partner in the Caucasus and Central Asia 2017
10:28 • 03/07
If the cooperation between Azerbaijan and "Rheinmetall" materializes, German produced arms might be used against Armenians both in Artsakh and the Republic of Armenia. Tessa Hofmann
19:06 • 29/06
EU leaders agree on plan to secure migrant centers
18:48 • 29/06
Luxembourg ratifes EU-Armenia agreement
18:27 • 29/06
Artsakkh president receives guests from American University of Armenia  
17:51 • 29/06
Libyan coastguard says 100 migrants may have drowned near Tripoli
17:35 • 29/06
New Armenian government 'committed' to expand partnership with Russia
17:10 • 29/06
Israel not to accept Syrian refugeess
16:48 • 29/06
World remained silent on Daesh-style vandalism in Julfa, says Armenian delegate to PACE
14:45 • 29/06
Poland ratifies EU-Armenia agreement
14:33 • 29/06
Hundreds charged in healthcare fraud, opioid crackdown in US
14:09 • 29/06
Putin hails 'meaningfully developing dialogue' with Armenia
13:49 • 29/06
Bella Hadid exudes glamour in metallic gold gown with racy thigh-high split as she leads the model beauties at BVLGARI's Wild Pop bash in Rome
11:27 • 29/06
Turkey, Japan agree to speed up nuclear plan construction
11:19 • 29/06
Deutsche Bank's US unit fails Fed's stress test
11:08 • 29/06
EU agrees to give Turkey second tranche of 3 billion Euro for Syrian refugees
10:51 • 29/06
Bako Sahakyan hosts Armenia's minister of education
10:44 • 29/06
EU leaders agree to extend sanctions against Russia
10:35 • 29/06
Harlan Ellison, acclaimed science fiction writer, dies at 84
10:07 • 29/06
Prince William receives cross from Armenian patriarch of Jerusalem
09:58 • 29/06
09:49 • 29/06
Pashinyan orders structural changes in National Security Council
09:38 • 29/06
World Cup 2018: England lose 0-1 to Belgium to face Columbia
09:33 • 29/06
Aston Martin reveals $300,000 DBS Superleggera
09:21 • 29/06
Fuel blaze leaves nine killed in Nigeria
09:11 • 29/06
Deadly shooting in Maryland: Five killed in 'targeted' attack on US newspaper
18:29 • 28/06
Ordinary Turks knew 'almost nothing' about Genocide until recently – Turkish
17:38 • 28/06
Angelina Jolie oozes elegance in chic ivory gown and jaunty hat as she attends commemoration service at St Paul's Cathedral
17:10 • 28/06
Eighth group of VivaStart program's graduates awarded with certificates of completion
16:57 • 28/06
Armen Sarkissian to meet with Secretary of State Pompeo in Washington
16:25 • 28/06
Meghan Markle accused of making another faux pas during Buckingham Palace reception
16:07 • 28/06
Armenia-Iran economic cooperation discussed in Tehran
15:20 • 28/06
Samsung set to release Galaxy Note 9
14:20 • 28/06
Armenian youth in Prague protest against armament supply to Azerbaijan 
13:29 • 28/06
Saudi authorities investigate TV presenter forr indecent clothing