Golden Apricot Yerevan 11th International Film Festival: winners announced
14:58 • 20.07.14
The Golden Apricot Yerevan 11th International Film Festival has come to its end, the official website reports.

The Boards of Juries of International Feature, International Documentary, the Armenian Panorama and the Apricot Stone short film competition as well as the FIPRESCI and ECUMENICAL accordingly have announced this year's competition results at the official closing ceremony of the festival on July 19 held at the Theatre of Opera and Ballet in Yerevan.

Below is the list of winners:

INTERNATIONAL FEATURE COMPETITION

GOLDEN APRICOT (1st Price): The Tribe, dir.: Myroslav Slaboshpytskiy (Ukraine)

SILVER APRICOT (Runner Up): Blind Dates, dir.: Levan Koguashvili (Georgia)

Special Jury Mention: Still Life, dir.: Uberto Pasolini (UK/Italy)

INTERNATIONAL DOCUMENTARY COMPETITION

GOLDEN APRICOT (1st Price): The Stone River, dir.: Giovanni Donfrancesco (Italy/France)

SILVER APRICOT (Runner Up): Domino Effect, dir.: Elwira Niewera, Piotr Rssolowski

APRICOT STONE SHORT COMPETITION

GOLDEN APRICOT (1st Price): Though I Know the River is Dry, dir.: Omar Robert Hamilton, (Palestine/Egypt/Qatar/UK)
Special Jury Prize: Red Hulk, dir.: Asimina Proedrou, (Greece)

ARMENIAN PANORAMA

GOLDEN APRICOT (1st Price) Fiction Feature-Length: Tevanik, dir.: Jivan Avetissyan, (Armenia/Lithuania)

GOLDEN APRICOT (1st Price) Fiction Short-Length: Milky Brother, dir.: Vahram Mkhitaryan, (Poland/Armenia)

SILVER APRICOT (Runner Up): Fiction Feature-Length: Romanticists, dir.: Areg Azatyan & Shoghik Tadevossian, (Armenia)
Special Diploma: Please, Be Normal, dir.: Hayk Kocharian (USA)

Hrant Matevossian Special Prize for Best Script: Milky Brother, dir.: Vahram Mkhitaryan (Poland/Armenia) Script: Vahram Mkhitaryan, Aleksandra Majdzińska

FIPRESCI JURY PRIZE

The Tribe, dir.: Myroslav Slaboshpytskiy (Ukraine)

ECUMENICAL JURY PRIZE

The Abode, dir.: Lusine Sargsyan (Armenia)

Special Commendation – Blind Dates, dir.: Levan Koguashvili (Georgia)

SPECIAL AWARDS

Queen Nuard Special Award of the National Union of Cinematographers:

Please, Be Normal, dir.: Hayk Kocharyan, (USA)

Andin Armenian Journey Chronicles, dir.: Ruben Giney, (China/Armenia/Russia/India)

ARMEN MAZMANIAN SPECIAL AWARD

Resurrection, dir.: Alain Manoukyan, (Armenia)

The closing ceremony was celebrated also with two special awards granted by the festival to two of this year honourable guests. More specifically, GOLDEN APRICOT was pleased to grant Jia Zhangke, a renowned Chinese filmmaker with special Parajanov Thaler Award for the contribution in the world cinematography. Marco Muller, a distinguished film critic and the Chairman of the Feature Competition Jury at GOLDEN APRICOT this year was also awarded with Parajanov Thaler Award for the contribution to the world film festivals' development.

At the start of closing ceremony the festival management awarded Mrs. Hasmik Poghosyan, the Minister of Culture of the RA with special Parajanov Medal. The ceremony was closed with festival management granting the Mayor of Yerevan, Mr. Taron Margaryan with special Mantashyan Knight Gold Medal.

Videos
16:06 • 31.07.20
My Future: New Billie Eilish Song Attracts Millions of Views on YouTube
15:07 • 30.07.20
NASA launches Mars 2020 Perseverance Rover with First Aircraft to Fly on Another Planet
09:44 • 21.07.20
Armenian-made UCAV Strikes Azerbaijani Military Objective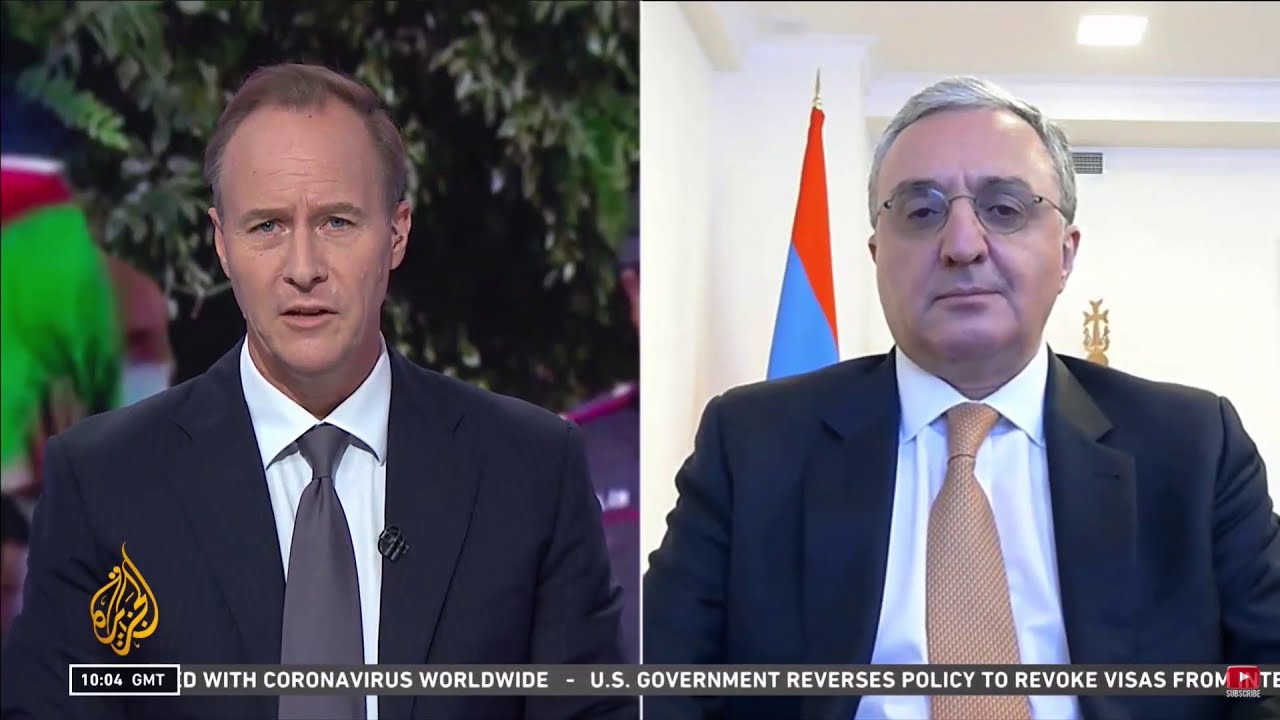 10:32 • 16.07.20
War is Not the Alternative to Peace Talks over Karabakh - FM Zohrab Mnatsakanyan's Interview to Aljazeera
15:33 • 15.07.20
Footage Shows How Azerbaijan Shells Armenian Villages in Jul. 13-14 Artillery Strikes
12:19 • 15.07.20
ANCA Calls for Action to Urge Congressional Condemnation of Azerbaijani Attacks against Armenia
12:13 • 14.07.20
Armenian Military Neutralize Azerbaijani Tank in Retaliatory Military Actions
12:42 • 07.07.20
Chilean Nurse Plays the Violin for Covid-19 Patients
17:38 • 01.07.20
US House Rep. Jackie Kanchelian Speier Discusses De-Mining Aid Program for Artsakh
14:59 • 26.06.20
Armenia's Prime MInister Under Criticism for Poor Handling of Coronavirus - BBC
10:07 • 24.06.20
Congressman Brad Sherman Testifies in Support of Continued US Aid to Artsakh
17:14 • 04.06.20
Meghan Markle says 'George Floyd's life mattered' in heartfelt message against racism
13:04 • 28.05.20
Armenia's Political Elite Celebtrates First Republic Anniversary in Sardarapat
14:13 • 15.05.20
3D Model of SARS-CoV-2 Virus at Atomic Resolution
13:25 • 09.05.20
Armenia's Political Leadership Marks 'Triple Victory Day' in Yerevan
16:29 • 04.05.20
Toyota Launches Karl Lagerfeld Limited-Edition SUV in Thailand
10:44 • 24.04.20
Armenia Commemorating 105th Anniversary of Genocide
12:31 • 23.04.20
Rep..Adam Schiff Discusses Genocide, US Aid to Armenia, Artsakh
09:22 • 23.04.20
Coronavirus: The World Has a Long Way to Go, Warns WHO Chief
15:33 • 21.04.20
Her Majesty, Queen Elizabeth II Celebrates Her 94th Birthday
13:59 • 18.04.20
Holy Fire at the Church of Sepulchre in Jerusalem
14:49 • 13.04.20
Andrea Bocelli Performs Eastern Sunday Concert From Italy's Duomo Di Milano
13:47 • 10.04.20
Kim Kardashian Does a Quarantine Makeup Tutorial With Kkw Beauty Products
16:59 • 08.04.20
Coronavirus Intensive Care: BBC's Special Coverage of London Hospital Where Doctors Fight to Save Lives
16:35 • 07.04.20
Seven-Year-Old Greek Piano Prodigy Pens 'Isolation Waltz'
12:35 • 27.03.20
World Coronavirus Update (Live)
23:27 • 16.03.20
Why Fighting Coronavirus Depends on You?
09:38 • 27.02.20
Kim Kardashian Spotted Throwing Punch at Sister Kourtney
10:53 • 22.02.20
Anna Turcotte: "Rooting Out Hatred toward Armenians Cannot Be Done By Brushing Aside History."
15:13 • 11.02.20
Virtual Reality 'Reunites' Korean Mother with Deceased 7-Year-Old Kid
09:35 • 23.01.20
Armenia is in a Unique Place to Act Like a Bridge Between Europe and Eurasia– Armen Sarkissian
16:03 • 21.01.20
US President Donald Trump Delivers Keynote Speech at Davos 2020
14:20 • 13.12.19
Pro-Armenian US Senators Issue Bipartisan Call on Genocide Recognition
09:49 • 12.12.19
I'm Not Going to Cease until We Do What is Morally Right - Menendez on Armenian Genocide
16:02 • 21.11.19
SpaceX Starship MK1 Explodes! At Boca Chica, Texas
10:10 • 08.11.19
Sen. Bob Menendez Calls for Passage of Armenian Genocide Resolution
16:07 • 30.10.19
Rep. Schiff on Recognizing the Armenian Genocide
11:03 • 26.10.19
Nagorno-Karabakh's Statuis and Security are Ultimate Priorities for Armenia, Mnatsakanyan Tells BBC
10:10 • 24.10.19
US Congressman Jim Costa Slams Turkey for Recent Actions and Urges Support of Armenian Genocide Recognition
16:12 • 18.10.19
LIVE: NASA Astronauts Spacewalk Outside the International Space Station
Analysis