Michigan town where only Christians are allowed to buy houses
09:45 • 12.02.18
Tucked away in Michigan's Lower Peninsula, somewhere along the winding roads that hug Great Lakes shores, is an idyllic town named Bay View. For more than a century, generations of "Bay Viewers" have congregated here to share in summer activities, reports the Guardian.

What started out as a modest camping ground for Methodist families 140 years ago has quietly developed into a stunning vacation spot for people who can afford the upkeep of a second home. Streets named Moss, Fern and Maple are dotted with impeccably maintained century-old gingerbread cottages. Over the horizon, residents can watch lifelong friends sail their boats across the water.

But this paradise is not open to all.

In Bay View, only practicing Christians are allowed to buy houses, or even inherit them.

Prospective homeowners, according to a bylaw introduced in 1947 and strengthened in 1986, are required to produce evidence of their faith by providing among other things a letter from a Christian minister testifying to their active participation in a church.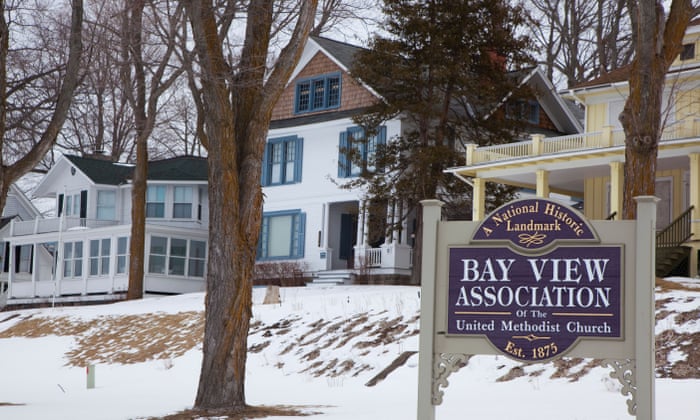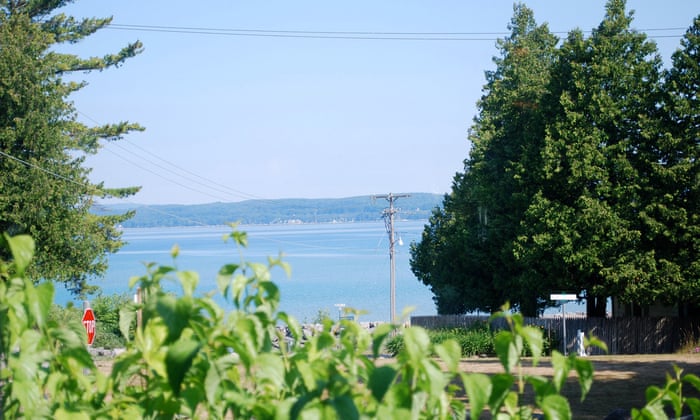 LATEST NEWS • All Today news
18:22 • 23/10
Converse Bank opens "Malatya" branch in Yerevan
17:53 • 23/10
US Dollar 'toxic currency' in Armenian-Russian trade turnover
17:16 • 23/10
Armenian fashion designer presents Genocide-themed collection in Moscow
16:36 • 23/10
Ucom Launches uFleet, innovative solution for car fleet management
15:29 • 23/10
National Assembly to hold fresh debates over electoral reforms
15:11 • 23/10
Mystery of the massive mile wide 'monolith' iceberg: NASA spots strange rectangular berg in Antarctica
15:01 • 23/10
Trump vows to send as many troops to the border 'as necessary' to stop caravan
14:52 • 23/10
Erdogan reveals details of Saudi Khashoggi's murder
14:39 • 23/10
YELQ lawmakers endorse Pashinyan for PM
14:25 • 23/10
Domestic political changes in Armenia 'no impediment to EEU'  
14:16 • 23/10
Azerbaijani FM 'silent' over CSTO membership plan
13:52 • 23/10
Armenia re-establishes role of leading IT manufacturer
13:45 • 23/10
Dyson chooses Singapore for new electric car plant
13:13 • 23/10
Eleven refugees and at-risk youth receive Aurora Gratitude Scholarships to study at United World Colleges
12:57 • 23/10
168 Zham: Dushanbe meeting paves way to future progress over Karabakh
12:34 • 23/10
CIA director Haspel travels to Turkey for Khashoggi case
12:16 • 23/10
Hraparak: Armenian authorities mull cabinet optimization plan
11:58 • 23/10
Khashoggi murder a 'monstrosity', no arms exports to Riyadh until incident cleared up, says Germany's Merkel
11:32 • 23/10
Armenian official blames Azerbaijan over stalemate in Karabakh peace talks
11:09 • 23/10
Ardshinbank and the Black Sea Trade and Development bank sign USD15m loan agreement
09:55 • 23/10
Explosive found in mailbox at George Soros's Westchester county home
09:33 • 23/10
Mexico issues warning over 'extremely dangerous' storm
09:17 • 23/10
Trump calls Khashoggi's death 'a plot gone awry'
22:03 • 22/10
Ucom Management in Ucom Service Centers
17:53 • 22/10
Zohrab Mnatsakanyan hosts OSCE official to discuss regional developments
16:55 • 22/10
Bradley Cooper and Irina Shayk brave a chilly day in Manhattan with little girl Lea to the park
16:37 • 22/10
Electoral reforms key effort towards ruling out 'monolith parliament'
16:01 • 22/10
US scrapping INF to make world more dangerous, force Russia to 'restore balance'
15:37 • 22/10
World's longest sea-crossing bridge opens to connect Hong Kong and China
15:27 • 22/10
ARF-D to run for parliament 'as opposition party'
14:56 • 22/10
OSCE to assist in effective anti-corruption investigations in Armenia
14:10 • 22/10
Caravan of migrants swells to 7,000 and stretches more than a mile long as they continue marching towards the US border
13:33 • 22/10
Khashoggi 'given police protection' in Turkey
13:25 • 22/10
Budapest 2018: Armenian wrestler celebrates victory in opening match
13:05 • 22/10
Actor Selma Blair reveals she has multiple sclerosis
12:56 • 22/10
Syria describes US-led coalition's actions as genocide
12:46 • 22/10
Armenian parliament vice speaker conducts working trip to St Petersburg
12:17 • 22/10
Catholicos Garegin II in Italy for working visit
11:30 • 22/10
Stephen Hawking's wheelchair, thesis for sale
11:13 • 22/10
Saudi official provides another version of Khashoggi death
10:33 • 22/10
New chief architect of Yerevan appointed
09:47 • 22/10
Trump, Erdogan discuss Saudi journalist's murder in phone call
09:42 • 22/10
Gorbachev warns of Trump nuclear treaty plan
09:12 • 22/10
Egypt extends emergency for three months  
15:05 • 20/10
Nikol Pashinyan in Lebanon for two-day working visit  
14:44 • 20/10
Armenian writer wins Golden Knight literary award in Russia
14:22 • 20/10
Bako Sahakyan congratulates Catholicos Aram I on 50th anniversary of ordination
13:40 • 20/10
Doctors pluck 11 live worms from a five-month-old's eyeball
11:18 • 20/10
Macedonia votes to start name change process
10:41 • 20/10
Trump advisor Rudy Giuliani 'planning trip to Armenia'
09:19 • 20/10
Afghanistan holds parliamentary election amid threats of violence
09:10 • 20/10
Khashoggi case: Saudi TV says missin g journalist 'died after fight'
18:12 • 19/10
Kocharyan lawyers to file appeal with European court
17:10 • 19/10
No prison overcrowding in Armenia, says acting minister
16:21 • 19/10
Australian family's terror as bull shark jumps into tinny during fishing trip
16:07 • 19/10
Aliyev travels to Turkey for working visit  
15:35 • 19/10
Turkish violin virtuoso plays Komitas to commemorate Ara Guler (video)
15:07 • 19/10
eBay revenues up to take on Auto Trader in car ads
15:03 • 19/10
Azerbaijan rescues Iranian sailors 'poisoned by chemicals'
14:38 • 19/10
October 24 marks National Assembly's latest date to elect prime minister  
13:46 • 19/10
Facebook sued over video viewing figures
13:02 • 19/10
Russian animators producing screen version of Saroyan's 'The Summer of Beautiful White Horse'
12:07 • 19/10
Park dedicated to 2,800th jubilee of Yerevan to open in spring  
11:42 • 19/10
Customs beagle sniffs out pig head in luggage
11:30 • 19/10
Republican Party's Executive Board discusses electoral reform
11:15 • 19/10
Jenna Bush Hager convinced the White House is haunted
10:43 • 19/10
Forthcoming elections will be the most important in the history of modern Armenia, says international expert
10:16 • 19/10
US-led coalition strikes civilian homes in Deir ez-Zor 
10:11 • 19/10
Apple announces iPad Pro and Mac event for October 30
09:38 • 19/10
Mexico sends police to southern border
09:15 • 19/10
ISIS take 700 hostages including US and European nationals and will 'execute 10 people a day', Putin says
18:04 • 18/10
UK minister steps out of Saudi summit
17:52 • 18/10
Hamilton says chasing Schumacher's record was never the plan
17:33 • 18/10
Republican politician 'confident' about party's future success
17:02 • 18/10
100-year-old woman in wheelchair gets married to 74-year-old man 
16:46 • 18/10
ECHR fines Armenia over procedural violations in March 1, 2008 criminal cases
16:04 • 18/10
Washington Post publishes Saudi journalist's final column
15:22 • 18/10
Kocharyan vows to create political party after 'comeback'
12:22 • 18/10
ADB to offer $50m worth budgetary assistance to Armenia
12:06 • 18/10
168 Zham: EU and Russia have different political expectations from Armenia
11:10 • 18/10
Hraparak: Koharyan stepping aside
09:52 • 18/10
Elon Musk 'planning to buy' $20 million of Tesla stock
09:22 • 18/10
Venezuela arrests military officers over Maduor assassination attempt
09:12 • 18/10
World-renowned Turkish-Armenian photographer Ara Guler passes away
09:02 • 18/10
Norway issues apologies to WW2 'German girls'
17:54 • 17/10
Google unshackles Android-device firms
17:06 • 17/10
Ariana Grande takes social media break
16:36 • 17/10
Armenia improves positions on Global Competitiveness Index
16:29 • 17/10
Huawei Mate 20 Pro launches with in-screen fingerprint sensor
16:09 • 17/10
Crimea terrorist attack: 13 killed, dozens injured in Kerch college explosion
15:34 • 17/10
Turkey closed border with Armenia for Azerbaijan, says former envoy
15:10 • 17/10
World stocks extend rise after blockbuster US earnings
14:37 • 17/10
Pashinyan introduces new acting minister of economic development and investments
14:09 • 17/10
Fabregas in Guinness World Records for reaching 100 PL assists
13:50 • 17/10
Turkey 'hopes to enter Saudi consul's residence' on Wednesday  
13:29 • 17/10
Chinese woman kills herself and two kids after husband fakes death
12:43 • 17/10
Armenia's position on Karabakh 'clearly enshrined' in government program – Foreign Ministry
12:15 • 17/10
Kourtney Kardashian jumps with joy as she ignores sister Kim's most exciting comment
11:33 • 17/10
Hraparak: Anti-Armenian status for Karabakh 'unnegotiable'
11:01 • 17/10
Man who illegally crossed Armenia- Turkey border 'identified as ethnic Kurd'