More than 30 killed in 7.5 mgn quake in Hela and Southern Highlands Provinces 
10:50 • 27.02.18
More than 30 people are believed to have been killed in the massive 7.5 magnitude earthquake that hit Hela and Southern Highlands Provinces yesterday, Postcourier.com.pg reports.

Provincial authorities said more than 300 mainly villagers have been injured and properties destroyed.

Although communication network into the two provinces have been cut-off, reports through satellite communication by Hela Provincial Administrator William Bando said there had been unconfirmed reports of more than 30 deaths.

Sketchy reports indicated that more than 13 people have been reportedly killed in the Southern Highlands capital Mendi, while another 18 people have also been reportedly killed in the most affected areas of Kutubu and Bosave.

The quake, reported widely by the world media, hit in the early hours at a relatively shallow depth of 25 kilometres.

Developers of the multi-million LNG project in Hela and Southern Highlands are preparing to evacuate non-essential staff because of this.

Mr Bando said it was a severe natural disaster which had claimed the lives of many in the two provinces, creating sinkholes and landslides.

Electricity supply in the two provinces has been disrupted while flights have also been cancelled.

He said the Komo Airport was believed to have suffered damages to half of the runway.
Mr Bando, who was to fly to Tari from Port Moresby, was also unable to leave because the airport was reportedly closed.

Unconfirmed reports from Mendi said that the earthquake was so powerful that people did not sleep, while there has been reports of landslides, landslips and sinkholes in several places and deaths.

The Department of Mineral Policy and Geoharzard Management said the 7.5 magnitude earthquake was centered about 30km south of Tari and 40km northwest of Lake Kutubu, (in Bosave) Southern Highlands Province, at a depth of 25km.

It said that the earthquake occurred as a result of fault movements in the Papuan Fold and Thrust Belt, which runs parallel to the axial mountain range of PNG.

"There is potential for significant damage from this earthquake because of the large magnitude and shallow depth of the event. A number of aftershocks have occurred, and more are likely in the coming days. The largest of the aftershocks so far is M5.5. There is little possibility that this earthquake would have generated a tsunami," the DMPGM said.
Oil Search Limited, the developer of oil and gas developments in Hela and Southern Highlands, said in an email that the quake struck about 3.44am yesterday. There had also been a series of aftershocks.

The company said its primary concern was the safety of its employees and contractors and that no injuries had been reported.

Oil Search said that as a precautionary measure and in order to assess any damage to facilities, its production operations in the PNG Highlands is in the process of being shutdown.

ExxonMobil PNG Ltd, the developer of the PNG LNG, also confirmed that the PNG LNG Project facility at Hides has also been safely shut down. It stated that all its employees and contractors at its Hides facilities have been accounted for and are all safe.

"As a precaution, ExxonMobil PNG Limited has shut its Hides gas conditioning plant to assess any damages to its facilities," the management said.

Meanwhile, Oil Search and ExxonMobil said they were also monitoring the impact on people in the local communities and would assist the relevant authorities, where possible.
"We are continuing to assess damage to our facilities in Southern Highlands and Hela provinces. The Hides gas conditioning plant has been safely shut down and our wellpads have been shut in as a precaution until full assessments can be completed.
"Preliminary reports from the Hides Gas Conditioning Plant indicate the administration buildings, living quarters and the mess hall have sustained damage. Flights into the Komo airfield have also been suspended until we are able to survey the runway.

"The safety and security of our employees and contractors is top priority. Due to the damage to the Hides camp quarters and continuing aftershocks, ExxonMobil PNG is putting plans in place to evacuate non-essential staff.

"We are also concerned about the impact the earthquake is having on our nearby communities. Telephone communications have been impacted in the region, and we are working with aid agencies and our community partners to better understand damage in the local area," ExxonMobil said in a statement.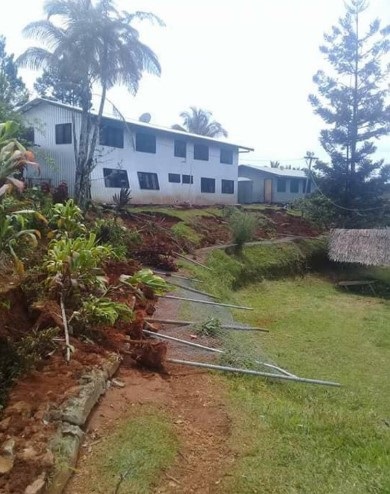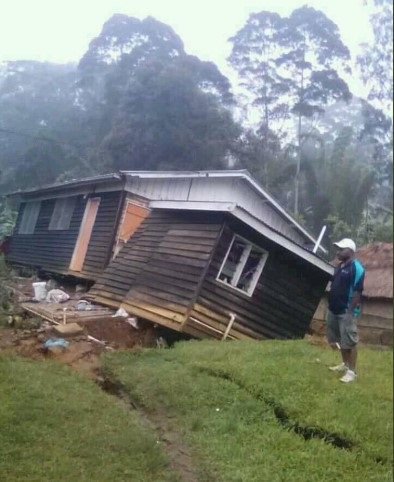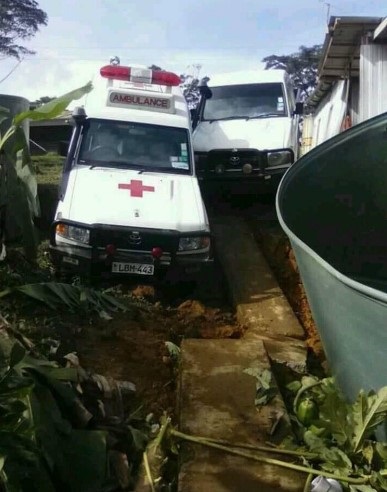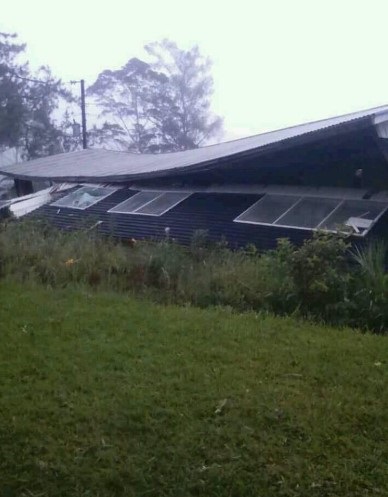 LATEST NEWS • All Today news
17:50 • 23/09
Armenian troops' plan to join Syria peacekeepers 'threatens new level of international isolation'
17:43 • 23/09
World's biggest election loser runs for 96th time in Canada
17:28 • 23/09
Prime minister optimistic about 'examplary elections'
15:21 • 23/09
US sanctions driving Russian billionaires into Putin's arms
15:02 • 23/09
Britain's Labour Party backs new election to solve Brexit
14:40 • 23/09
Kim Kardashian cheers on daughter North in her first runway show as tot models PVC and red lipstick
14:27 • 23/09
Cyclist escapes with his life after car driven by joyrider
14:04 • 23/09
Al Pacino's new girlfriend is half his age  
13:34 • 23/09
US Open 2018: Naomi Osaka beaten by Karolina Pliskova in Pan Pacific Open final
12:33 • 23/09
Meghan Markle reveals her first datign dress was 'something blue'
11:43 • 23/09
Moody's pegs Florence's economic cost at $38b to $50b
11:12 • 23/09
We need to be accustomed to normal voting practices in Armenia – Nikol Pashinyan
10:47 • 23/09
Maldives election: Voting begins in controversial poll
10:14 • 23/09
Yerevan conducts snap city council elections today
09:13 • 23/09
Iran blames Gulf rivals for deadly attack
17:38 • 21/09
US-Armenian artist Tigran Tsitoghdzyan opens exhibition in Istanbul
17:03 • 21/09
Armenia must declare 'last ever amnesty', revising life-termers' cases – opinion  
16:07 • 21/09
Aguero extends Man City deal until 2021
15:54 • 21/09
Queen Elizabeth put Meghan Markle through fertility tests before wedding with Prince Harry
15:45 • 21/09
Armenia celebrating independence in exceptional conditions today  – Robert Kocharyan
15:21 • 21/09
Japanese probe about to drop hopping robots onto asteroid Ryugu
15:09 • 21/09
We proved that dreams can come true – President Sarkissian congratulates Armenians on independence day  
14:51 • 21/09
Inside Anthony Bourdain's $3.7m apartment as his estranged wife puts it on the market three months after the celebrity chef took his own life
14:32 • 21/09
Tbilisi TV tower features Armenian tricolor (video)
14:17 • 21/09
Artsakh President congratulates Armenian PM on independence anniversary
14:04 • 21/09
Independence day marked at Yerablur pantheon (photos)
13:25 • 21/09
Theresa May snubbed by Merkel as German leader ignores UK PM at Salzburg summit
12:30 • 21/09
Russians suspected of Skripal poisoning previously detained in The Netherlands — Bellingcat
12:07 • 21/09
Zhamanak: CSTO sending clear messages to Armenia
11:13 • 21/09
Vietnamese President Tran Dai Quang dies
10:51 • 21/09
Armenia celebrates 27th anniversary of independence today
09:29 • 21/09
US imposes sanctions on China over Russian weapons purchase
18:10 • 20/09
Azerbaijan continues crackdown on civil society – Human Rights Watch
17:57 • 20/09
Cary Fukunaga to direct next James Bond movie
17:47 • 20/09
President Sarkissian visits Chinese Embassy in Yerevan
17:30 • 20/09
Zurich Protocols will 'never return' to Turkey's politcal agenda
16:55 • 20/09
European court orders Armenian government to pay €20,600 over violations in March 1 criminal case
16:50 • 20/09
No hasty plans to arrange Pashinyan-Trump meeting, says foreign minister
12:25 • 20/09
Ucom to offer more affordable roaming rate to subscribers visiting Russia
11:31 • 20/09
Adam Schiff and 8 US lawmakers urge Gov Brown to sign Turkey divestment bill
11:08 • 20/09
$60m worth digital currencies stolen from Japanese exchange
09:47 • 20/09
Zhoghovurd: Catholicos of All Armenians to step down 'for health reasons'  
09:28 • 20/09
US 'ready' to restart talks with North Korea
09:11 • 20/09
Japan foreign minister planning to discuss peace treaty with Russia's Lavrov
18:13 • 19/09
Contract serviceman fatally wounded in Armenia's north-east
17:50 • 19/09
Dunja Mijatović: Legal incapacity of individuals with disabilities 'challenge to their rights' in Armenia
16:18 • 19/09
15:52 • 19/09
Kocharyan explains reasons behind 'political comeback'
15:08 • 19/09
Azerbaijan, Russia conduct joint drills in Caspian Sea
13:07 • 19/09
The Weeknd sued 'for at least $5m' for 'stealing' his hit song Starboy from another artist
12:36 • 19/09
EU 'ready to improve' Irish border deal
12:09 • 19/09
Trump hails 'exciting' agreements by North Korean leader
12:05 • 19/09
Turkish workers arrested after Istanbul airport protests  
11:30 • 19/09
Trump considers request for US military base in Poland
11:18 • 19/09
Jessica Simpson expecting third baby
11:06 • 19/09
Facebook accused of gender discrimination in job adss
10:34 • 19/09
We are ready for negotiations but must be prepared for war, prime minister says in Artsakh
09:24 • 19/09
Pentagon lists Russia, China as biggest threats to US
09:13 • 19/09
North and South Koreas 'commit to era of no wars'
17:56 • 18/09
Armenian khachkar unveiled in Polish city
17:05 • 18/09
Armenian parliament official briefs PACE committee on Azerbaijani aggression against Armenian civilian settlements
16:55 • 18/09
Ucom doubles inclusions of uDaily prepay mobile internet service
16:35 • 18/09
Former Liverpool defender forced to retire with motor neurone disease just months after marrying England women's captain 
16:22 • 18/09
Armenia, China sign deal to facilitate air communication
15:40 • 18/09
Trump orders release of classified documents in Russia probe
15:24 • 18/09
Armenian government delegation conducts visit to Nagorno-Karabakh
14:51 • 18/09
Central Bank chief re-elected president of interstate bank council
14:40 • 18/09
Armenian defense minister meets with FAST foundation president
14:08 • 18/09
NASA's new spacecraft captures photo of more than a dozen celestial objects known to host exoplanets in stunning 'first light' image
13:45 • 18/09
Pakistan's austerity car auction falls short, new PM commutes by helicopter
13:25 • 18/09
Armenian family's 400-year-old musical secret still rings true
13:17 • 18/09
Russia blames Israel for downing of plane, vows retaliation
12:45 • 18/09
Chief architect of Yerevan sacked
12:25 • 18/09
Republic Square selected as 'hot spot' of independence day events to symbolize success in 'Velvet Revolution'
11:26 • 18/09
Libarman's visit to Baku signals strengthening Azerbaijani-Israeli relations
11:09 • 18/09
Zhoghovurd: OSCE to turn closer spotlight on situation along Karabakh frontline
10:35 • 18/09
Russian military plane disappears during Israeli strikes on Latakia with 14 people on board
10:13 • 18/09
Zhamanak: Putin planning meeting with former presidents in Yerevan
09:56 • 18/09
SpaceX unveils first Moon Loop tourist
09:51 • 18/09
Sean Penn Calls #MeToo Movement 'Receptacle of the Salacious'
09:44 • 18/09
Florence leaves 'monumental disaster' for North Carolina
09:31 • 18/09
Magnitude 1.9 earthquake hits Armenia's south
09:13 • 18/09
SpaceX signs first private moon customer
09:12 • 18/09
Russia and Turkey agree to create buffer zone in Syria's Idlib
19:40 • 17/09
Facts, figures, and Results: Zvartnots International Airport reports details on its activity and not օnly
17:53 • 17/09
French actor Gerard Depardieu 'wants' to acquire Turkish citizenship
17:35 • 17/09
New head of OSCE Mission to Skopje takes office
17:23 • 17/09
Ukraine's Poroshenko terminates Treaty of Friendship with Russia
16:38 • 17/09
Samsung's Galaxy Note 9 reportedly catches fire in user's purse  
16:05 • 17/09
Zohrab Mnatsakanyan: Nagorno-Karabakh is not just conflict for Armenia
15:17 • 17/09
Turkish Coast Guard rescues 16 migrants as boat capsizes
14:46 • 17/09
Yerevan hosts 11th Armrobotics Championship
12:46 • 17/09
Britain's oldest person reveals secret of longevity  
12:33 • 17/09
Arthur Abraham takes part in 45th BMW Berlin Marathon
12:02 • 17/09
Penelope Cruz dazzles in elegant one-shoulder gown as she joins husband Javier Bardem for LA screening of Loving Pablo
11:34 • 17/09
Armenian, Artsakh foreign ministers meet in Stepanakert
11:10 • 17/09
Turkey to increase troops in Turkish Cyprus
10:43 • 17/09
Elon Musk says Tesla now in 'delivery logistics hell'
10:14 • 17/09
Azerbaijan's armed forces open fire on Armenia's south from Nakhicehvan
09:51 • 17/09
As Trump and Mattis clash in public, officials question how long he'll last at the Pentagon