New Armenian government's program deserves intn'l support - Alex Johnon's article in The Hill
17:56 • 19.06.18
Last week, I hosted the first visit of Armenian civil society leaders in Washington since the Velvet Revolution swept Nikol Pashinyan, a prominent journalist targeted and punished by the past regime, into the prime minister's office.

Like many US policymakers whom we met with, I was moved by their determination and optimism following a historic change in the country last month. Thousands took to the streets to protest the government's corruption and incompetence. Now, the reformers are in power and have a chance to translate decades of advocacy into real policy change.

That's why it's more important than ever for the United States and the international community to get behind Pashinyan, a former political prisoner. The moment may be fleeting, but for now he has a mandate for change. A government program adopted on June 7, developed in close consultation with leaders of the protest movement, needs and deserves support from the international community.

The US government and others should help Pashinyan's government implement his new program, stamp out corruption, and prevent former government officials from destabilizing the new government.

There are signs that the United States is paying attention.

Fortunately, on Monday, US lawmakers from both parties sent a letter to Secretary of State Mike Pompeo and USAID Administrator Mark Green calling for increased assistance to Armenia. This should be an easy thing to do because State and USAID only have to redirect resources—no new money is needed to support the new government's efforts to fight corruption, promote transparency, and improve transparency.

Still, relatively little attention has been paid to last month's swift and relatively non-violent transition that took place in Armenia. That's not surprising. It's a tiny country with a small population. Most Americans probably know Armenia because of the popular Kardashian family or because of Armenia's plea for the United States to recognize the Turkish genocide where more than 2 million Armenians were killed in the early 20th century.

The United States needs to step in to prevent Russia from mucking about with this nascent democratic movement. Armenia should be an important focus for the Trump administration because it has long been a client state of Russia's and dominated by autocrats and elites who plundered the country's resources and preyed on its citizens.

While Russian President Vladimir Putin's designs on the new Armenia are not clear, Putin seems to care about maintaining Russian hegemony in the South Caucasus. Acting quickly and assertively, Putin might put more than 5,000 Russian troops stationed in Armenia in jeopardy and prompted Armenia to disengage from the Eurasian Economic Union. If Armenia remains closely engaged with Russia, a forceful and coordinated international effort is essential to counter the Kremlin's inevitable export to Armenia, kleptocracy.

Getting involved sooner rather than later would offer Armenia a chance to shore up its government and improve its economy, which is what many of its neighbors—notably, Ukraine and Georgia—failed to do following their color revolutions.
The influential Armenian diaspora in the United States and elsewhere should work to boost a free market economy, support independent journalism, and disrupt state run industries run by oligarchs, like the Western NIS Enterprise Fund, which was launched with assistance from USAID.

The United States has a couple of tools to deploy from its foreign policy toolkit. The National Endowment for Democracy already allocates $1.3 million a year to Armenia for democracy development. This investment should be increased and coupled with innovative exchanges like the International Visitors Leadership Program.

The US Congress runs a few key exchange projects, which would have greater impact if accelerated with Armenia, particularly the Open World Leadership Center and the House Democracy Partnership.\

What's more, the U.S. government must demonstrate political solidarity through high-level meetings and statements from organizations like the Organization for Security in Europe (OSCE) to reinforce the tough decisions anticipated transitional justice needs will require. Any number of mechanisms for assistance can also yield necessary electoral code adjustments to ensure legitimate early parliamentary elections reflecting the will of the people.

The question now is whether US policymakers and the international community stand for Armenia's future. I hope they do.

Alex T. Johnson is the Senior Policy Advisor for Europe and Eurasia at the Open Society Policy Center
Videos
16:06 • 31.07.20
My Future: New Billie Eilish Song Attracts Millions of Views on YouTube
15:07 • 30.07.20
NASA launches Mars 2020 Perseverance Rover with First Aircraft to Fly on Another Planet
09:44 • 21.07.20
Armenian-made UCAV Strikes Azerbaijani Military Objective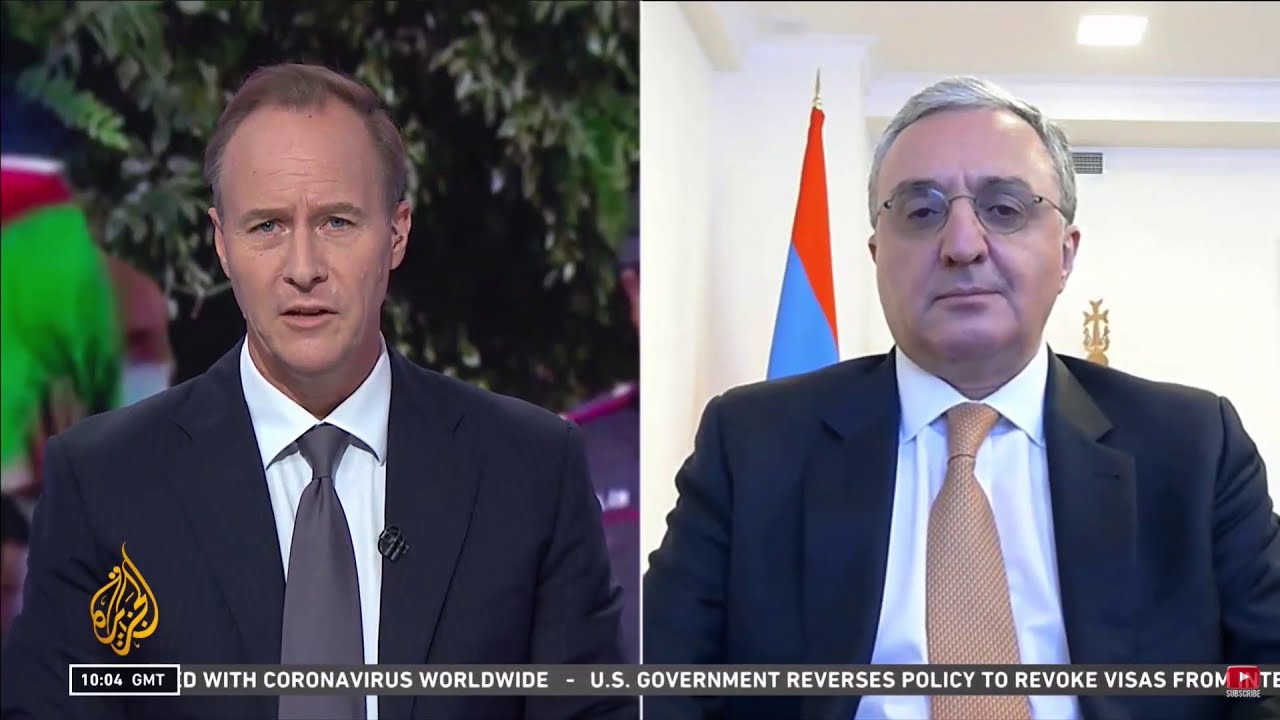 10:32 • 16.07.20
War is Not the Alternative to Peace Talks over Karabakh - FM Zohrab Mnatsakanyan's Interview to Aljazeera
15:33 • 15.07.20
Footage Shows How Azerbaijan Shells Armenian Villages in Jul. 13-14 Artillery Strikes
12:19 • 15.07.20
ANCA Calls for Action to Urge Congressional Condemnation of Azerbaijani Attacks against Armenia
12:13 • 14.07.20
Armenian Military Neutralize Azerbaijani Tank in Retaliatory Military Actions
12:42 • 07.07.20
Chilean Nurse Plays the Violin for Covid-19 Patients
17:38 • 01.07.20
US House Rep. Jackie Kanchelian Speier Discusses De-Mining Aid Program for Artsakh
14:59 • 26.06.20
Armenia's Prime MInister Under Criticism for Poor Handling of Coronavirus - BBC
10:07 • 24.06.20
Congressman Brad Sherman Testifies in Support of Continued US Aid to Artsakh
17:14 • 04.06.20
Meghan Markle says 'George Floyd's life mattered' in heartfelt message against racism
13:04 • 28.05.20
Armenia's Political Elite Celebtrates First Republic Anniversary in Sardarapat
14:13 • 15.05.20
3D Model of SARS-CoV-2 Virus at Atomic Resolution
13:25 • 09.05.20
Armenia's Political Leadership Marks 'Triple Victory Day' in Yerevan
16:29 • 04.05.20
Toyota Launches Karl Lagerfeld Limited-Edition SUV in Thailand
10:44 • 24.04.20
Armenia Commemorating 105th Anniversary of Genocide
12:31 • 23.04.20
Rep..Adam Schiff Discusses Genocide, US Aid to Armenia, Artsakh
09:22 • 23.04.20
Coronavirus: The World Has a Long Way to Go, Warns WHO Chief
15:33 • 21.04.20
Her Majesty, Queen Elizabeth II Celebrates Her 94th Birthday
13:59 • 18.04.20
Holy Fire at the Church of Sepulchre in Jerusalem
14:49 • 13.04.20
Andrea Bocelli Performs Eastern Sunday Concert From Italy's Duomo Di Milano
13:47 • 10.04.20
Kim Kardashian Does a Quarantine Makeup Tutorial With Kkw Beauty Products
16:59 • 08.04.20
Coronavirus Intensive Care: BBC's Special Coverage of London Hospital Where Doctors Fight to Save Lives
16:35 • 07.04.20
Seven-Year-Old Greek Piano Prodigy Pens 'Isolation Waltz'
12:35 • 27.03.20
World Coronavirus Update (Live)
23:27 • 16.03.20
Why Fighting Coronavirus Depends on You?
09:38 • 27.02.20
Kim Kardashian Spotted Throwing Punch at Sister Kourtney
10:53 • 22.02.20
Anna Turcotte: "Rooting Out Hatred toward Armenians Cannot Be Done By Brushing Aside History."
15:13 • 11.02.20
Virtual Reality 'Reunites' Korean Mother with Deceased 7-Year-Old Kid
09:35 • 23.01.20
Armenia is in a Unique Place to Act Like a Bridge Between Europe and Eurasia– Armen Sarkissian
16:03 • 21.01.20
US President Donald Trump Delivers Keynote Speech at Davos 2020
14:20 • 13.12.19
Pro-Armenian US Senators Issue Bipartisan Call on Genocide Recognition
09:49 • 12.12.19
I'm Not Going to Cease until We Do What is Morally Right - Menendez on Armenian Genocide
16:02 • 21.11.19
SpaceX Starship MK1 Explodes! At Boca Chica, Texas
10:10 • 08.11.19
Sen. Bob Menendez Calls for Passage of Armenian Genocide Resolution
16:07 • 30.10.19
Rep. Schiff on Recognizing the Armenian Genocide
11:03 • 26.10.19
Nagorno-Karabakh's Statuis and Security are Ultimate Priorities for Armenia, Mnatsakanyan Tells BBC
10:10 • 24.10.19
US Congressman Jim Costa Slams Turkey for Recent Actions and Urges Support of Armenian Genocide Recognition
16:12 • 18.10.19
LIVE: NASA Astronauts Spacewalk Outside the International Space Station
Analysis