French President Macron welcomes participants of Francophonie Summit in Armenia
13:37 • 11.10.18
French President Emmanuel Macron delivered a greeting address at the 17th Summit of the international Organization of La Francophonie (OIF) in Yerevan, congratulating the organizers of the event on a high-level preparation.

Addressing the participants at the Karen Demirchyan Sports and Concert Complex, Macron also highlighted the extremely important role of Armenia "in the hearts of the French people".

He noted that the country's name is often associated with the calamities of nations, reminding of personalities who played a crucial role in the history of France and demonstrated a limitless love for the country "which opened its doors to those people".

"For Armenia, France and the Francophonie symbolize one single voice," he said, remembering the unequaled talent of late chansonnier Charles Aznavour, his genuine dedication and invaluable support to the fatherland.
Macron also highly appreciated the event in Yerevan as a good opportunity to bring together one family from all the continents across the globe.
"We all belong to the same family - despite the different colors of skin, the different beliefs and the different climate conditions we are living in. We also have suffered many mutual traumas, which are only now starting to get healed. The languages we have been hearing since childhood are numberless. Nevertheless, that family is unanimous and consolidated around one language - be it though perceived and expressed in different ways," he said.

The French leader also called attention to the important historic moment coinciding with the summit. "We see tremendous changes across the globe. The global situation is paralyzed with lies and hate propaganda at present. All the rules we have been able to consolidate in the past decades no longer work. Human dignity and equality between women and men are lashed out at in all the continents across the globe," he said, promising to make the summit an effective platform to address the existing challenges.
"What can the Francophonie do?" asked the French president, continuing to elaborate on his answer.

"All we have to do is to create, i.e. – engage ourselves in an activity which is sure to awaken sobriety in all of us. In all the languages today, we see very different forms of injustice – challenges to women's rights, and inequity," he said, giving further strong assurances that "the words will be translated into action".
The French president also highlighted the unique character of today's event.
"Seeing the different international developments, we cannot but reiterate the polite and frequently repeated words," he told the participants
Macron also stressed the importance of education opportunities for the youth, calling for proper action to revise the Organization's charter accordingly.
"The Francophonie is a place to lead a battle for the protection of women's rights. Franchophonie must be feministic," he said.
Videos
16:06 • 31.07.20
My Future: New Billie Eilish Song Attracts Millions of Views on YouTube
15:07 • 30.07.20
NASA launches Mars 2020 Perseverance Rover with First Aircraft to Fly on Another Planet
09:44 • 21.07.20
Armenian-made UCAV Strikes Azerbaijani Military Objective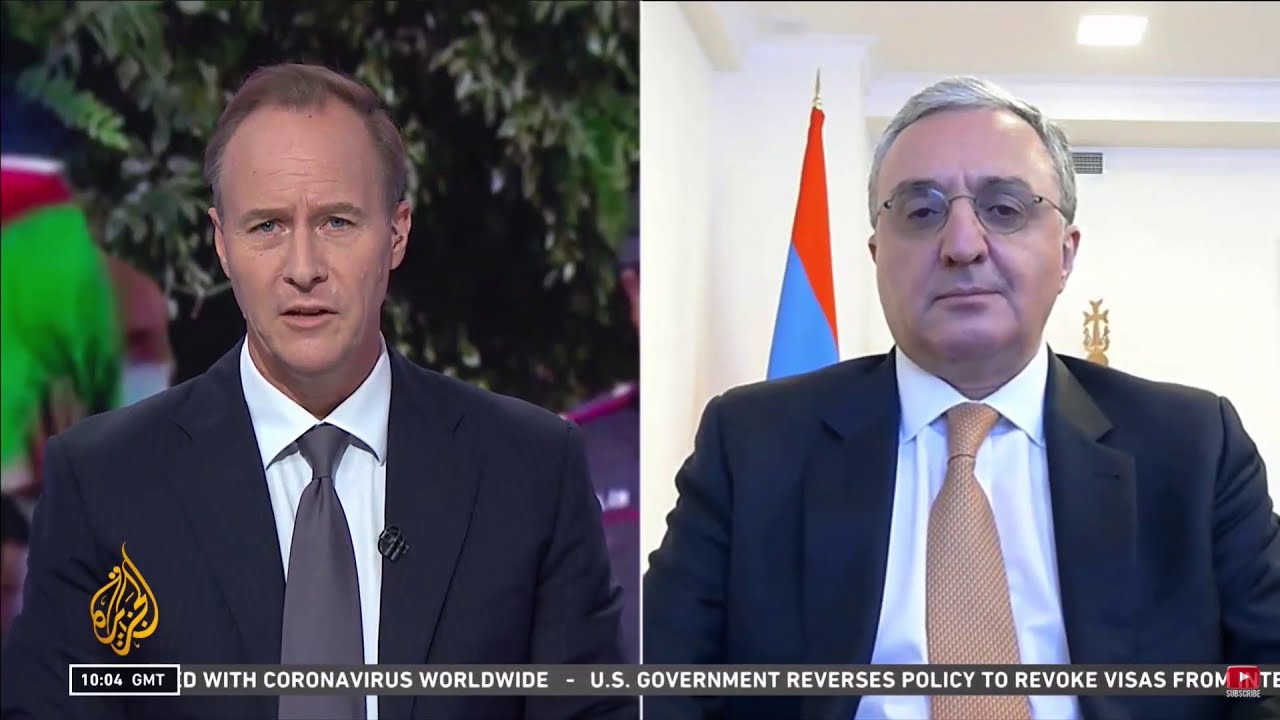 10:32 • 16.07.20
War is Not the Alternative to Peace Talks over Karabakh - FM Zohrab Mnatsakanyan's Interview to Aljazeera
15:33 • 15.07.20
Footage Shows How Azerbaijan Shells Armenian Villages in Jul. 13-14 Artillery Strikes
12:19 • 15.07.20
ANCA Calls for Action to Urge Congressional Condemnation of Azerbaijani Attacks against Armenia
12:13 • 14.07.20
Armenian Military Neutralize Azerbaijani Tank in Retaliatory Military Actions
12:42 • 07.07.20
Chilean Nurse Plays the Violin for Covid-19 Patients
17:38 • 01.07.20
US House Rep. Jackie Kanchelian Speier Discusses De-Mining Aid Program for Artsakh
14:59 • 26.06.20
Armenia's Prime MInister Under Criticism for Poor Handling of Coronavirus - BBC
10:07 • 24.06.20
Congressman Brad Sherman Testifies in Support of Continued US Aid to Artsakh
17:14 • 04.06.20
Meghan Markle says 'George Floyd's life mattered' in heartfelt message against racism
13:04 • 28.05.20
Armenia's Political Elite Celebtrates First Republic Anniversary in Sardarapat
14:13 • 15.05.20
3D Model of SARS-CoV-2 Virus at Atomic Resolution
13:25 • 09.05.20
Armenia's Political Leadership Marks 'Triple Victory Day' in Yerevan
16:29 • 04.05.20
Toyota Launches Karl Lagerfeld Limited-Edition SUV in Thailand
10:44 • 24.04.20
Armenia Commemorating 105th Anniversary of Genocide
12:31 • 23.04.20
Rep..Adam Schiff Discusses Genocide, US Aid to Armenia, Artsakh
09:22 • 23.04.20
Coronavirus: The World Has a Long Way to Go, Warns WHO Chief
15:33 • 21.04.20
Her Majesty, Queen Elizabeth II Celebrates Her 94th Birthday
13:59 • 18.04.20
Holy Fire at the Church of Sepulchre in Jerusalem
14:49 • 13.04.20
Andrea Bocelli Performs Eastern Sunday Concert From Italy's Duomo Di Milano
13:47 • 10.04.20
Kim Kardashian Does a Quarantine Makeup Tutorial With Kkw Beauty Products
16:59 • 08.04.20
Coronavirus Intensive Care: BBC's Special Coverage of London Hospital Where Doctors Fight to Save Lives
16:35 • 07.04.20
Seven-Year-Old Greek Piano Prodigy Pens 'Isolation Waltz'
12:35 • 27.03.20
World Coronavirus Update (Live)
23:27 • 16.03.20
Why Fighting Coronavirus Depends on You?
09:38 • 27.02.20
Kim Kardashian Spotted Throwing Punch at Sister Kourtney
10:53 • 22.02.20
Anna Turcotte: "Rooting Out Hatred toward Armenians Cannot Be Done By Brushing Aside History."
15:13 • 11.02.20
Virtual Reality 'Reunites' Korean Mother with Deceased 7-Year-Old Kid
09:35 • 23.01.20
Armenia is in a Unique Place to Act Like a Bridge Between Europe and Eurasia– Armen Sarkissian
16:03 • 21.01.20
US President Donald Trump Delivers Keynote Speech at Davos 2020
14:20 • 13.12.19
Pro-Armenian US Senators Issue Bipartisan Call on Genocide Recognition
09:49 • 12.12.19
I'm Not Going to Cease until We Do What is Morally Right - Menendez on Armenian Genocide
16:02 • 21.11.19
SpaceX Starship MK1 Explodes! At Boca Chica, Texas
10:10 • 08.11.19
Sen. Bob Menendez Calls for Passage of Armenian Genocide Resolution
16:07 • 30.10.19
Rep. Schiff on Recognizing the Armenian Genocide
11:03 • 26.10.19
Nagorno-Karabakh's Statuis and Security are Ultimate Priorities for Armenia, Mnatsakanyan Tells BBC
10:10 • 24.10.19
US Congressman Jim Costa Slams Turkey for Recent Actions and Urges Support of Armenian Genocide Recognition
16:12 • 18.10.19
LIVE: NASA Astronauts Spacewalk Outside the International Space Station
Analysis