Trump to Host Trudeau Next Week to Discuss Trade Deal, Huawei
11:06 • 13.06.19
Donald Trump is set to host Canadian Prime Minister Justin Trudeau next week as the American president's tariff threats continue to cloud the outlook for the countries' trade deal with Mexico.
Trudeau will visit Washington on June 20 and is tentatively scheduled to meet Trump that day, according to a Canadian official who spoke on condition of anonymity because the visit hasn't been announced. The White House didn't immediately respond to a request for comment, Bloomberg reports.
Trade and China will dominate the agenda, the official said. The two leaders will discuss ratification of the replacement for the North American Free Trade Agreement, known as USMCA, which still faces varying hurdles. They'll also talk about an ongoing fight over U.S. tariffs on Canadian softwood lumber -- a decades-old dispute between the countries -- and on Trump's potential tariffs on uranium, of which Canada is a major producer.
The two are also set to discuss Trump's feud with China. Canada has been on the front lines of that battle since Canadian authorities arrested Huawei Technologies Co. Chief Financial Officer Meng Wanzhou in Vancouver late last year over a U.S. extradition request.
The G-20 summit in Osaka, Japan, will also likely come up during the Trump-Trudeau meeting, which was first reported by the Toronto-based Globe and Mail. But the USMCA will be the foremost trade issue on the agenda, the official said.
Trump last week backed off a threat to impose tariffs on Mexico, which agreed to do more to curb Central American migration through its country to the U.S. Any new tariffs on Mexico could imperil the trade deal's progress, and Trump has reserved the right to reignite the dispute.
Earlier: Huawei CFO's 'Complex' Extradition Request Is Just 33 Pages
The White House has called on U.S. House Speaker Nancy Pelosi to bring a vote on the USMCA trade deal to the floor, and said it would pass if were brought to a vote, though Democrats continue to seek certain changes. Canada is proceeding with ratification, though time is running out to do so before an election there this fall. Trudeau is trailing in polls.
The arrest of Meng caught Canada between two warring giants, as China has demanded Canada simply release Meng. Nine days after her arrest, China seized two Canadians, who remain in custody with only sporadic access to consular officials. Meng has been living under house arrest as her case inches forward.
The U.S. has sided with Canada and called for China to release the two Canadians, Michael Kovrig and Michael Spavor. Trump has also mused that Huawei, and Meng specifically, could be included in any trade deal with China, undercutting Trudeau's assurances that the extradition process is free from political interference.
Videos
16:06 • 31.07.20
My Future: New Billie Eilish Song Attracts Millions of Views on YouTube
15:07 • 30.07.20
NASA launches Mars 2020 Perseverance Rover with First Aircraft to Fly on Another Planet
09:44 • 21.07.20
Armenian-made UCAV Strikes Azerbaijani Military Objective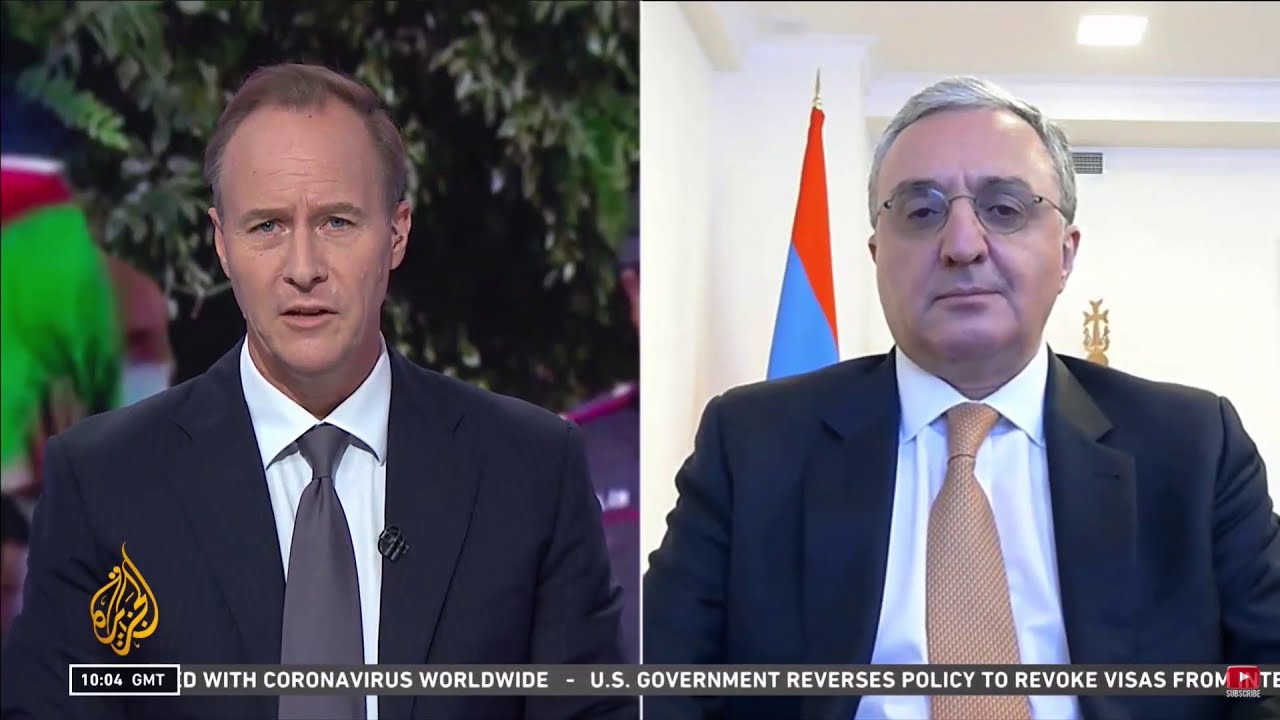 10:32 • 16.07.20
War is Not the Alternative to Peace Talks over Karabakh - FM Zohrab Mnatsakanyan's Interview to Aljazeera
15:33 • 15.07.20
Footage Shows How Azerbaijan Shells Armenian Villages in Jul. 13-14 Artillery Strikes
12:19 • 15.07.20
ANCA Calls for Action to Urge Congressional Condemnation of Azerbaijani Attacks against Armenia
12:13 • 14.07.20
Armenian Military Neutralize Azerbaijani Tank in Retaliatory Military Actions
12:42 • 07.07.20
Chilean Nurse Plays the Violin for Covid-19 Patients
17:38 • 01.07.20
US House Rep. Jackie Kanchelian Speier Discusses De-Mining Aid Program for Artsakh
14:59 • 26.06.20
Armenia's Prime MInister Under Criticism for Poor Handling of Coronavirus - BBC
10:07 • 24.06.20
Congressman Brad Sherman Testifies in Support of Continued US Aid to Artsakh
17:14 • 04.06.20
Meghan Markle says 'George Floyd's life mattered' in heartfelt message against racism
13:04 • 28.05.20
Armenia's Political Elite Celebtrates First Republic Anniversary in Sardarapat
14:13 • 15.05.20
3D Model of SARS-CoV-2 Virus at Atomic Resolution
13:25 • 09.05.20
Armenia's Political Leadership Marks 'Triple Victory Day' in Yerevan
16:29 • 04.05.20
Toyota Launches Karl Lagerfeld Limited-Edition SUV in Thailand
10:44 • 24.04.20
Armenia Commemorating 105th Anniversary of Genocide
12:31 • 23.04.20
Rep..Adam Schiff Discusses Genocide, US Aid to Armenia, Artsakh
09:22 • 23.04.20
Coronavirus: The World Has a Long Way to Go, Warns WHO Chief
15:33 • 21.04.20
Her Majesty, Queen Elizabeth II Celebrates Her 94th Birthday
13:59 • 18.04.20
Holy Fire at the Church of Sepulchre in Jerusalem
14:49 • 13.04.20
Andrea Bocelli Performs Eastern Sunday Concert From Italy's Duomo Di Milano
13:47 • 10.04.20
Kim Kardashian Does a Quarantine Makeup Tutorial With Kkw Beauty Products
16:59 • 08.04.20
Coronavirus Intensive Care: BBC's Special Coverage of London Hospital Where Doctors Fight to Save Lives
16:35 • 07.04.20
Seven-Year-Old Greek Piano Prodigy Pens 'Isolation Waltz'
12:35 • 27.03.20
World Coronavirus Update (Live)
23:27 • 16.03.20
Why Fighting Coronavirus Depends on You?
09:38 • 27.02.20
Kim Kardashian Spotted Throwing Punch at Sister Kourtney
10:53 • 22.02.20
Anna Turcotte: "Rooting Out Hatred toward Armenians Cannot Be Done By Brushing Aside History."
15:13 • 11.02.20
Virtual Reality 'Reunites' Korean Mother with Deceased 7-Year-Old Kid
09:35 • 23.01.20
Armenia is in a Unique Place to Act Like a Bridge Between Europe and Eurasia– Armen Sarkissian
16:03 • 21.01.20
US President Donald Trump Delivers Keynote Speech at Davos 2020
14:20 • 13.12.19
Pro-Armenian US Senators Issue Bipartisan Call on Genocide Recognition
09:49 • 12.12.19
I'm Not Going to Cease until We Do What is Morally Right - Menendez on Armenian Genocide
16:02 • 21.11.19
SpaceX Starship MK1 Explodes! At Boca Chica, Texas
10:10 • 08.11.19
Sen. Bob Menendez Calls for Passage of Armenian Genocide Resolution
16:07 • 30.10.19
Rep. Schiff on Recognizing the Armenian Genocide
11:03 • 26.10.19
Nagorno-Karabakh's Statuis and Security are Ultimate Priorities for Armenia, Mnatsakanyan Tells BBC
10:10 • 24.10.19
US Congressman Jim Costa Slams Turkey for Recent Actions and Urges Support of Armenian Genocide Recognition
16:12 • 18.10.19
LIVE: NASA Astronauts Spacewalk Outside the International Space Station
Analysis