Mikayel Minasyan: Serzh Sargsyan will be arrested soon 'in an attempt to distract public from real problems' – News.am
14:18 • 17.08.19
News.am has interviewed Mikayel Minasyan, a former Armenian ambassador to the Holy See.


Mr. Minasyan, your yesterday's post on Facebook attracted a wide reaction. A very superficial remark you made, however, has given rise to real questions. You mentioned 'arrested former presidents' instead of 'a president'. Did you mean Serzh Sargsyan? Do you think he will be arrested too?

Definitely. Criminal charges and arrest is what characterizes the entire logic behind the actions of the current government. An essential part of the state resources today is wasted upon criminal charges and arrests. But the problem is that it no longer works. After the first five, 10, 15 and 20 arrests, the society's fervent reaction has toned down a little bit as it does not change the public sentiments to become an agenda. In just a couple of days' time, this kind of steps will provoke only scornful attitudes. Make no doubt about that; given especially that the general impression is that of a transaction containing corruption risks.
It is due to their own unreasoned steps that these authorities have created three very complicated problems for themselves, which they now have to resolve: Amulsar [mine], Istanbul Convention and developments around Artsakh [Nagorno-Karabakh]. And the total failure to work - both by the executive and the legislative - has added to this. As a result, the wave of public discontent is on the verge of spiraling out of control. And that's visible to the authorities now. Knowing the current authorities' primitive logic well enough, one can easily predict that instead of searching for solutions they will opt for their favorite practice of arrests in order to distract public attention.
The authorities have one 'gold reserve' - archived and planned long ago, i.e. - the mega-arrest, the arrest of Serzh Sargsyan. The authorities' media trumpets have been long heralding the fact. A simple calculation prompts that Serzh Sargsyan will be arrested soon in an attempt to distract the public from real problems for a little bit more.
Moreover, the authorities' fear of the aftermaths of the said problems is so big indeed that they will not, in all likelihood, be satisfied with Serzh Sargsyan's arrest alone. They will invent something new to target one or even several generals. And I do not rule out the possibility of joining their ranks.
Not a very far-sighted leak by the foreign media recently came to hint a plan for arresting Major-General Samvel Karapetyan, one of our heroes. It isn't absolutely hard to predict why they need it; obviously, that's an attempt to silence the military elite.
Do you think Serzh Sargsyan is aware of the scenario and the possible developments, and is he prepared for that?

He is always prepared for any turn of events. Serzh Sargsyan will be arrested, thus rendering yet another big service to his people. He will be put behind bars to evoke eventually the universal understanding that "revolution″ minus arrests yields practically a zero outcome. The population's living standards do not change, with no investments increasing or jobs being created or life becoming better and safer. On the contrary, everything changes for the worse. Serzh Sargsyan will prove that with his own example, awakening, as soon as possible, the sober mind. By arresting him, the authorities will exhaust both the effectiveness and chances of using represssions as a tool.
It stands to reason from now on that the power transition was but the primitive fight for the throne ... The true image of the thief and plunderer, the disgraceful liar and proofless intriguer and moreover - the talentless unfortunate figure will be revealed to the public soon. It is the irony of fate, perhaps, that these authorities cannot possibly do anything without those figures created by themselves. Even without any hostility towards them, these authorities have no value at all; without their fight against the shadow, these authorities have nothing to say or do.
You dropped a hint that a legal action is going to be filed against you too. Do you think you will really face a criminal proceeding?

Unequivocally. One of the first tasks after the new government's formation dealt, practically, with inspections in the companies owned by me and people associated with me. They inspected absolutely everything, anything that could possibly date back to any time. They haven't succeeded [in finding illicit evidence] so far. But that doesn't mean they have stopped the searches ....
Instituting a criminal case after one and half year's failure to find anything at all would signify a directly instructed political order. It is highly predictable and vulnerable, and life will put everything in its place. The incimbent authorities are crossing all the boundaries, forgetting about the fact that we all are going to live under the same sky and that nothing – especially power - is everlasting. That's the key point that will soon impose sobriety upon everyone. Time has come to break down all the myths.
Videos
16:06 • 31.07.20
My Future: New Billie Eilish Song Attracts Millions of Views on YouTube
15:07 • 30.07.20
NASA launches Mars 2020 Perseverance Rover with First Aircraft to Fly on Another Planet
09:44 • 21.07.20
Armenian-made UCAV Strikes Azerbaijani Military Objective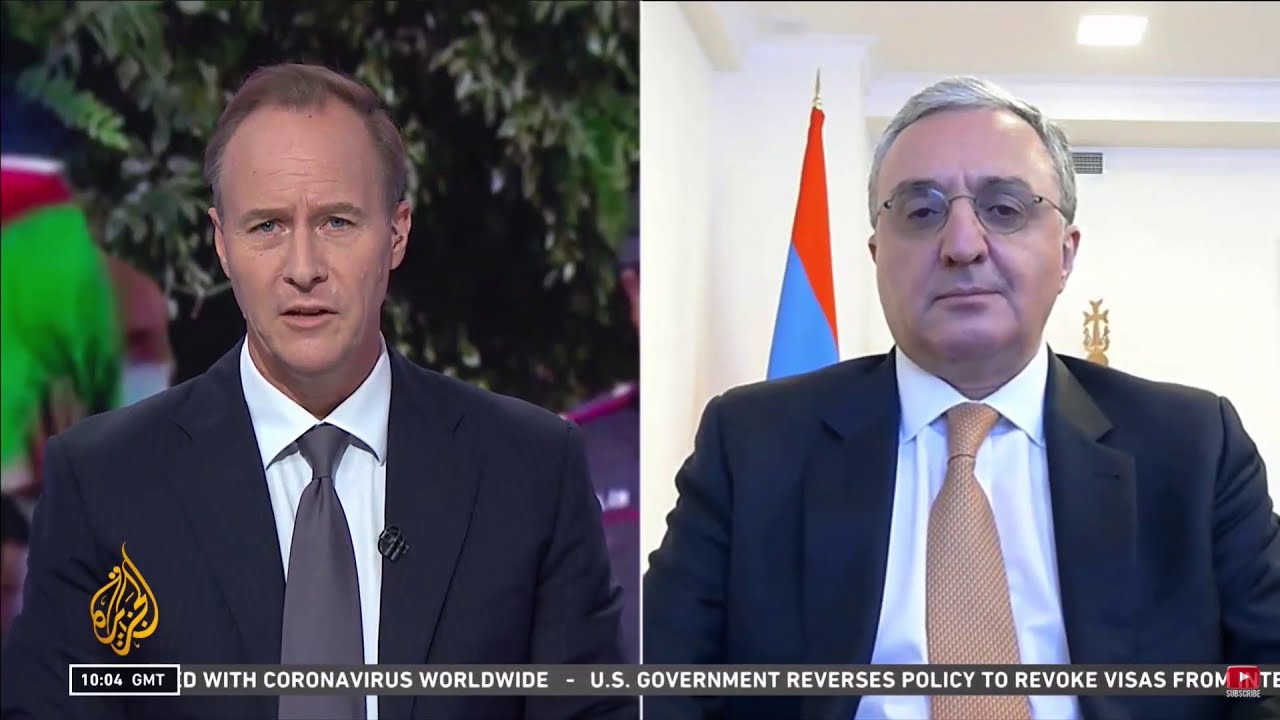 10:32 • 16.07.20
War is Not the Alternative to Peace Talks over Karabakh - FM Zohrab Mnatsakanyan's Interview to Aljazeera
15:33 • 15.07.20
Footage Shows How Azerbaijan Shells Armenian Villages in Jul. 13-14 Artillery Strikes
12:19 • 15.07.20
ANCA Calls for Action to Urge Congressional Condemnation of Azerbaijani Attacks against Armenia
12:13 • 14.07.20
Armenian Military Neutralize Azerbaijani Tank in Retaliatory Military Actions
12:42 • 07.07.20
Chilean Nurse Plays the Violin for Covid-19 Patients
17:38 • 01.07.20
US House Rep. Jackie Kanchelian Speier Discusses De-Mining Aid Program for Artsakh
14:59 • 26.06.20
Armenia's Prime MInister Under Criticism for Poor Handling of Coronavirus - BBC
10:07 • 24.06.20
Congressman Brad Sherman Testifies in Support of Continued US Aid to Artsakh
17:14 • 04.06.20
Meghan Markle says 'George Floyd's life mattered' in heartfelt message against racism
13:04 • 28.05.20
Armenia's Political Elite Celebtrates First Republic Anniversary in Sardarapat
14:13 • 15.05.20
3D Model of SARS-CoV-2 Virus at Atomic Resolution
13:25 • 09.05.20
Armenia's Political Leadership Marks 'Triple Victory Day' in Yerevan
16:29 • 04.05.20
Toyota Launches Karl Lagerfeld Limited-Edition SUV in Thailand
10:44 • 24.04.20
Armenia Commemorating 105th Anniversary of Genocide
12:31 • 23.04.20
Rep..Adam Schiff Discusses Genocide, US Aid to Armenia, Artsakh
09:22 • 23.04.20
Coronavirus: The World Has a Long Way to Go, Warns WHO Chief
15:33 • 21.04.20
Her Majesty, Queen Elizabeth II Celebrates Her 94th Birthday
13:59 • 18.04.20
Holy Fire at the Church of Sepulchre in Jerusalem
14:49 • 13.04.20
Andrea Bocelli Performs Eastern Sunday Concert From Italy's Duomo Di Milano
13:47 • 10.04.20
Kim Kardashian Does a Quarantine Makeup Tutorial With Kkw Beauty Products
16:59 • 08.04.20
Coronavirus Intensive Care: BBC's Special Coverage of London Hospital Where Doctors Fight to Save Lives
16:35 • 07.04.20
Seven-Year-Old Greek Piano Prodigy Pens 'Isolation Waltz'
12:35 • 27.03.20
World Coronavirus Update (Live)
23:27 • 16.03.20
Why Fighting Coronavirus Depends on You?
09:38 • 27.02.20
Kim Kardashian Spotted Throwing Punch at Sister Kourtney
10:53 • 22.02.20
Anna Turcotte: "Rooting Out Hatred toward Armenians Cannot Be Done By Brushing Aside History."
15:13 • 11.02.20
Virtual Reality 'Reunites' Korean Mother with Deceased 7-Year-Old Kid
09:35 • 23.01.20
Armenia is in a Unique Place to Act Like a Bridge Between Europe and Eurasia– Armen Sarkissian
16:03 • 21.01.20
US President Donald Trump Delivers Keynote Speech at Davos 2020
14:20 • 13.12.19
Pro-Armenian US Senators Issue Bipartisan Call on Genocide Recognition
09:49 • 12.12.19
I'm Not Going to Cease until We Do What is Morally Right - Menendez on Armenian Genocide
16:02 • 21.11.19
SpaceX Starship MK1 Explodes! At Boca Chica, Texas
10:10 • 08.11.19
Sen. Bob Menendez Calls for Passage of Armenian Genocide Resolution
16:07 • 30.10.19
Rep. Schiff on Recognizing the Armenian Genocide
11:03 • 26.10.19
Nagorno-Karabakh's Statuis and Security are Ultimate Priorities for Armenia, Mnatsakanyan Tells BBC
10:10 • 24.10.19
US Congressman Jim Costa Slams Turkey for Recent Actions and Urges Support of Armenian Genocide Recognition
16:12 • 18.10.19
LIVE: NASA Astronauts Spacewalk Outside the International Space Station
Analysis