Turkish offensives into north-eastern Syria 'may escalate regional tension' –Turkologist
10:27 • 14.10.19
Turkey's military offensives in north-eastern Syria may increase regional tension, escalating into a deeper crisis threatening the civilians, a Yerevan-based Turkologist said on Sunday, expressing his concerns over the situaiton of local Armenians.
In an interview with Tert.am, Director of the Institute of Oriental Studies (National Academy of Armenia) Ruben Safrastyan warned of the severe humanitarian plight in districts heavily populated by Armenians. He cited the available UN reports highlighting civilains' deaths, noting that refugees' number is now increasing to thousands. ″The Turkish troops and their allies which, in point of fact, are the radical Syrian opposition, commit mass slaughters; hundreds are now reported killed. This kind of operation has a heavy humanitarian aftermath. There are available reports also on the evacuation of Armenian families,″ he noted.
Asked to comment on the estimated overall impact upon the Armenian community - especially in view of Azerbaijanis' plan to joun the Turkey-led military actions in Syria - Safrastyan said he sees real threats in case of both scenarios. ″Regardless of Azerbaijan's involvement in those processees, everything that is going on there poses a hazard to the local population, including the Armenians. I don't think Azerbaijan will be involved [in the military operations], but their involvement alone will not change anything, I think Armenia's strong-worded statement condemning the Turkish aggression is absolutely justified. It is also important for us to be ready to offer our aid to our compatriots to evacuate them from there, if necessary, to other regions across Syria or the Republic of Armenia,″ Safrastyan added.
Turky launched the offensives in Syria's northern regions on Wednesday October 9, with the miltiary subdivisions of the country's armed foces taking control over 20 cities and towns. Several world countries, including the EU member states, condemned the attack in subsequent statements, urging Turkey to end the military actions. Finland and Germany announced their decision to halt the weapons supply to the country. The Syrian Foreign Ministry, in turn, expressed a strong commitment to battle against the Turkish troops.
Turkey cites the official justificiation of clearing the Syrian region of PKK self-defense groups (whom the country considers terrorists). President Recep Tayyip ErdoganIn said in a telephone conversation with US President Donald Donald Trump that the Turkish military is planning to go 30km deep from the border to create a buffer zone for 3-4 million Syrian refugees.
Videos
16:06 • 31.07.20
My Future: New Billie Eilish Song Attracts Millions of Views on YouTube
15:07 • 30.07.20
NASA launches Mars 2020 Perseverance Rover with First Aircraft to Fly on Another Planet
09:44 • 21.07.20
Armenian-made UCAV Strikes Azerbaijani Military Objective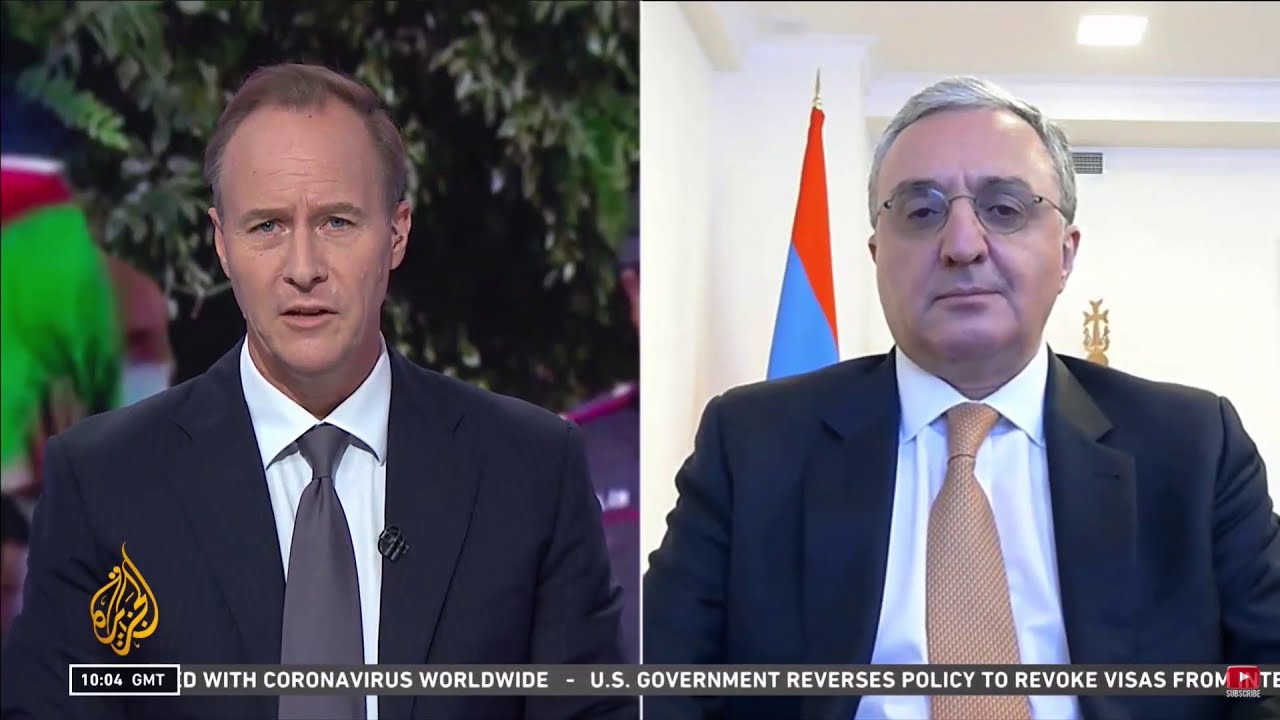 10:32 • 16.07.20
War is Not the Alternative to Peace Talks over Karabakh - FM Zohrab Mnatsakanyan's Interview to Aljazeera
15:33 • 15.07.20
Footage Shows How Azerbaijan Shells Armenian Villages in Jul. 13-14 Artillery Strikes
12:19 • 15.07.20
ANCA Calls for Action to Urge Congressional Condemnation of Azerbaijani Attacks against Armenia
12:13 • 14.07.20
Armenian Military Neutralize Azerbaijani Tank in Retaliatory Military Actions
12:42 • 07.07.20
Chilean Nurse Plays the Violin for Covid-19 Patients
17:38 • 01.07.20
US House Rep. Jackie Kanchelian Speier Discusses De-Mining Aid Program for Artsakh
14:59 • 26.06.20
Armenia's Prime MInister Under Criticism for Poor Handling of Coronavirus - BBC
10:07 • 24.06.20
Congressman Brad Sherman Testifies in Support of Continued US Aid to Artsakh
17:14 • 04.06.20
Meghan Markle says 'George Floyd's life mattered' in heartfelt message against racism
13:04 • 28.05.20
Armenia's Political Elite Celebtrates First Republic Anniversary in Sardarapat
14:13 • 15.05.20
3D Model of SARS-CoV-2 Virus at Atomic Resolution
13:25 • 09.05.20
Armenia's Political Leadership Marks 'Triple Victory Day' in Yerevan
16:29 • 04.05.20
Toyota Launches Karl Lagerfeld Limited-Edition SUV in Thailand
10:44 • 24.04.20
Armenia Commemorating 105th Anniversary of Genocide
12:31 • 23.04.20
Rep..Adam Schiff Discusses Genocide, US Aid to Armenia, Artsakh
09:22 • 23.04.20
Coronavirus: The World Has a Long Way to Go, Warns WHO Chief
15:33 • 21.04.20
Her Majesty, Queen Elizabeth II Celebrates Her 94th Birthday
13:59 • 18.04.20
Holy Fire at the Church of Sepulchre in Jerusalem
14:49 • 13.04.20
Andrea Bocelli Performs Eastern Sunday Concert From Italy's Duomo Di Milano
13:47 • 10.04.20
Kim Kardashian Does a Quarantine Makeup Tutorial With Kkw Beauty Products
16:59 • 08.04.20
Coronavirus Intensive Care: BBC's Special Coverage of London Hospital Where Doctors Fight to Save Lives
16:35 • 07.04.20
Seven-Year-Old Greek Piano Prodigy Pens 'Isolation Waltz'
12:35 • 27.03.20
World Coronavirus Update (Live)
23:27 • 16.03.20
Why Fighting Coronavirus Depends on You?
09:38 • 27.02.20
Kim Kardashian Spotted Throwing Punch at Sister Kourtney
10:53 • 22.02.20
Anna Turcotte: "Rooting Out Hatred toward Armenians Cannot Be Done By Brushing Aside History."
15:13 • 11.02.20
Virtual Reality 'Reunites' Korean Mother with Deceased 7-Year-Old Kid
09:35 • 23.01.20
Armenia is in a Unique Place to Act Like a Bridge Between Europe and Eurasia– Armen Sarkissian
16:03 • 21.01.20
US President Donald Trump Delivers Keynote Speech at Davos 2020
14:20 • 13.12.19
Pro-Armenian US Senators Issue Bipartisan Call on Genocide Recognition
09:49 • 12.12.19
I'm Not Going to Cease until We Do What is Morally Right - Menendez on Armenian Genocide
16:02 • 21.11.19
SpaceX Starship MK1 Explodes! At Boca Chica, Texas
10:10 • 08.11.19
Sen. Bob Menendez Calls for Passage of Armenian Genocide Resolution
16:07 • 30.10.19
Rep. Schiff on Recognizing the Armenian Genocide
11:03 • 26.10.19
Nagorno-Karabakh's Statuis and Security are Ultimate Priorities for Armenia, Mnatsakanyan Tells BBC
10:10 • 24.10.19
US Congressman Jim Costa Slams Turkey for Recent Actions and Urges Support of Armenian Genocide Recognition
16:12 • 18.10.19
LIVE: NASA Astronauts Spacewalk Outside the International Space Station
Analysis