Irish Examiner: As Ryanair launches flights to Armenia, here's why it deserves to be your next holiday destination
16:13 • 19.10.19
By Press Association
In a time when we're constantly seeking authentic, off-the-beaten-track destinations, it's a mystery why Armenia has remained so long beneath the radar. A jewel of the Caucasus (a mountainous region wedged between Russia and Iran), Armenia has long been neglected by mass market tourists, more through lack of awareness than lack of inclination.
Now, budget airline Ryanair is hoping to help put it on the map. Two new routes to Armenia will begin in January 2020, from Milan Bergamo and Rome Ciampino, while another two will commence sometime in the summer, from Berlin Schönefeld and Memmingen Airport in Bavaria.
1. It has magnificent monasteries
If you had to sum up Armenia in one image, it would be a remote, rickety old church perched precariously on a picturesque, rocky mountainside. The first nation ever to adopt Christianity as its state religion (c. 300 AD), it's no surprise the country is littered with historic monasteries, many of them carefully constructed atop extremely insecure-seeming foundations.
Touring these stony sanctuaries is an ideal way to sample the brutal beauty of the Armenian landscape, as several key sites lie at the end of a hike.
Best in show are the Geghard Monastery – a UNESCO-listed attraction partially carved from the mountainside – and the reddish-brown Noravank Monastery, which blends into the surrounding cliffs as the evening light begins to fade.
2. The capital architecture is impressive




A vibrant, historic capital that wears its Eurasian heritage proudly on its sleeve, Armenia's capital Yerevan is absolutely loaded with guidebook-worthy architecture. There's the Blue Mosque – actually a dazzling array of blues, yellows, greens and pinks – and the effortlessly grand parliament building, an elevated, neo-classical masterpiece with three distinct wings.
Even the modern architecture manages to look generations-old. Consider the Cathedral of St. Gregory the Illuminator, only consecrated in 2001, which is covered in geometric arches and turrets.
The city is otherwise best known for its bar scene, and a smattering of restaurants and cafes serving up traditional Armenian cuisine. It's one of the only place in the country where locals really understand any English – and even then, sporadically – so be sure to grab a phrasebook before heading further afield.
3. The wonderful wildlife
A photogenic mixture of mountains and forests, Armenia's rich biodiversity covers everything from miniature hedgehogs to large Eurasian bears, contained within the country's four designated national parks. For peak natural beauty, swing by Lake Sevan, one of the world's largest alpine lakes.
Armenia is particularly fruitful for birdwatchers. A vulture's paradise, eagle-eyed visitors will spot bearded vultures, griffon vultures, black vultures and more, while pelicans populate the lakes, and multi-coloured bee-eaters can be seen flitting through the trees.
4. The Armenian Genocide Memorial
Commemorating the victims of the Armenian Genocide – the mass slaughter of ethnic Armenians by the Ottoman Empire between 1915 and 1922 – the memorial features at its centre an eternal flame of remembrance, beside a row of trees planted by visiting foreign leaders.
The extent of the massacre is still not fully known – estimates vary from 700,000 to nearly 2 million – and Turkish authorities still refuse to acknowledge the severity of the bloodshed. The monument makes for essential, if harrowing viewing.
5. The Wings of Tatev
Officially the longest cable car on Earth (well, the longest "non-stop double-track" cable car), Wings of Tatev soars above Vorotan Gorge, connecting the village of Halidzor with the mountainside monastery of Tatev, 5.7km away.
Half-church half-fortress, Tatev has at varying times been a bishopric, a university, and a stronghold, and can trace its lineage all the way back to the 9th century. Variously plundered by the Persians, the Seljuk Turks, the Mongols, the Russians, and a series of earthquakes, it's nothing short of a miracle that the monastery still stands.
The cable car takes 30 passengers per cabin, so there's still plenty of room to rush from side-to-side and capture every inch of forest and undulating hill. A not-for-profit enterprise, every dram goes into the upkeep of the monastery.
Videos
16:06 • 31.07.20
My Future: New Billie Eilish Song Attracts Millions of Views on YouTube
15:07 • 30.07.20
NASA launches Mars 2020 Perseverance Rover with First Aircraft to Fly on Another Planet
09:44 • 21.07.20
Armenian-made UCAV Strikes Azerbaijani Military Objective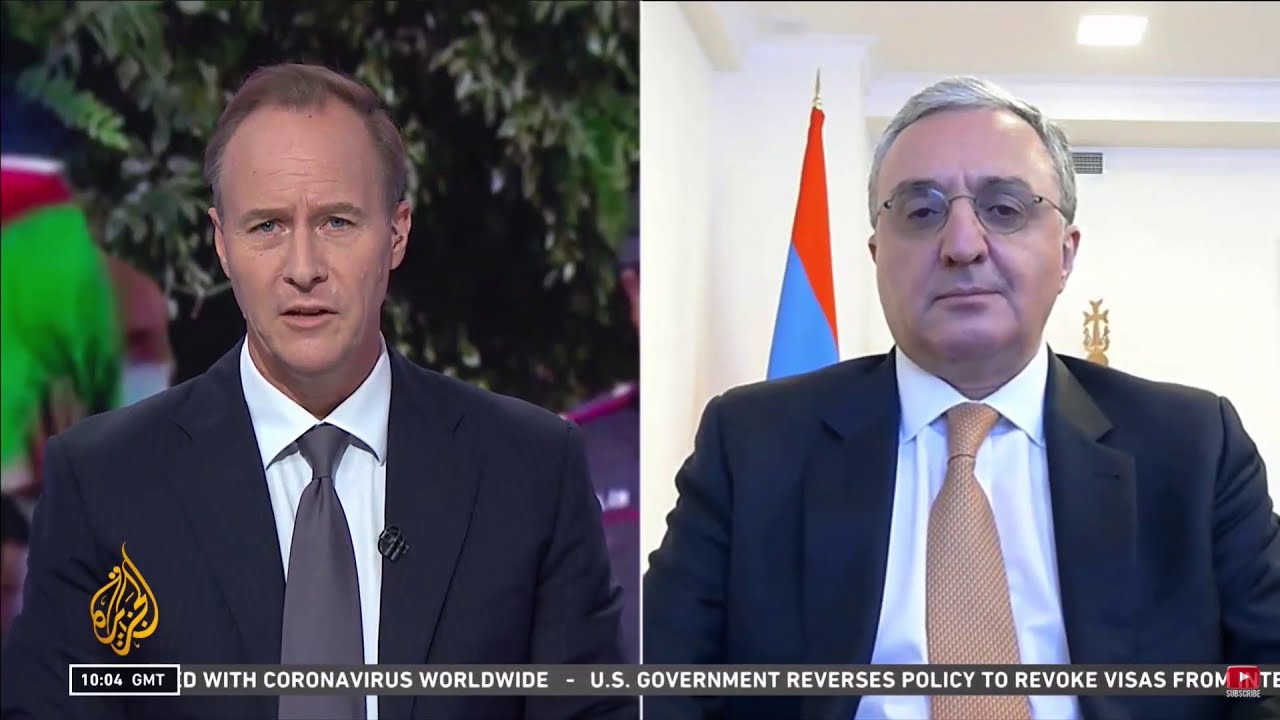 10:32 • 16.07.20
War is Not the Alternative to Peace Talks over Karabakh - FM Zohrab Mnatsakanyan's Interview to Aljazeera
15:33 • 15.07.20
Footage Shows How Azerbaijan Shells Armenian Villages in Jul. 13-14 Artillery Strikes
12:19 • 15.07.20
ANCA Calls for Action to Urge Congressional Condemnation of Azerbaijani Attacks against Armenia
12:13 • 14.07.20
Armenian Military Neutralize Azerbaijani Tank in Retaliatory Military Actions
12:42 • 07.07.20
Chilean Nurse Plays the Violin for Covid-19 Patients
17:38 • 01.07.20
US House Rep. Jackie Kanchelian Speier Discusses De-Mining Aid Program for Artsakh
14:59 • 26.06.20
Armenia's Prime MInister Under Criticism for Poor Handling of Coronavirus - BBC
10:07 • 24.06.20
Congressman Brad Sherman Testifies in Support of Continued US Aid to Artsakh
17:14 • 04.06.20
Meghan Markle says 'George Floyd's life mattered' in heartfelt message against racism
13:04 • 28.05.20
Armenia's Political Elite Celebtrates First Republic Anniversary in Sardarapat
14:13 • 15.05.20
3D Model of SARS-CoV-2 Virus at Atomic Resolution
13:25 • 09.05.20
Armenia's Political Leadership Marks 'Triple Victory Day' in Yerevan
16:29 • 04.05.20
Toyota Launches Karl Lagerfeld Limited-Edition SUV in Thailand
10:44 • 24.04.20
Armenia Commemorating 105th Anniversary of Genocide
12:31 • 23.04.20
Rep..Adam Schiff Discusses Genocide, US Aid to Armenia, Artsakh
09:22 • 23.04.20
Coronavirus: The World Has a Long Way to Go, Warns WHO Chief
15:33 • 21.04.20
Her Majesty, Queen Elizabeth II Celebrates Her 94th Birthday
13:59 • 18.04.20
Holy Fire at the Church of Sepulchre in Jerusalem
14:49 • 13.04.20
Andrea Bocelli Performs Eastern Sunday Concert From Italy's Duomo Di Milano
13:47 • 10.04.20
Kim Kardashian Does a Quarantine Makeup Tutorial With Kkw Beauty Products
16:59 • 08.04.20
Coronavirus Intensive Care: BBC's Special Coverage of London Hospital Where Doctors Fight to Save Lives
16:35 • 07.04.20
Seven-Year-Old Greek Piano Prodigy Pens 'Isolation Waltz'
12:35 • 27.03.20
World Coronavirus Update (Live)
23:27 • 16.03.20
Why Fighting Coronavirus Depends on You?
09:38 • 27.02.20
Kim Kardashian Spotted Throwing Punch at Sister Kourtney
10:53 • 22.02.20
Anna Turcotte: "Rooting Out Hatred toward Armenians Cannot Be Done By Brushing Aside History."
15:13 • 11.02.20
Virtual Reality 'Reunites' Korean Mother with Deceased 7-Year-Old Kid
09:35 • 23.01.20
Armenia is in a Unique Place to Act Like a Bridge Between Europe and Eurasia– Armen Sarkissian
16:03 • 21.01.20
US President Donald Trump Delivers Keynote Speech at Davos 2020
14:20 • 13.12.19
Pro-Armenian US Senators Issue Bipartisan Call on Genocide Recognition
09:49 • 12.12.19
I'm Not Going to Cease until We Do What is Morally Right - Menendez on Armenian Genocide
16:02 • 21.11.19
SpaceX Starship MK1 Explodes! At Boca Chica, Texas
10:10 • 08.11.19
Sen. Bob Menendez Calls for Passage of Armenian Genocide Resolution
16:07 • 30.10.19
Rep. Schiff on Recognizing the Armenian Genocide
11:03 • 26.10.19
Nagorno-Karabakh's Statuis and Security are Ultimate Priorities for Armenia, Mnatsakanyan Tells BBC
10:10 • 24.10.19
US Congressman Jim Costa Slams Turkey for Recent Actions and Urges Support of Armenian Genocide Recognition
16:12 • 18.10.19
LIVE: NASA Astronauts Spacewalk Outside the International Space Station
Analysis