'Not the time "to lackey" new shoulder straps; we may lose our homeland': Ara Saghatelyan spoke about the criminal case against Babloyan and Babayan – Pastinfo.am
20:24 • 23.10.19
Pastinfo.am spoke with the ex-Secretary General and Chief of Staff of the National Assembly Ara Saghatelyan
Mr Saghatelyan, the public is already aware of the circumstances of the case, within which your former deputy in the Staff of the National Assembly Arsen Babayan is sought by the prosecutors to be arrested, and ex-Speaker of the National Assembly Ara Babloyan has been named a suspect. How would you comment on these developments?
First of all I have to say that both Ara Babloyan and Arsen Babayan are honest and decent individuals and involving them in this artificial case must have required very serious problems with reasonableness. Regarding the case in question, obviously I am attentively following the developments and judging by the publicly available information, I believe we are witnessing some unreasonable, disproportionate and unlawful series of actions which are accompanied by grave violations of rights. This is a futureless case, which would collapse in any court of law in the world, provided, of course, that the court didn't implement a very rigid political order.
Why are you so sure?
I am not a lawyer, but these days I have been consulting with professionals, including non-lawyers. I can say that this case is dictated by political expediency and political order, it's a groundless and futureless case, which already is shattering the perceptions out there around our country, our international reputation, meanwhile leading our society and the state to a dangerous end. Everyone by now understands that those who gave orders had a clear demand, and, it seems, to some it doesn't make any difference how it's going to be executed. No goal can be justified, if you are solving your issues by dishonest means and by gravely violating others' rights. In this perspective the incumbent authorities by their own behaviour are forming a culture and precedents which are going to affect everyone's future and are not going to lead Armenia or the Armenians anywhere much pleasant. The political motives and the employed toolset for the arrest of Arsen Babayan are simplistic and clear to understand, but those methods are abnormal and unacceptable. Therefore let me use your platform and address a call to our law enforcement officers: gentlemen, act by the law and with conscience, it's not the time "to lackey" new shoulder straps, we may lose our homeland.
In any case, is it clear to you what exactly Arsen Babayan or Ara Babloyan are being accused of? And are you going to support them?
Let me reiterate, that this case is just hot air and the charge put forward can even be easily denied by an unsophisticated journalistic investigation.
Concerning my own plans, I will do everything possible to support my friends and colleagues in defending their rights, as well as for justice and sense of reason to prevail. And not only in their case. Our society is yet again pushed to make a choice in a dilemma: value system, or situational interests of the government. It's a matter of fact that in Armenia we have a contradiction between the values and interests of the government and the society, in effect we have double standards, as well as unreasonable, disproportionate and unlawful actions. It's sad that at this point, all the illegalities and violations of human rights, are all carried out under the banner of "popular will" and indifference and silence among traditional human rights advocates and foreign partners.
I believe that we are getting closer to a point where our homeland and Armenians worldwide need to be held back off dangerous developments, since the distortion of the idea of modernization and the widespread application of "the end justifies the means" approach by the authorities may in the next few months result in a situation which is normally called "point of no return". We will thus appear in vicious circle when our national interests will be difficult to be served – starting from daily social and community needs and all the way to national security.
Videos
16:06 • 31.07.20
My Future: New Billie Eilish Song Attracts Millions of Views on YouTube
15:07 • 30.07.20
NASA launches Mars 2020 Perseverance Rover with First Aircraft to Fly on Another Planet
09:44 • 21.07.20
Armenian-made UCAV Strikes Azerbaijani Military Objective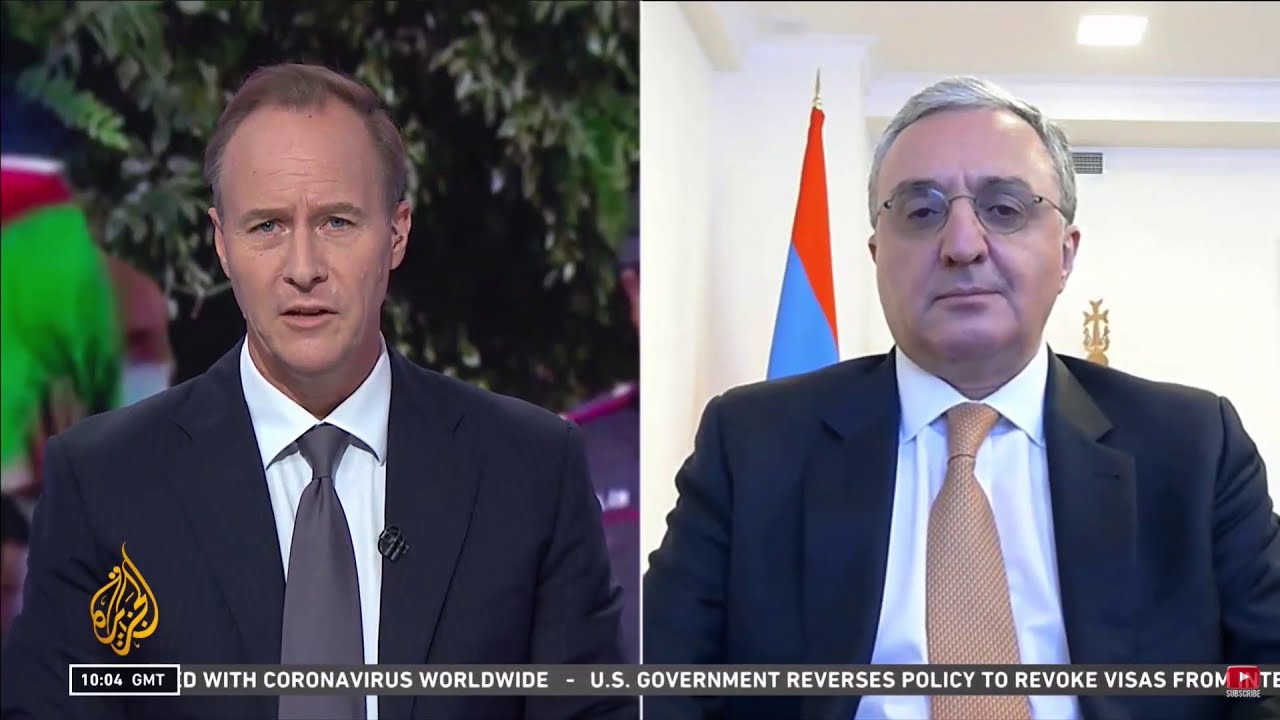 10:32 • 16.07.20
War is Not the Alternative to Peace Talks over Karabakh - FM Zohrab Mnatsakanyan's Interview to Aljazeera
15:33 • 15.07.20
Footage Shows How Azerbaijan Shells Armenian Villages in Jul. 13-14 Artillery Strikes
12:19 • 15.07.20
ANCA Calls for Action to Urge Congressional Condemnation of Azerbaijani Attacks against Armenia
12:13 • 14.07.20
Armenian Military Neutralize Azerbaijani Tank in Retaliatory Military Actions
12:42 • 07.07.20
Chilean Nurse Plays the Violin for Covid-19 Patients
17:38 • 01.07.20
US House Rep. Jackie Kanchelian Speier Discusses De-Mining Aid Program for Artsakh
14:59 • 26.06.20
Armenia's Prime MInister Under Criticism for Poor Handling of Coronavirus - BBC
10:07 • 24.06.20
Congressman Brad Sherman Testifies in Support of Continued US Aid to Artsakh
17:14 • 04.06.20
Meghan Markle says 'George Floyd's life mattered' in heartfelt message against racism
13:04 • 28.05.20
Armenia's Political Elite Celebtrates First Republic Anniversary in Sardarapat
14:13 • 15.05.20
3D Model of SARS-CoV-2 Virus at Atomic Resolution
13:25 • 09.05.20
Armenia's Political Leadership Marks 'Triple Victory Day' in Yerevan
16:29 • 04.05.20
Toyota Launches Karl Lagerfeld Limited-Edition SUV in Thailand
10:44 • 24.04.20
Armenia Commemorating 105th Anniversary of Genocide
12:31 • 23.04.20
Rep..Adam Schiff Discusses Genocide, US Aid to Armenia, Artsakh
09:22 • 23.04.20
Coronavirus: The World Has a Long Way to Go, Warns WHO Chief
15:33 • 21.04.20
Her Majesty, Queen Elizabeth II Celebrates Her 94th Birthday
13:59 • 18.04.20
Holy Fire at the Church of Sepulchre in Jerusalem
14:49 • 13.04.20
Andrea Bocelli Performs Eastern Sunday Concert From Italy's Duomo Di Milano
13:47 • 10.04.20
Kim Kardashian Does a Quarantine Makeup Tutorial With Kkw Beauty Products
16:59 • 08.04.20
Coronavirus Intensive Care: BBC's Special Coverage of London Hospital Where Doctors Fight to Save Lives
16:35 • 07.04.20
Seven-Year-Old Greek Piano Prodigy Pens 'Isolation Waltz'
12:35 • 27.03.20
World Coronavirus Update (Live)
23:27 • 16.03.20
Why Fighting Coronavirus Depends on You?
09:38 • 27.02.20
Kim Kardashian Spotted Throwing Punch at Sister Kourtney
10:53 • 22.02.20
Anna Turcotte: "Rooting Out Hatred toward Armenians Cannot Be Done By Brushing Aside History."
15:13 • 11.02.20
Virtual Reality 'Reunites' Korean Mother with Deceased 7-Year-Old Kid
09:35 • 23.01.20
Armenia is in a Unique Place to Act Like a Bridge Between Europe and Eurasia– Armen Sarkissian
16:03 • 21.01.20
US President Donald Trump Delivers Keynote Speech at Davos 2020
14:20 • 13.12.19
Pro-Armenian US Senators Issue Bipartisan Call on Genocide Recognition
09:49 • 12.12.19
I'm Not Going to Cease until We Do What is Morally Right - Menendez on Armenian Genocide
16:02 • 21.11.19
SpaceX Starship MK1 Explodes! At Boca Chica, Texas
10:10 • 08.11.19
Sen. Bob Menendez Calls for Passage of Armenian Genocide Resolution
16:07 • 30.10.19
Rep. Schiff on Recognizing the Armenian Genocide
11:03 • 26.10.19
Nagorno-Karabakh's Statuis and Security are Ultimate Priorities for Armenia, Mnatsakanyan Tells BBC
10:10 • 24.10.19
US Congressman Jim Costa Slams Turkey for Recent Actions and Urges Support of Armenian Genocide Recognition
16:12 • 18.10.19
LIVE: NASA Astronauts Spacewalk Outside the International Space Station
Analysis