Trump OKs wider Syria oil mission, raising legal questions
12:52 • 06.11.19
US President Donald Trump has approved an expanded military mission to secure an expanse of oil fields across eastern Syria, raising a number of difficult legal questions about whether US troops can launch strikes against Syrian, Russian or other forces if they threaten the oil, The Associated Press reports, citing US officials.

The decision, coming after a meeting Friday between Trump and his defense leaders, locks hundreds of US troops into a more complicated presence in Syria, despite the president's vow to get America out of the war. Under the new plan, troops would protect a large swath of land controlled by Syrian Kurdish fighters that stretches nearly 90 miles (150 kilometers) from Deir el-Zour to al-Hassakeh, but its exact size is still being determined.
Officials said many details still have to be worked out. But, Trump's decision hands commanders a victory in their push to remain in the country to prevent any resurgence of the Islamic State group, counter Iran and partner with the Kurds, who battled IS alongside the U.S. for several years. But it also forces lawyers in the Pentagon to craft orders for the troops that could see them firing on Syrian government or Russian fighters trying to take back oil facilities that sit within the sovereign nation of Syria.
The officials spoke on condition of anonymity in order to discuss internal deliberations.
Trump's order also slams the door on any suggestion that the bulk of the more than 1,200 U.S. troops that have been in Syria will be coming home any time soon, as he has repeatedly promised.
Sen. Tim Kaine, a Virginia Democrat, called the mission misguided.
"Risking the lives of our troops to guard oil rigs in eastern Syria is not only reckless, it's not legally authorized," Kaine told The Associated Press. "President Trump betrayed our Kurdish allies that have fought alongside American soldiers in the fight to secure a future without ISIS - and instead moved our troops to protect oil rigs."
The Pentagon will not say how many forces will remain in Syria for the new mission. Other officials, also speaking on condition of anonymity to discuss ongoing deliberations, suggest the total number could be at least 800 troops, including the roughly 200 who are at the al-Tanf garrison in southern Syria.
According to officials, lawyers are trying to hammer out details of the military order, which would make clear how far troops will be able to go to keep the oil in the Kurds' control.
The legal authority for U.S. troops going into Syria to fight Islamic State militants was based on the 2001 and 2002 Authorizations for Use of Military Force that said U.S. troops can use all necessary force against those involved in the Sept. 11 attacks on America and to prevent any future acts of international terrorism. So, legal experts say the U.S. may have grounds to use the AUMF to prevent the oil from falling into IS hands.
Videos
16:06 • 31.07.20
My Future: New Billie Eilish Song Attracts Millions of Views on YouTube
15:07 • 30.07.20
NASA launches Mars 2020 Perseverance Rover with First Aircraft to Fly on Another Planet
09:44 • 21.07.20
Armenian-made UCAV Strikes Azerbaijani Military Objective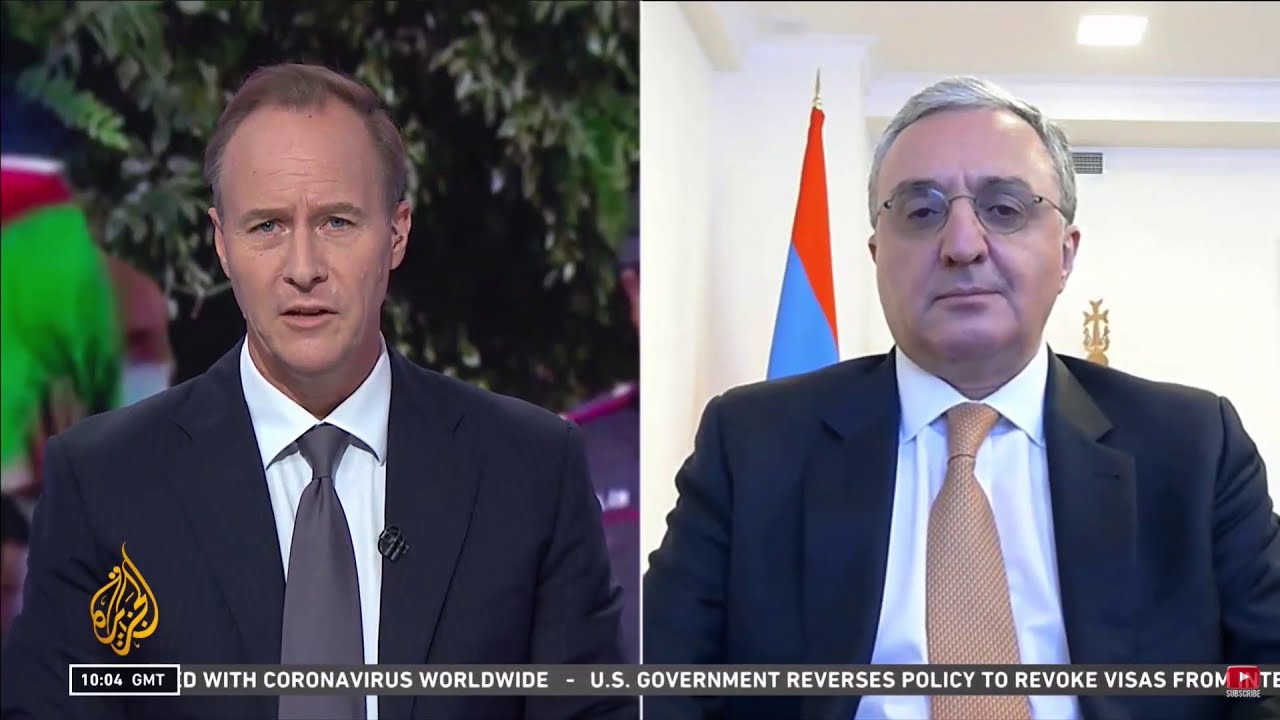 10:32 • 16.07.20
War is Not the Alternative to Peace Talks over Karabakh - FM Zohrab Mnatsakanyan's Interview to Aljazeera
15:33 • 15.07.20
Footage Shows How Azerbaijan Shells Armenian Villages in Jul. 13-14 Artillery Strikes
12:19 • 15.07.20
ANCA Calls for Action to Urge Congressional Condemnation of Azerbaijani Attacks against Armenia
12:13 • 14.07.20
Armenian Military Neutralize Azerbaijani Tank in Retaliatory Military Actions
12:42 • 07.07.20
Chilean Nurse Plays the Violin for Covid-19 Patients
17:38 • 01.07.20
US House Rep. Jackie Kanchelian Speier Discusses De-Mining Aid Program for Artsakh
14:59 • 26.06.20
Armenia's Prime MInister Under Criticism for Poor Handling of Coronavirus - BBC
10:07 • 24.06.20
Congressman Brad Sherman Testifies in Support of Continued US Aid to Artsakh
17:14 • 04.06.20
Meghan Markle says 'George Floyd's life mattered' in heartfelt message against racism
13:04 • 28.05.20
Armenia's Political Elite Celebtrates First Republic Anniversary in Sardarapat
14:13 • 15.05.20
3D Model of SARS-CoV-2 Virus at Atomic Resolution
13:25 • 09.05.20
Armenia's Political Leadership Marks 'Triple Victory Day' in Yerevan
16:29 • 04.05.20
Toyota Launches Karl Lagerfeld Limited-Edition SUV in Thailand
10:44 • 24.04.20
Armenia Commemorating 105th Anniversary of Genocide
12:31 • 23.04.20
Rep..Adam Schiff Discusses Genocide, US Aid to Armenia, Artsakh
09:22 • 23.04.20
Coronavirus: The World Has a Long Way to Go, Warns WHO Chief
15:33 • 21.04.20
Her Majesty, Queen Elizabeth II Celebrates Her 94th Birthday
13:59 • 18.04.20
Holy Fire at the Church of Sepulchre in Jerusalem
14:49 • 13.04.20
Andrea Bocelli Performs Eastern Sunday Concert From Italy's Duomo Di Milano
13:47 • 10.04.20
Kim Kardashian Does a Quarantine Makeup Tutorial With Kkw Beauty Products
16:59 • 08.04.20
Coronavirus Intensive Care: BBC's Special Coverage of London Hospital Where Doctors Fight to Save Lives
16:35 • 07.04.20
Seven-Year-Old Greek Piano Prodigy Pens 'Isolation Waltz'
12:35 • 27.03.20
World Coronavirus Update (Live)
23:27 • 16.03.20
Why Fighting Coronavirus Depends on You?
09:38 • 27.02.20
Kim Kardashian Spotted Throwing Punch at Sister Kourtney
10:53 • 22.02.20
Anna Turcotte: "Rooting Out Hatred toward Armenians Cannot Be Done By Brushing Aside History."
15:13 • 11.02.20
Virtual Reality 'Reunites' Korean Mother with Deceased 7-Year-Old Kid
09:35 • 23.01.20
Armenia is in a Unique Place to Act Like a Bridge Between Europe and Eurasia– Armen Sarkissian
16:03 • 21.01.20
US President Donald Trump Delivers Keynote Speech at Davos 2020
14:20 • 13.12.19
Pro-Armenian US Senators Issue Bipartisan Call on Genocide Recognition
09:49 • 12.12.19
I'm Not Going to Cease until We Do What is Morally Right - Menendez on Armenian Genocide
16:02 • 21.11.19
SpaceX Starship MK1 Explodes! At Boca Chica, Texas
10:10 • 08.11.19
Sen. Bob Menendez Calls for Passage of Armenian Genocide Resolution
16:07 • 30.10.19
Rep. Schiff on Recognizing the Armenian Genocide
11:03 • 26.10.19
Nagorno-Karabakh's Statuis and Security are Ultimate Priorities for Armenia, Mnatsakanyan Tells BBC
10:10 • 24.10.19
US Congressman Jim Costa Slams Turkey for Recent Actions and Urges Support of Armenian Genocide Recognition
16:12 • 18.10.19
LIVE: NASA Astronauts Spacewalk Outside the International Space Station
Analysis