International community expects Armenia's 'non-standard approaches' to Karabakh - opinion
10:53 • 02.07.20
Hripsime Hovhannisyan
The intensive frequency of the talks, arranged on the level of the Armenian and Azerbaijani foreign ministers, creates the kind of impression that the international community expects the Armenian authorities' non-standard steps or non-equivalent solutions with respected to the unresolved Nagorno-Karabakh (Artsakh) conflict, according to Suren Sargsyan, an expert in international affairs.
In an interview with Tert.am, Sargssan referred particularly to the explicit remarks and hints made repeatedly by official representatives of the OSCE Minsk Group Co-Chair states. "In his congratulatory address to [Prime Minister] Nikol Pashinyan, the US President said he expects his non-standard steps with respect to the Karabakh issue. But non-popular steps in the case of Nagorno-Karabakh imply non-equivalent solutions," he added.
Sargsyan noted that before his video conference with Elmar Mammadyarov, the foreign minister of Azerbaijan, FM Zohrab Mnatsakanyan had held a telephone conversation with Acting US Assistant Secretary of State for European and Eurasian Affairs Philip Reeker.
"Unfortunately, we have very little information about the conversation, as we do not even know who initiated the call. It is notable at least that no call of the kind had preceded the meeting with Azerbaijan['s foreign minisiter]," he added.
Asked whether the ongoing processes can be described as real negotiations, Sargsyan noted that the statements made over the past two years have been different in substance.
"The authorities avoided using 'negotiations', referring to them [the discussions] as meetings, consultations, etc. Also, they tried to avoid the term 'authorities of the Artsakh Republic' What they initially said 'there isn't a document in the negotiations' but later alleged that it isn't being negotiated at all as it was just a document which had been earlier subject to discussion. They said there is not a step-by-step option on the table, but it later turned out that there actually was. Hence, the contradictions vary in range, with the information being really vast. If we guide ourselves exclusively by official statements, we will have an outcome totally differing from the statement made by the Russian foreign minister for instance," he added.
--
The Armenian-Azerbaijani conflict over Nagorno-Karabakh broke out in 1988 when the Armenian majority of the then autonomous region declared its intention to break away from Azerbaijan. In a referendum held on December 10, 1991 (days before the collapse of the USSR), the population voted overwhelmingly in favor of independence (99.89%). The move was followed by Azerbaijan's large-scale military operations against Nagorno-Karabakh and seven neighboring regions. The armed violence left around 25,000-30,000 people dead; thousands were internally displaced. The Ceasefire Accord, which went into effect in May 1994, formally put an end to the armed attacks in the conflict zone, but there is still periodic fighting in the area. Since 1994, the OSCE Minsk Group, a mission co-chaired by France, the United States and Russia, has been spearheading the efforts towards a peaceful solution to the conflict. .
The hostilities escalated to an unprecedented degree in April 2016 in what was later dubbed a Four-Day War. In the early hours of April 1, 2016, Azerbaijan's armed forces launched heavy offensives along the Line of Contact, provoking large-scale confrontations with the Defense Army of Nagorno-Kkarabakh. The adversary also shelled civilian settlements, particularly the southern and north-eastern regions of Hadrut and Marakert.
A ceasefire was reached on 5 April between the chiefs of the armed forces of Azerbaijan and Armenia in Moscow. The Nagorno-Karabakh authorities also welcomed the verbal agreement.
Videos
16:06 • 31.07.20
My Future: New Billie Eilish Song Attracts Millions of Views on YouTube
15:07 • 30.07.20
NASA launches Mars 2020 Perseverance Rover with First Aircraft to Fly on Another Planet
09:44 • 21.07.20
Armenian-made UCAV Strikes Azerbaijani Military Objective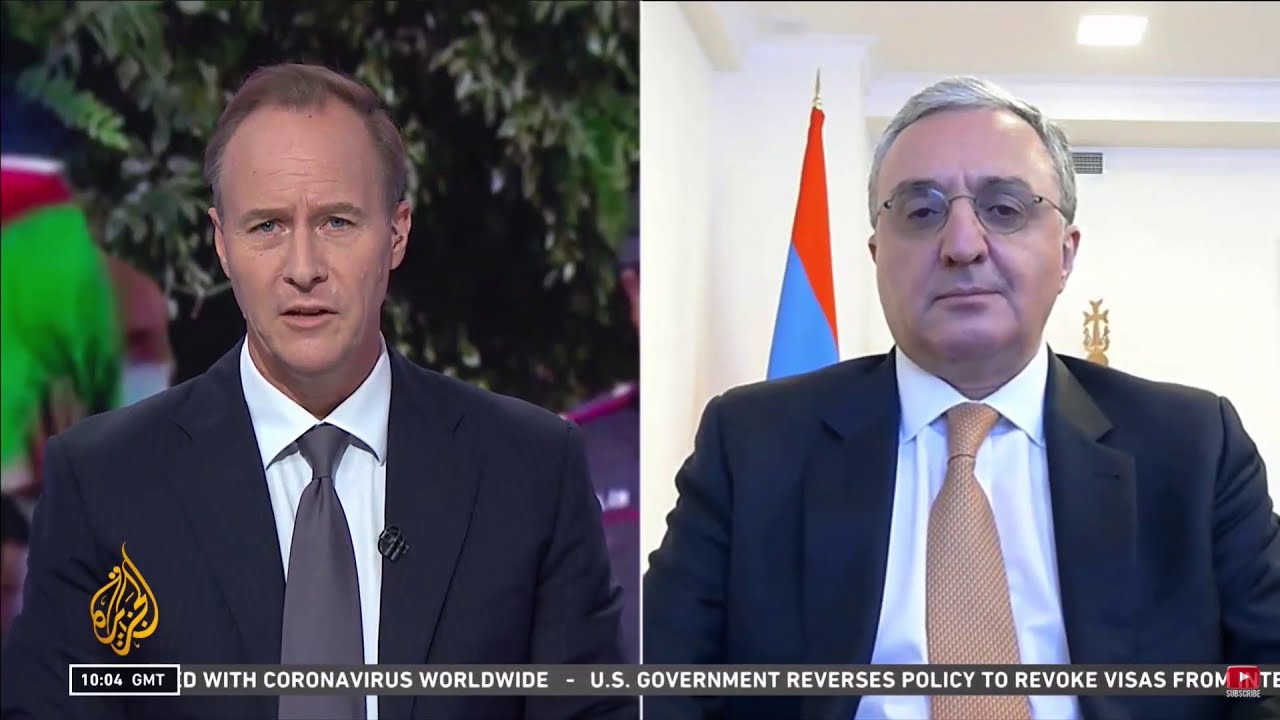 10:32 • 16.07.20
War is Not the Alternative to Peace Talks over Karabakh - FM Zohrab Mnatsakanyan's Interview to Aljazeera
15:33 • 15.07.20
Footage Shows How Azerbaijan Shells Armenian Villages in Jul. 13-14 Artillery Strikes
12:19 • 15.07.20
ANCA Calls for Action to Urge Congressional Condemnation of Azerbaijani Attacks against Armenia
12:13 • 14.07.20
Armenian Military Neutralize Azerbaijani Tank in Retaliatory Military Actions
12:42 • 07.07.20
Chilean Nurse Plays the Violin for Covid-19 Patients
17:38 • 01.07.20
US House Rep. Jackie Kanchelian Speier Discusses De-Mining Aid Program for Artsakh
14:59 • 26.06.20
Armenia's Prime MInister Under Criticism for Poor Handling of Coronavirus - BBC
10:07 • 24.06.20
Congressman Brad Sherman Testifies in Support of Continued US Aid to Artsakh
17:14 • 04.06.20
Meghan Markle says 'George Floyd's life mattered' in heartfelt message against racism
13:04 • 28.05.20
Armenia's Political Elite Celebtrates First Republic Anniversary in Sardarapat
14:13 • 15.05.20
3D Model of SARS-CoV-2 Virus at Atomic Resolution
13:25 • 09.05.20
Armenia's Political Leadership Marks 'Triple Victory Day' in Yerevan
16:29 • 04.05.20
Toyota Launches Karl Lagerfeld Limited-Edition SUV in Thailand
10:44 • 24.04.20
Armenia Commemorating 105th Anniversary of Genocide
12:31 • 23.04.20
Rep..Adam Schiff Discusses Genocide, US Aid to Armenia, Artsakh
09:22 • 23.04.20
Coronavirus: The World Has a Long Way to Go, Warns WHO Chief
15:33 • 21.04.20
Her Majesty, Queen Elizabeth II Celebrates Her 94th Birthday
13:59 • 18.04.20
Holy Fire at the Church of Sepulchre in Jerusalem
14:49 • 13.04.20
Andrea Bocelli Performs Eastern Sunday Concert From Italy's Duomo Di Milano
13:47 • 10.04.20
Kim Kardashian Does a Quarantine Makeup Tutorial With Kkw Beauty Products
16:59 • 08.04.20
Coronavirus Intensive Care: BBC's Special Coverage of London Hospital Where Doctors Fight to Save Lives
16:35 • 07.04.20
Seven-Year-Old Greek Piano Prodigy Pens 'Isolation Waltz'
12:35 • 27.03.20
World Coronavirus Update (Live)
23:27 • 16.03.20
Why Fighting Coronavirus Depends on You?
09:38 • 27.02.20
Kim Kardashian Spotted Throwing Punch at Sister Kourtney
10:53 • 22.02.20
Anna Turcotte: "Rooting Out Hatred toward Armenians Cannot Be Done By Brushing Aside History."
15:13 • 11.02.20
Virtual Reality 'Reunites' Korean Mother with Deceased 7-Year-Old Kid
09:35 • 23.01.20
Armenia is in a Unique Place to Act Like a Bridge Between Europe and Eurasia– Armen Sarkissian
16:03 • 21.01.20
US President Donald Trump Delivers Keynote Speech at Davos 2020
14:20 • 13.12.19
Pro-Armenian US Senators Issue Bipartisan Call on Genocide Recognition
09:49 • 12.12.19
I'm Not Going to Cease until We Do What is Morally Right - Menendez on Armenian Genocide
16:02 • 21.11.19
SpaceX Starship MK1 Explodes! At Boca Chica, Texas
10:10 • 08.11.19
Sen. Bob Menendez Calls for Passage of Armenian Genocide Resolution
16:07 • 30.10.19
Rep. Schiff on Recognizing the Armenian Genocide
11:03 • 26.10.19
Nagorno-Karabakh's Statuis and Security are Ultimate Priorities for Armenia, Mnatsakanyan Tells BBC
10:10 • 24.10.19
US Congressman Jim Costa Slams Turkey for Recent Actions and Urges Support of Armenian Genocide Recognition
16:12 • 18.10.19
LIVE: NASA Astronauts Spacewalk Outside the International Space Station
Analysis