Iran admits serious damage to Natanz  nuclear site, setting back program - The New York Times
10:31 • 06.07.20
A Middle Eastern intelligence official said Israel planted a bomb in a building where advanced centrifuges were being developed.
By Farnaz Fassihi, Richard Pérez-Peña and Ronen Bergman
A fire at Iran's main nuclear fuel enrichment site caused significant damage, setting back the country's nuclear program by months, the government acknowledged on Sunday, after initially saying the destruction was minor.
A Middle Eastern intelligence official with knowledge of the episode said Israel was responsible for the attack on the Natanz nuclear complex on Thursday, using a powerful bomb. A member of the Islamic Revolutionary Guards Corps who was briefed on the matter also said an explosive was used.
Both officials spoke on condition of anonymity when discussing sensitive intelligence and operational topics.
Suspicion in Iran has focused on Israel and the United States, which have sabotaged the nuclear program in the past and have vowed to keep Iran from developing nuclear weapons. In the past, Israel and the United States have used cyberattacks to damage Iran's nuclear program, but that has been ruled out as a cause in this case, the Revolutionary Guards member said.
Though there was no way to verify its involvement independently, Israel's intelligence network has shown its ability to strike in the heart of Iran, breaking into a warehouse in Tehran in 2018 and stealing half a ton of secret records documenting Iran's nuclear project and spiriting them out of the country. Many of these records were given by Mossad, the Israeli spy agency, to the International Atomic Energy Agency, with many new clues of where Iran might be hiding forbidden equipment and raw material.
If the damage at Natanz was an attack by a foreign power, it reinforces Iran's vulnerability as its economy is strangled by sanctions imposed by a hostile Trump administration and its population is ravaged by the Covid-19 pandemic.
Tehran is increasingly isolated internationally; even countries that have opposed U.S. action against Iran recently joined in accusing it of hiding nuclear activity from international inspectors.
Israeli officials were vague on Sunday when asked about the possibility of involvement in an attack on Natanz, though they stressed the danger of a nuclear-armed Iran.
"Everyone can suspect us in everything and all the time, but I don't think that's correct," Defense Minister Benny Gantz said on Sunday in a radio interview with Kan, the state broadcaster.
"Not every event that happens in Iran is necessarily related to us," he added, while not denying involvement in the Natanz explosion.
Foreign Minister Gabi Ashkenazi, at a conference on Sunday held by the newspapers Maariv and The Jerusalem Post, said, "Iran cannot be allowed to have nuclear capabilities." To that end, he said, "we take actions that are better left unsaid."
In recent months there have been dozens of episodes, including fires, at industrial complexes in Iran, and those, too, have been widely attributed to Israel.
Just since Thursday, explosions occurred at two power plants in Iran, and there was a chlorine gas leak at a chemical plant, all of which the government described as accidents. The previous week, an explosion hit a missile production facility at the Khojir military complex in eastern Tehran, which officials said was caused by a gas tank's detonating.
The Middle Eastern intelligence official who said Israel was responsible for the explosion on Thursday also said it had nothing to do with the other recent incidents.
Iranian officials have said publicly that they know what caused the damage at Natanz, but that they are withholding the information for now.
Iran is using high-speed centrifuges to process, or enrich, uranium. Uranium enriched to lower levels is used in nuclear reactors, but highly enriched uranium can be fuel for an atomic bomb. Work has been underway at Natanz to build more advanced centrifuges to enrich uranium much more quickly.
"It's possible that this incident will slow down the development and expansion of advanced centrifuges," Behrouz Kamalvandi, spokesman for the Atomic Energy Organization of Iran, told the official Islamic Republic News Agency on Sunday. "There were advanced equipment and precision measurement devices at this site that were either destroyed or damaged."
He cited "significant financial damage," and said that the delay could be several months, but that no one was injured.
"The damaged warehouse was designed for the final stages of advanced centrifuges and assembly of these machineries," Mr. Kamalvandi said.
While investigators have considered the possibility that Natanz was hit on Thursday by a cruise missile or a drone, they view it as more likely that someone carried a bomb into the building, the Revolutionary Guards member said. They do not yet know how or when the explosives were sneaked in, but the attack clearly demonstrated a hole in the facility's security, he said.
The episode will probably accelerate plans to move more of Iran's most sensitive facilities underground, he added.
Under the 2015 nuclear deal with the United States, China, Russia and European powers, Iran agreed to give up much of its enriched uranium and to limit the level of enrichment and the number of centrifuges it operated.
But since President Trump withdrew from the deal and imposed damaging sanctions on Iran, it has ramped up the enrichment program far beyond the limits imposed by the agreement.
Videos
16:06 • 31.07.20
My Future: New Billie Eilish Song Attracts Millions of Views on YouTube
15:07 • 30.07.20
NASA launches Mars 2020 Perseverance Rover with First Aircraft to Fly on Another Planet
09:44 • 21.07.20
Armenian-made UCAV Strikes Azerbaijani Military Objective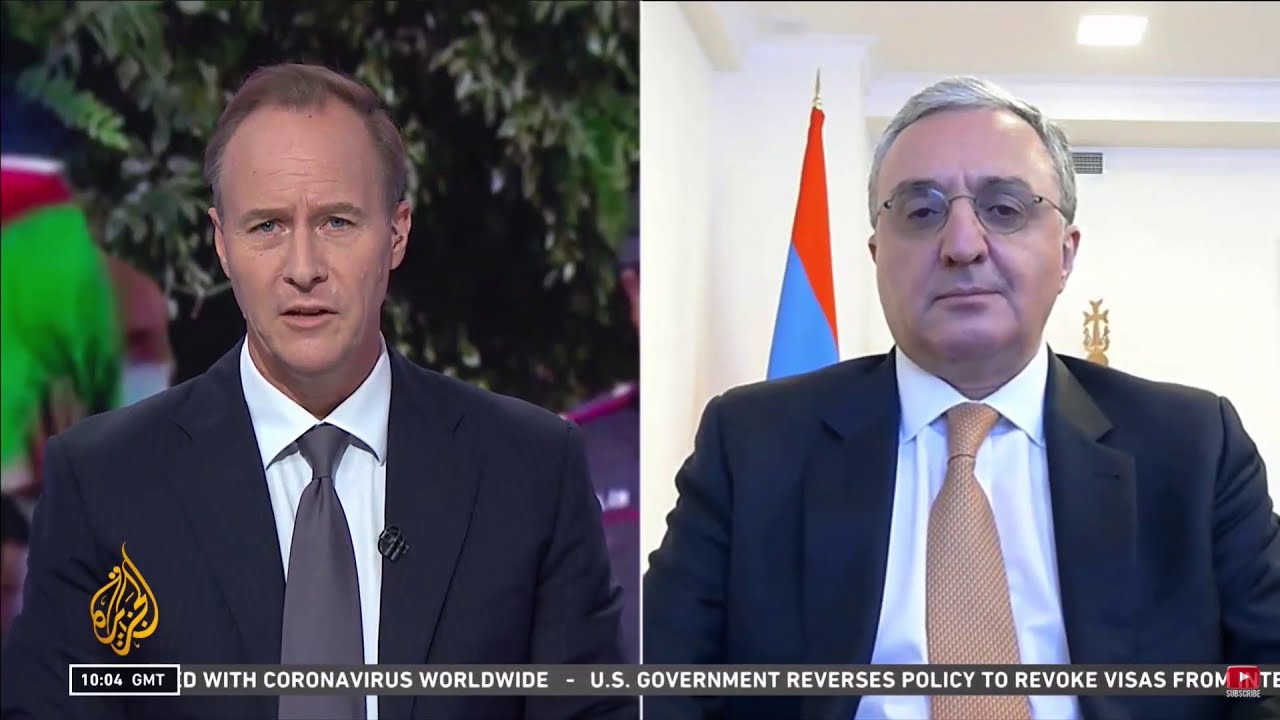 10:32 • 16.07.20
War is Not the Alternative to Peace Talks over Karabakh - FM Zohrab Mnatsakanyan's Interview to Aljazeera
15:33 • 15.07.20
Footage Shows How Azerbaijan Shells Armenian Villages in Jul. 13-14 Artillery Strikes
12:19 • 15.07.20
ANCA Calls for Action to Urge Congressional Condemnation of Azerbaijani Attacks against Armenia
12:13 • 14.07.20
Armenian Military Neutralize Azerbaijani Tank in Retaliatory Military Actions
12:42 • 07.07.20
Chilean Nurse Plays the Violin for Covid-19 Patients
17:38 • 01.07.20
US House Rep. Jackie Kanchelian Speier Discusses De-Mining Aid Program for Artsakh
14:59 • 26.06.20
Armenia's Prime MInister Under Criticism for Poor Handling of Coronavirus - BBC
10:07 • 24.06.20
Congressman Brad Sherman Testifies in Support of Continued US Aid to Artsakh
17:14 • 04.06.20
Meghan Markle says 'George Floyd's life mattered' in heartfelt message against racism
13:04 • 28.05.20
Armenia's Political Elite Celebtrates First Republic Anniversary in Sardarapat
14:13 • 15.05.20
3D Model of SARS-CoV-2 Virus at Atomic Resolution
13:25 • 09.05.20
Armenia's Political Leadership Marks 'Triple Victory Day' in Yerevan
16:29 • 04.05.20
Toyota Launches Karl Lagerfeld Limited-Edition SUV in Thailand
10:44 • 24.04.20
Armenia Commemorating 105th Anniversary of Genocide
12:31 • 23.04.20
Rep..Adam Schiff Discusses Genocide, US Aid to Armenia, Artsakh
09:22 • 23.04.20
Coronavirus: The World Has a Long Way to Go, Warns WHO Chief
15:33 • 21.04.20
Her Majesty, Queen Elizabeth II Celebrates Her 94th Birthday
13:59 • 18.04.20
Holy Fire at the Church of Sepulchre in Jerusalem
14:49 • 13.04.20
Andrea Bocelli Performs Eastern Sunday Concert From Italy's Duomo Di Milano
13:47 • 10.04.20
Kim Kardashian Does a Quarantine Makeup Tutorial With Kkw Beauty Products
16:59 • 08.04.20
Coronavirus Intensive Care: BBC's Special Coverage of London Hospital Where Doctors Fight to Save Lives
16:35 • 07.04.20
Seven-Year-Old Greek Piano Prodigy Pens 'Isolation Waltz'
12:35 • 27.03.20
World Coronavirus Update (Live)
23:27 • 16.03.20
Why Fighting Coronavirus Depends on You?
09:38 • 27.02.20
Kim Kardashian Spotted Throwing Punch at Sister Kourtney
10:53 • 22.02.20
Anna Turcotte: "Rooting Out Hatred toward Armenians Cannot Be Done By Brushing Aside History."
15:13 • 11.02.20
Virtual Reality 'Reunites' Korean Mother with Deceased 7-Year-Old Kid
09:35 • 23.01.20
Armenia is in a Unique Place to Act Like a Bridge Between Europe and Eurasia– Armen Sarkissian
16:03 • 21.01.20
US President Donald Trump Delivers Keynote Speech at Davos 2020
14:20 • 13.12.19
Pro-Armenian US Senators Issue Bipartisan Call on Genocide Recognition
09:49 • 12.12.19
I'm Not Going to Cease until We Do What is Morally Right - Menendez on Armenian Genocide
16:02 • 21.11.19
SpaceX Starship MK1 Explodes! At Boca Chica, Texas
10:10 • 08.11.19
Sen. Bob Menendez Calls for Passage of Armenian Genocide Resolution
16:07 • 30.10.19
Rep. Schiff on Recognizing the Armenian Genocide
11:03 • 26.10.19
Nagorno-Karabakh's Statuis and Security are Ultimate Priorities for Armenia, Mnatsakanyan Tells BBC
10:10 • 24.10.19
US Congressman Jim Costa Slams Turkey for Recent Actions and Urges Support of Armenian Genocide Recognition
16:12 • 18.10.19
LIVE: NASA Astronauts Spacewalk Outside the International Space Station
Analysis