Azerbaijan 'unprepared' for constructive dialogue over Nagorno-Karabakh - expert
17:20 • 07.07.20
Azerbaijan's radical positions on the most fundamental issues dealing with the Nagorno-Karabakh (Artsakh) peace process demonstrate that the country is not prepared for a constructive dialogue and settlement, according to Anna Karapetyan, the director of the analytical center Hayatsk (Insight).
"Azerbaijan is trying to intensify pressure upon Armenia and the mediators in an effort to achieve the substantive negotiations it has been longing for. The Baku authorities feel that this approach is becoming increasingly perceptible to the mediators, the latest statements by the OSCE Minsk Group co-chairs standing as testimony to that. And the Armenian sides [Armenia and Artsakh] refrain from expressing a clear-worded position on the issue. The format of substantive negotiations is unacceptable to us, and we need to clearly speak on the topic," she said in an interview with Tert.am.
"The president of Azerbaijan speaks in the language of ultimatums, using an unacceptably rough phraseology and urging the co-chairs to refrain from negotiating. Moreover, [Ilham] Aliyev continues making statements on the domestic political developments in Armenia in violation of ethical norms. This is more than just a non-constructive behavior in the negotiations, and requires a proper reaction both by Armenia and the mediators, as well as the international community," she added.

The analyst described the ongoing developments as a "continually growing process". "Azerbaijan today feels stronger than ever before in the negotiations," Karapetyan said, attributing the kind of stance to the Armenian authorities' "haphazard statements and actions" and inadequate work with the mediators.
She also dismissed the likelihood of a "trilaterally acceptable deal", a thesis voiced repeatedly on the level of high-ranking Armenian officials (particularly, the prime minister and the minister of foreign affairs). "It is high time we realized that a trilaterally acceptable deal is out of the question in light of the thesis pushed forward by Azerbaijan (even if we leave aside all the aspects of the Prime Minister Pashinyan's thesis, such as making the Artsakh people's right to self-determination dependent upon Azerbaijan's will). It is not at least for Armenia or Artsakh to do things of the kind. What we need is to speak of, and insist on, a solution acceptable to us," she said, expressing astonishment at FM Zohrab Mnatsakanyan's move to reiterate the prime minister's remark in Nagorno-Karabakh.
Karapetyan said she is under the impression that Azerbaijan feels free to gradually toughen its rhetoric, "not meeting a counter-reaction by Armenia". In her words, the kind of "bogus theses", selected as a guideline to create a constructive image, are not only ineffective but also in the long run pose a potential security challenge to Armenia.
Videos
16:06 • 31.07.20
My Future: New Billie Eilish Song Attracts Millions of Views on YouTube
15:07 • 30.07.20
NASA launches Mars 2020 Perseverance Rover with First Aircraft to Fly on Another Planet
09:44 • 21.07.20
Armenian-made UCAV Strikes Azerbaijani Military Objective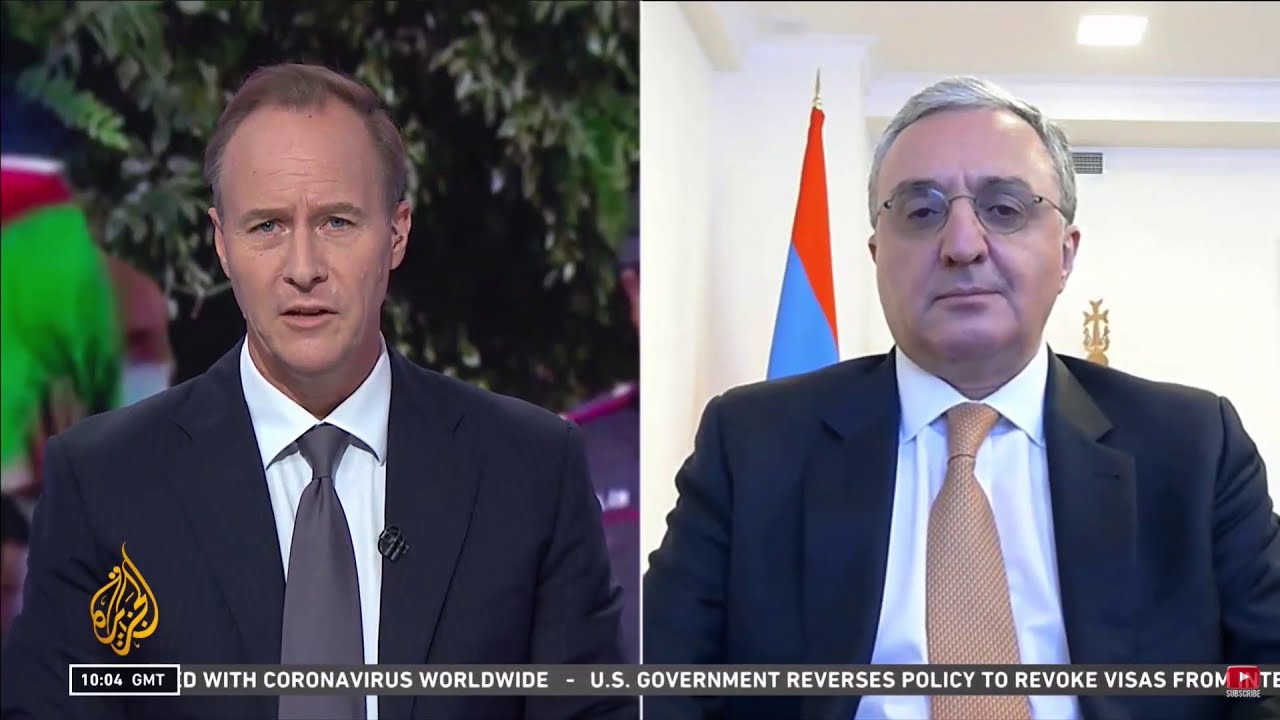 10:32 • 16.07.20
War is Not the Alternative to Peace Talks over Karabakh - FM Zohrab Mnatsakanyan's Interview to Aljazeera
15:33 • 15.07.20
Footage Shows How Azerbaijan Shells Armenian Villages in Jul. 13-14 Artillery Strikes
12:19 • 15.07.20
ANCA Calls for Action to Urge Congressional Condemnation of Azerbaijani Attacks against Armenia
12:13 • 14.07.20
Armenian Military Neutralize Azerbaijani Tank in Retaliatory Military Actions
12:42 • 07.07.20
Chilean Nurse Plays the Violin for Covid-19 Patients
17:38 • 01.07.20
US House Rep. Jackie Kanchelian Speier Discusses De-Mining Aid Program for Artsakh
14:59 • 26.06.20
Armenia's Prime MInister Under Criticism for Poor Handling of Coronavirus - BBC
10:07 • 24.06.20
Congressman Brad Sherman Testifies in Support of Continued US Aid to Artsakh
17:14 • 04.06.20
Meghan Markle says 'George Floyd's life mattered' in heartfelt message against racism
13:04 • 28.05.20
Armenia's Political Elite Celebtrates First Republic Anniversary in Sardarapat
14:13 • 15.05.20
3D Model of SARS-CoV-2 Virus at Atomic Resolution
13:25 • 09.05.20
Armenia's Political Leadership Marks 'Triple Victory Day' in Yerevan
16:29 • 04.05.20
Toyota Launches Karl Lagerfeld Limited-Edition SUV in Thailand
10:44 • 24.04.20
Armenia Commemorating 105th Anniversary of Genocide
12:31 • 23.04.20
Rep..Adam Schiff Discusses Genocide, US Aid to Armenia, Artsakh
09:22 • 23.04.20
Coronavirus: The World Has a Long Way to Go, Warns WHO Chief
15:33 • 21.04.20
Her Majesty, Queen Elizabeth II Celebrates Her 94th Birthday
13:59 • 18.04.20
Holy Fire at the Church of Sepulchre in Jerusalem
14:49 • 13.04.20
Andrea Bocelli Performs Eastern Sunday Concert From Italy's Duomo Di Milano
13:47 • 10.04.20
Kim Kardashian Does a Quarantine Makeup Tutorial With Kkw Beauty Products
16:59 • 08.04.20
Coronavirus Intensive Care: BBC's Special Coverage of London Hospital Where Doctors Fight to Save Lives
16:35 • 07.04.20
Seven-Year-Old Greek Piano Prodigy Pens 'Isolation Waltz'
12:35 • 27.03.20
World Coronavirus Update (Live)
23:27 • 16.03.20
Why Fighting Coronavirus Depends on You?
09:38 • 27.02.20
Kim Kardashian Spotted Throwing Punch at Sister Kourtney
10:53 • 22.02.20
Anna Turcotte: "Rooting Out Hatred toward Armenians Cannot Be Done By Brushing Aside History."
15:13 • 11.02.20
Virtual Reality 'Reunites' Korean Mother with Deceased 7-Year-Old Kid
09:35 • 23.01.20
Armenia is in a Unique Place to Act Like a Bridge Between Europe and Eurasia– Armen Sarkissian
16:03 • 21.01.20
US President Donald Trump Delivers Keynote Speech at Davos 2020
14:20 • 13.12.19
Pro-Armenian US Senators Issue Bipartisan Call on Genocide Recognition
09:49 • 12.12.19
I'm Not Going to Cease until We Do What is Morally Right - Menendez on Armenian Genocide
16:02 • 21.11.19
SpaceX Starship MK1 Explodes! At Boca Chica, Texas
10:10 • 08.11.19
Sen. Bob Menendez Calls for Passage of Armenian Genocide Resolution
16:07 • 30.10.19
Rep. Schiff on Recognizing the Armenian Genocide
11:03 • 26.10.19
Nagorno-Karabakh's Statuis and Security are Ultimate Priorities for Armenia, Mnatsakanyan Tells BBC
10:10 • 24.10.19
US Congressman Jim Costa Slams Turkey for Recent Actions and Urges Support of Armenian Genocide Recognition
16:12 • 18.10.19
LIVE: NASA Astronauts Spacewalk Outside the International Space Station
Analysis