ECHR decision to reject interim measure for high court judges 'unrelated to the substance of their complaint'  - lawyer
13:49 • 09.07.20
The decision by the European Court of Human Rights (ECHR) to reject interim measures for the chairman and judges of the Constitutional Court is unrelated to the substance of their complaint, according to Ara Ghazaryan, an advocate specializing in international law.
In an interview with Tert.am, the lawyer predicted real chances for CC Chair Hrayr Tovmasyan and the three other judges (Alvina Gyulumyan, Felix Tokhyan and Hrant Nazaryan) to reinstate their right for future tenure based on the recent measure.
Ghazaryan said he doesn't think that the rejection deserves any attention at all given that it is an "interim judicial act" not entailing legal consequences.
The specialist called attention to the fact that Rule 39 (Interim Measure) of the Rules of Court was cited as a basis for the rejection (stating that the complaint was beyond the scope of its application). "It is not strange at all given that the ECHR applies Rule 39 to extradition cases taken under proceeding. Hence I do not see anything negative here. It is absolutely unrelated to the substance of the complaint; that's the most important thing. It is just a remedy and has absolutely nothing to do with the substance of the complaint and the dispute in question," he added.
Ghazaryan said he expects the Court to give a "totally justified priority" to the case notwithstanding the interim judicial measure (offered as a remedy).
The attorney cited also earlier precedents when ECHR rulings served as grounds for reinstating judges' rights. "The ECHR, of course, does not make a decision [directly] allowing the reinstatement of judges' tenure, though it may, in exceptional circumstances, - whenever the violation in question is blatant and bears an exclusive character, with the authorities demonstrating a brazen disrespect for human rights - indicate the fact in its decision. The ECHR, normally, records the violation, ruling on the future actions in the next phase," he added.
But Ghazaryan hesitated to predict the specific timeframes, which he said "may vary" depending on the circumstances. "The ECHR may give priority, considering again the seriousness of the violation in question, its unprecedented and systemic character. In that case, certainly, it will step up the procedures," he said.
Videos
16:06 • 31.07.20
My Future: New Billie Eilish Song Attracts Millions of Views on YouTube
15:07 • 30.07.20
NASA launches Mars 2020 Perseverance Rover with First Aircraft to Fly on Another Planet
09:44 • 21.07.20
Armenian-made UCAV Strikes Azerbaijani Military Objective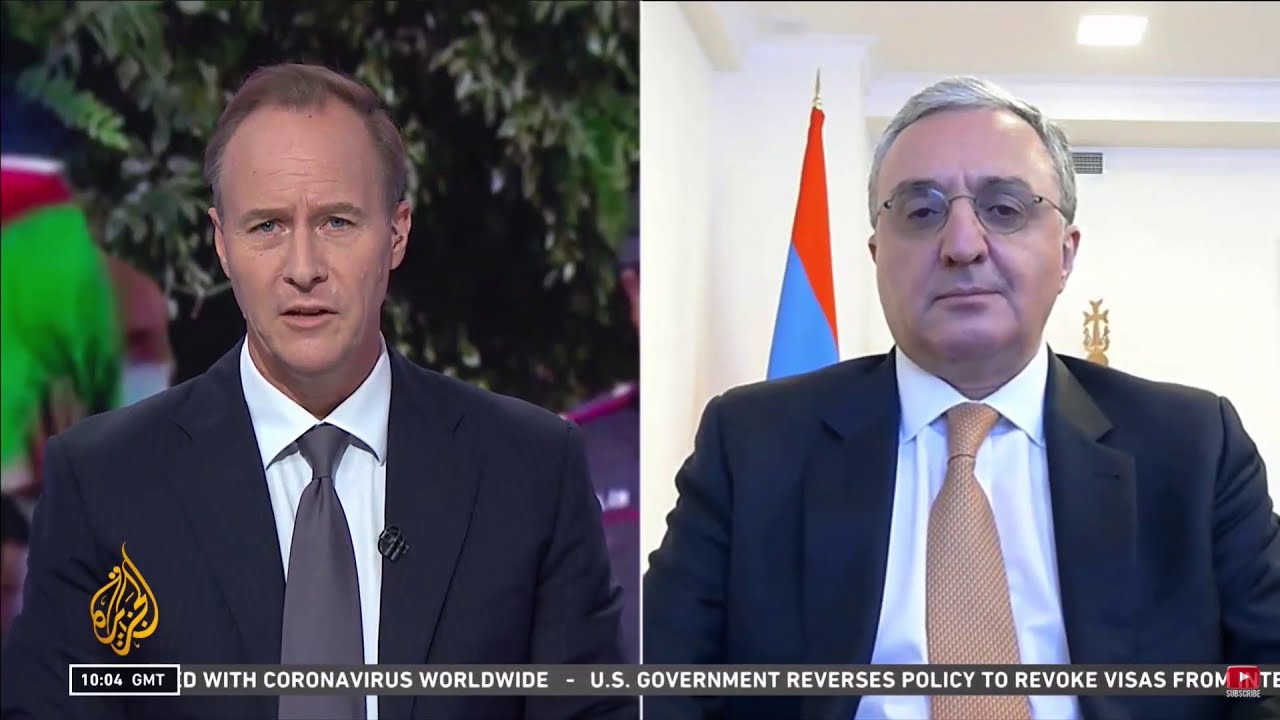 10:32 • 16.07.20
War is Not the Alternative to Peace Talks over Karabakh - FM Zohrab Mnatsakanyan's Interview to Aljazeera
15:33 • 15.07.20
Footage Shows How Azerbaijan Shells Armenian Villages in Jul. 13-14 Artillery Strikes
12:19 • 15.07.20
ANCA Calls for Action to Urge Congressional Condemnation of Azerbaijani Attacks against Armenia
12:13 • 14.07.20
Armenian Military Neutralize Azerbaijani Tank in Retaliatory Military Actions
12:42 • 07.07.20
Chilean Nurse Plays the Violin for Covid-19 Patients
17:38 • 01.07.20
US House Rep. Jackie Kanchelian Speier Discusses De-Mining Aid Program for Artsakh
14:59 • 26.06.20
Armenia's Prime MInister Under Criticism for Poor Handling of Coronavirus - BBC
10:07 • 24.06.20
Congressman Brad Sherman Testifies in Support of Continued US Aid to Artsakh
17:14 • 04.06.20
Meghan Markle says 'George Floyd's life mattered' in heartfelt message against racism
13:04 • 28.05.20
Armenia's Political Elite Celebtrates First Republic Anniversary in Sardarapat
14:13 • 15.05.20
3D Model of SARS-CoV-2 Virus at Atomic Resolution
13:25 • 09.05.20
Armenia's Political Leadership Marks 'Triple Victory Day' in Yerevan
16:29 • 04.05.20
Toyota Launches Karl Lagerfeld Limited-Edition SUV in Thailand
10:44 • 24.04.20
Armenia Commemorating 105th Anniversary of Genocide
12:31 • 23.04.20
Rep..Adam Schiff Discusses Genocide, US Aid to Armenia, Artsakh
09:22 • 23.04.20
Coronavirus: The World Has a Long Way to Go, Warns WHO Chief
15:33 • 21.04.20
Her Majesty, Queen Elizabeth II Celebrates Her 94th Birthday
13:59 • 18.04.20
Holy Fire at the Church of Sepulchre in Jerusalem
14:49 • 13.04.20
Andrea Bocelli Performs Eastern Sunday Concert From Italy's Duomo Di Milano
13:47 • 10.04.20
Kim Kardashian Does a Quarantine Makeup Tutorial With Kkw Beauty Products
16:59 • 08.04.20
Coronavirus Intensive Care: BBC's Special Coverage of London Hospital Where Doctors Fight to Save Lives
16:35 • 07.04.20
Seven-Year-Old Greek Piano Prodigy Pens 'Isolation Waltz'
12:35 • 27.03.20
World Coronavirus Update (Live)
23:27 • 16.03.20
Why Fighting Coronavirus Depends on You?
09:38 • 27.02.20
Kim Kardashian Spotted Throwing Punch at Sister Kourtney
10:53 • 22.02.20
Anna Turcotte: "Rooting Out Hatred toward Armenians Cannot Be Done By Brushing Aside History."
15:13 • 11.02.20
Virtual Reality 'Reunites' Korean Mother with Deceased 7-Year-Old Kid
09:35 • 23.01.20
Armenia is in a Unique Place to Act Like a Bridge Between Europe and Eurasia– Armen Sarkissian
16:03 • 21.01.20
US President Donald Trump Delivers Keynote Speech at Davos 2020
14:20 • 13.12.19
Pro-Armenian US Senators Issue Bipartisan Call on Genocide Recognition
09:49 • 12.12.19
I'm Not Going to Cease until We Do What is Morally Right - Menendez on Armenian Genocide
16:02 • 21.11.19
SpaceX Starship MK1 Explodes! At Boca Chica, Texas
10:10 • 08.11.19
Sen. Bob Menendez Calls for Passage of Armenian Genocide Resolution
16:07 • 30.10.19
Rep. Schiff on Recognizing the Armenian Genocide
11:03 • 26.10.19
Nagorno-Karabakh's Statuis and Security are Ultimate Priorities for Armenia, Mnatsakanyan Tells BBC
10:10 • 24.10.19
US Congressman Jim Costa Slams Turkey for Recent Actions and Urges Support of Armenian Genocide Recognition
16:12 • 18.10.19
LIVE: NASA Astronauts Spacewalk Outside the International Space Station
Analysis