Culmination of a genocide: The conversion of Hagia Sophia is the end of secular Turkey - The Washington Examiner
10:56 • 15.07.20
Alex Galitsky

For Turkey's embattled Christian communities, the destruction and erasure of Christian cultural heritage is nothing new. But the case of the Hagia Sophia's conversion is particularly egregious.
As the Roman Empire's first Christian cathedral, the Hagia Sophia represents one of the most sacred sites in Christendom and the heart of old Christian civilization. Its conversion to a mosque, more than mere provocation, represents the abandonment of secularism in Turkey as we know it.
The Hagia Sophia was first converted to a mosque following the defeat of the Byzantine Empire at the hands of the Ottoman Empire in 1453. It became a symbol of conquest over Anatolia's indigenous populations, and it marked the beginning of an era of Christian persecution that would culminate in the genocide of 1.5 million Armenians and a further 1.5 million Greeks, Assyrians, and other Christian minorities between 1915 and 1923.
To this day, Turkey denies this historic crime against humanity and has sought to erase all presence of Armenian, Greek, and Assyrian civilization from the region as part of a campaign of cultural genocide.
Following the end of World War I and the collapse of the Ottoman Empire, the secular founder of the Republic of Turkey, Kemal Ataturk, saw the cathedral-turned-mosque converted into a "monument for all civilization," serving until now as a museum. Ataturk's gesture was designed to project his new republic's secularism outwardly and to attempt to placate and prevent any unwanted scrutiny over the genocide of Christian populations he had overseen and sought to conceal. If the Hagia Sophia's conversion to a mosque was a symbol of Christianity's defeat, its conversion into a museum symbolized the new Turkish Republic's desire to relegate its Christian community to the annals of history.
The conversion of the Hagia Sophia into a mosque today, at the behest of Turkey's neo-Ottoman President Recep Tayyip Erdogan, marks the culmination of over 100 years of Christian genocide in Turkey.
A century ago, Turkey's Christian communities made up 20% of the country's population. They now make up just 0.2%, at just 200,000. The mosque conversion signals an increasingly dire reality. And for the Armenians, the single largest Christian community left in Turkey, the horrors of genocide and the current erasure of Armenian civilization are still widely felt.
Following the genocide, many Armenian churches and historic sites suffered the same fate as the Hagia Sophia after being captured in Ataturk's campaign against the fledgling Armenian Republic and what remained of the Armenian people. The 10th-century cathedral of Kars, left to ruin, served as briefly as a petroleum depot and later as a museum until its conversion to a mosque in 1993. The 19th-century St. Mary's Cathedral in Gaziantep served as a prison throughout much of the 20th century before being converted into a mosque in 1980. The 11th-century cathedral of Ani on the closed border of Turkey and Armenia (designed by the architect Trdat, who was commissioned to make major restorations to the Hagia Sophia following an earthquake) has been used as a site of political showmanship by Turkish nationalists, with the Turkish Ministry of Culture authorizing a Muslim prayer at the derelict cathedral in 2010.
Those churches that remain, even in the form of museums and mosques, are the lucky ones. Many thousands more have been left to ruin or destroyed in an effort to eradicate the last traces of the Armenian civilization of Anatolia and the Armenian Highlands. Of the estimated 2000 Armenian churches that existed in Turkey in the early 20th century, fewer than 40 remain open and active today — and that number is in constant decline. The same fate has befallen many Greek and Assyrian churches across the country too.
In addition to this, the Turkish government has stripped Christian communities of their cultural and spiritual autonomy, preventing the Greek and Armenian patriarchates from owning or transferring property and playing an intrusive role in the election of church officials.
Erdogan's AKP party has long eyed the Hagia Sophia for conversion in its ongoing descent into fundamentalist authoritarianism. But his decision to defy strong objections from the international community (including Secretary of State Mike Pompeo, the Greek government, and Orthodox Christian religious leaders) signal that Turkey's move is more than just provocation.
For Turkey, the conversion of the Hagia Sophia represents the death knell for any remaining semblance of secularism in the country. It signals Turkey's full embrace of an expansionist, neo-Ottoman foreign policy, unperturbed by its neighbors and allies, and the complete abandonment of its European ambitions that NATO member states once desperately clung onto and used to justify their placation of Turkey amid the country's steady backsliding on democracy and human rights.
Turkey has enjoyed decades of impunity for its egregious human rights abuses. This enabling has set a disturbing precedent, emboldening Erdogan's regional proxies to escalate abuses against embattled Christian minorities. Anti-Armenian protests, incited by Erdogan's Sunni allies in Lebanon (where Armenians make up 5% of the population) and Azerbaijan's recent aggression against Armenia as part of its campaign to deny cultural and political autonomy to the region's indigenous Armenian population, are just two recent examples of the ramifications of Turkey's hate-mongering.
For the remaining Christians of Turkey today, who have experienced the steady erosion of their rights to religious freedom and cultural expression over the last two decades, the conversion of the Hagia Sophia is tantamount to a declaration of war on their very right to exist in the lands they have lived in for millennia.

Alex Galitsky is the communications director of the Armenian National Committee of America-Western Region, the largest Armenian American grassroots advocacy organization in the country.

Videos
16:06 • 31.07.20
My Future: New Billie Eilish Song Attracts Millions of Views on YouTube
15:07 • 30.07.20
NASA launches Mars 2020 Perseverance Rover with First Aircraft to Fly on Another Planet
09:44 • 21.07.20
Armenian-made UCAV Strikes Azerbaijani Military Objective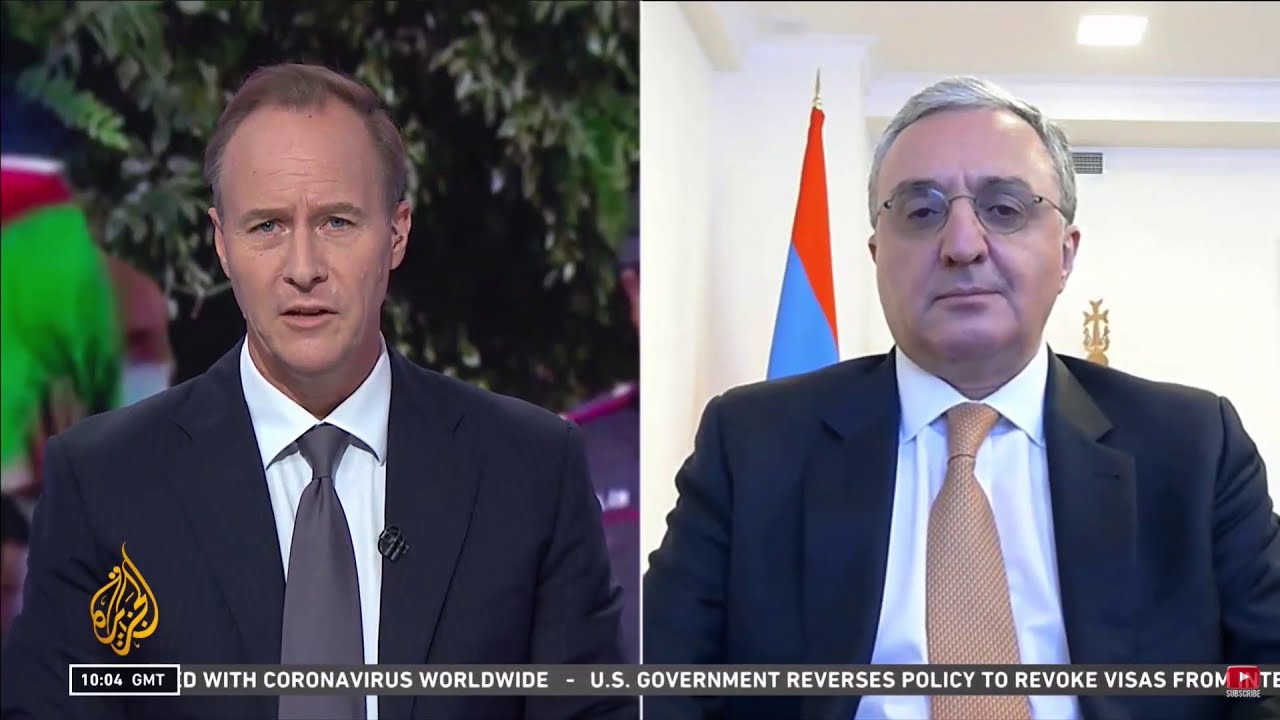 10:32 • 16.07.20
War is Not the Alternative to Peace Talks over Karabakh - FM Zohrab Mnatsakanyan's Interview to Aljazeera
15:33 • 15.07.20
Footage Shows How Azerbaijan Shells Armenian Villages in Jul. 13-14 Artillery Strikes
12:19 • 15.07.20
ANCA Calls for Action to Urge Congressional Condemnation of Azerbaijani Attacks against Armenia
12:13 • 14.07.20
Armenian Military Neutralize Azerbaijani Tank in Retaliatory Military Actions
12:42 • 07.07.20
Chilean Nurse Plays the Violin for Covid-19 Patients
17:38 • 01.07.20
US House Rep. Jackie Kanchelian Speier Discusses De-Mining Aid Program for Artsakh
14:59 • 26.06.20
Armenia's Prime MInister Under Criticism for Poor Handling of Coronavirus - BBC
10:07 • 24.06.20
Congressman Brad Sherman Testifies in Support of Continued US Aid to Artsakh
17:14 • 04.06.20
Meghan Markle says 'George Floyd's life mattered' in heartfelt message against racism
13:04 • 28.05.20
Armenia's Political Elite Celebtrates First Republic Anniversary in Sardarapat
14:13 • 15.05.20
3D Model of SARS-CoV-2 Virus at Atomic Resolution
13:25 • 09.05.20
Armenia's Political Leadership Marks 'Triple Victory Day' in Yerevan
16:29 • 04.05.20
Toyota Launches Karl Lagerfeld Limited-Edition SUV in Thailand
10:44 • 24.04.20
Armenia Commemorating 105th Anniversary of Genocide
12:31 • 23.04.20
Rep..Adam Schiff Discusses Genocide, US Aid to Armenia, Artsakh
09:22 • 23.04.20
Coronavirus: The World Has a Long Way to Go, Warns WHO Chief
15:33 • 21.04.20
Her Majesty, Queen Elizabeth II Celebrates Her 94th Birthday
13:59 • 18.04.20
Holy Fire at the Church of Sepulchre in Jerusalem
14:49 • 13.04.20
Andrea Bocelli Performs Eastern Sunday Concert From Italy's Duomo Di Milano
13:47 • 10.04.20
Kim Kardashian Does a Quarantine Makeup Tutorial With Kkw Beauty Products
16:59 • 08.04.20
Coronavirus Intensive Care: BBC's Special Coverage of London Hospital Where Doctors Fight to Save Lives
16:35 • 07.04.20
Seven-Year-Old Greek Piano Prodigy Pens 'Isolation Waltz'
12:35 • 27.03.20
World Coronavirus Update (Live)
23:27 • 16.03.20
Why Fighting Coronavirus Depends on You?
09:38 • 27.02.20
Kim Kardashian Spotted Throwing Punch at Sister Kourtney
10:53 • 22.02.20
Anna Turcotte: "Rooting Out Hatred toward Armenians Cannot Be Done By Brushing Aside History."
15:13 • 11.02.20
Virtual Reality 'Reunites' Korean Mother with Deceased 7-Year-Old Kid
09:35 • 23.01.20
Armenia is in a Unique Place to Act Like a Bridge Between Europe and Eurasia– Armen Sarkissian
16:03 • 21.01.20
US President Donald Trump Delivers Keynote Speech at Davos 2020
14:20 • 13.12.19
Pro-Armenian US Senators Issue Bipartisan Call on Genocide Recognition
09:49 • 12.12.19
I'm Not Going to Cease until We Do What is Morally Right - Menendez on Armenian Genocide
16:02 • 21.11.19
SpaceX Starship MK1 Explodes! At Boca Chica, Texas
10:10 • 08.11.19
Sen. Bob Menendez Calls for Passage of Armenian Genocide Resolution
16:07 • 30.10.19
Rep. Schiff on Recognizing the Armenian Genocide
11:03 • 26.10.19
Nagorno-Karabakh's Statuis and Security are Ultimate Priorities for Armenia, Mnatsakanyan Tells BBC
10:10 • 24.10.19
US Congressman Jim Costa Slams Turkey for Recent Actions and Urges Support of Armenian Genocide Recognition
16:12 • 18.10.19
LIVE: NASA Astronauts Spacewalk Outside the International Space Station
Analysis