Erdogan 'sought to probe for Putin's attitude' to possible pressures on Armenia - Russian expert
16:20 • 29.07.20
Hripsime Hovhannisyan
Turkish President Recep Tayyip Erdogan's move to hold telephone negotiations with his Russian counterpart was linked to his concerns over the reported tensions along Armenia's border with Azerbaijan, says Alexander Krylov, a senior researcher at the Moscow-based Institute of World Economy and International Relations (Russian Academy of Sciences) and the president of the Scientific Society of Caucasus Studies.
In an interview with Tert.am, the expert also shared his concern over the planned Turkish-Azerbaijani military exercises in Nakhichevan, agreeing that it may exacerbate the situation even further.
"It is certainly important for Erdogan to have the understanding how far-reaching the conflict with Russia may be or to what extent he is allowed to exert pressure upon Armeni,a and what Russia will tolerate at all.
"By making the call, Erdogan was apparently trying to probe for [Russian President Vladimir] Putin's attitude towards all that," he noted.
Meantime the expert said he believes that the Russian leader "pursues an extremely negative attitude" amid the current processes. "I cannot say for sure whether or not military exercises will take place in Nakhichevan, but I believe everything was clearly stated, considering the ongoing Armenian-Azerbaijani pogroms across globe," he said, describing the acts of violent as a provocation rather than a manifestation of ethnic hatred.
"I think that topic was considered too," Krylov added.
During their telephone conversation earlier this week, the Russian and Azerbaijani leaders discussed the recently reported border tensions between Azerbaijan and Armenia. Four Armenian servicemen were killed in the violent clashes provoked after an incident by Azerbaijan's military. Azerbaijan reported 11 losses.
Commenting on the Russia-Turkey relations, Krylov admitted that Moscow attaches priority to its developing partnership with Ankara. He cited the Montreux Convention Regarding the Regime of the Straits as a key international instrument outlining the two countries' shared interest (in not turning the Black See into a zone of regional states' influence). "Yes, Turkey and Russia may have policy differences in the Caucasus, but their interests coincide when it comes to this issue," he added.
Addressing the allegations that Russia is improving its relations with Turkey, seeking a future cooperation "at the expense of Armenia", Krylov dismissed the allegations as highly "propagandistic".
"Russia never builds its interests at the sacrifice of others. And Armenia too, is very important for it in the South Caucasus. The statements that Russia may replace Armenia for Turkey and Azerbaijan are propagandistic as I said for people who have such fears. But there isn't anything of the kind," he said, reaffirming Russia's role as Armenia's strategic ally.
Asked whether Armenia should beware of Turkey's future actions, Krylov agreed that the situation is turning increasingly tense in the light of the joint Turkish-Azerbaijani exercises.
"Additionally, mercenaries are being recruited for Azerbaijan in Libya, Syria and Ukraine. They are obviously preparing for a military action either on the border of Karabakh or along the entire border of Armenia. No sabotage is ruled out here, but there are low chances for large-scale military actions, especially on the internationally acknowledged border between Armenia and Azerbaijan. The CSTO [Collective Security Treaty Organization] will immediately take action, with the obligation to defend Armenia becoming effective for both for that institution and Russia," he said, warning of higher hazards for Nagorno-Karabakh (to which the said guarantees are not applicable).
Asked to comment on the repeatedly voiced concerns over "problematic" Armenian-Russian relations (in light of Russia's alleged distrust of the current Armenian government or failure to react to the recent cross-border clashes), Krylov agreed that it isn't good at all when Armenia's domestic political problems have their reflection on the two countries' relations.
"The relations, as a matter of fact, are developing very constructively. Armenian sappers in Syria work in collaboration with Russia, a step that no CSTO country has so far committed itself to take. Of course, there are problems in the bilateral relations, which is quite normal. What is bad, though, is the domestic political situation in Armenia impacts the relationship between the two countries," Krylov added.
Videos
16:06 • 31.07.20
My Future: New Billie Eilish Song Attracts Millions of Views on YouTube
15:07 • 30.07.20
NASA launches Mars 2020 Perseverance Rover with First Aircraft to Fly on Another Planet
09:44 • 21.07.20
Armenian-made UCAV Strikes Azerbaijani Military Objective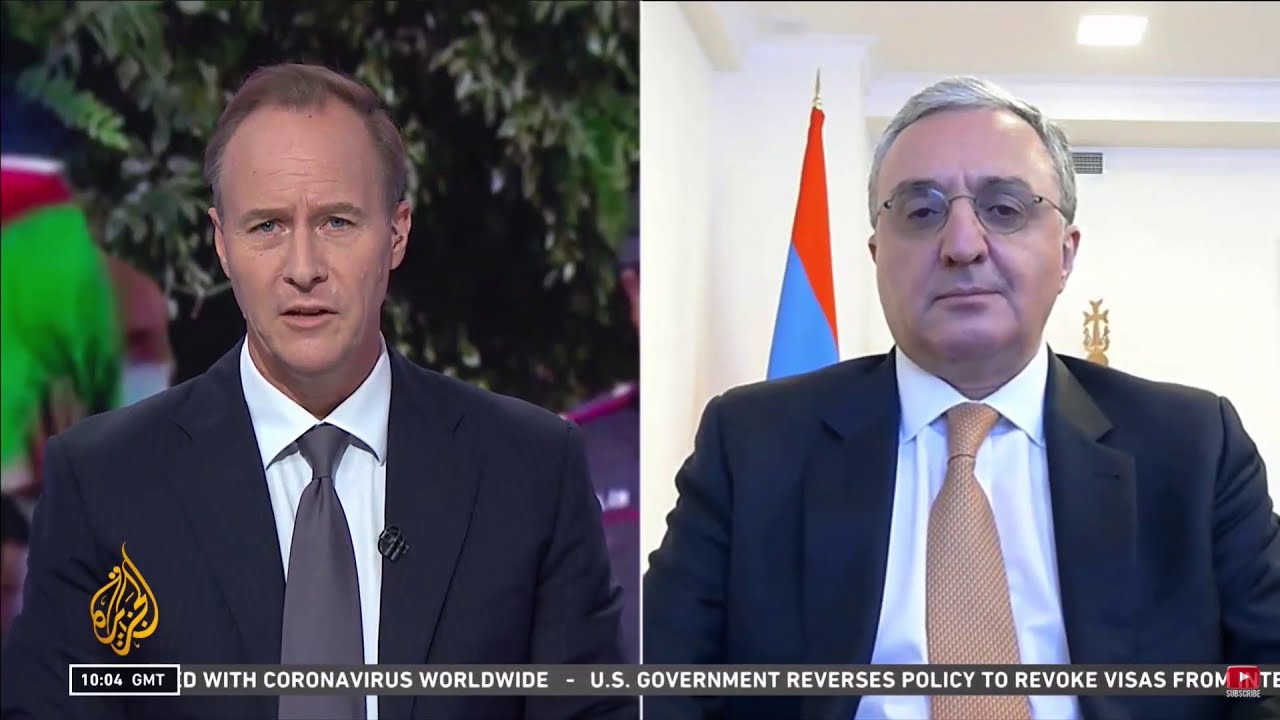 10:32 • 16.07.20
War is Not the Alternative to Peace Talks over Karabakh - FM Zohrab Mnatsakanyan's Interview to Aljazeera
15:33 • 15.07.20
Footage Shows How Azerbaijan Shells Armenian Villages in Jul. 13-14 Artillery Strikes
12:19 • 15.07.20
ANCA Calls for Action to Urge Congressional Condemnation of Azerbaijani Attacks against Armenia
12:13 • 14.07.20
Armenian Military Neutralize Azerbaijani Tank in Retaliatory Military Actions
12:42 • 07.07.20
Chilean Nurse Plays the Violin for Covid-19 Patients
17:38 • 01.07.20
US House Rep. Jackie Kanchelian Speier Discusses De-Mining Aid Program for Artsakh
14:59 • 26.06.20
Armenia's Prime MInister Under Criticism for Poor Handling of Coronavirus - BBC
10:07 • 24.06.20
Congressman Brad Sherman Testifies in Support of Continued US Aid to Artsakh
17:14 • 04.06.20
Meghan Markle says 'George Floyd's life mattered' in heartfelt message against racism
13:04 • 28.05.20
Armenia's Political Elite Celebtrates First Republic Anniversary in Sardarapat
14:13 • 15.05.20
3D Model of SARS-CoV-2 Virus at Atomic Resolution
13:25 • 09.05.20
Armenia's Political Leadership Marks 'Triple Victory Day' in Yerevan
16:29 • 04.05.20
Toyota Launches Karl Lagerfeld Limited-Edition SUV in Thailand
10:44 • 24.04.20
Armenia Commemorating 105th Anniversary of Genocide
12:31 • 23.04.20
Rep..Adam Schiff Discusses Genocide, US Aid to Armenia, Artsakh
09:22 • 23.04.20
Coronavirus: The World Has a Long Way to Go, Warns WHO Chief
15:33 • 21.04.20
Her Majesty, Queen Elizabeth II Celebrates Her 94th Birthday
13:59 • 18.04.20
Holy Fire at the Church of Sepulchre in Jerusalem
14:49 • 13.04.20
Andrea Bocelli Performs Eastern Sunday Concert From Italy's Duomo Di Milano
13:47 • 10.04.20
Kim Kardashian Does a Quarantine Makeup Tutorial With Kkw Beauty Products
16:59 • 08.04.20
Coronavirus Intensive Care: BBC's Special Coverage of London Hospital Where Doctors Fight to Save Lives
16:35 • 07.04.20
Seven-Year-Old Greek Piano Prodigy Pens 'Isolation Waltz'
12:35 • 27.03.20
World Coronavirus Update (Live)
23:27 • 16.03.20
Why Fighting Coronavirus Depends on You?
09:38 • 27.02.20
Kim Kardashian Spotted Throwing Punch at Sister Kourtney
10:53 • 22.02.20
Anna Turcotte: "Rooting Out Hatred toward Armenians Cannot Be Done By Brushing Aside History."
15:13 • 11.02.20
Virtual Reality 'Reunites' Korean Mother with Deceased 7-Year-Old Kid
09:35 • 23.01.20
Armenia is in a Unique Place to Act Like a Bridge Between Europe and Eurasia– Armen Sarkissian
16:03 • 21.01.20
US President Donald Trump Delivers Keynote Speech at Davos 2020
14:20 • 13.12.19
Pro-Armenian US Senators Issue Bipartisan Call on Genocide Recognition
09:49 • 12.12.19
I'm Not Going to Cease until We Do What is Morally Right - Menendez on Armenian Genocide
16:02 • 21.11.19
SpaceX Starship MK1 Explodes! At Boca Chica, Texas
10:10 • 08.11.19
Sen. Bob Menendez Calls for Passage of Armenian Genocide Resolution
16:07 • 30.10.19
Rep. Schiff on Recognizing the Armenian Genocide
11:03 • 26.10.19
Nagorno-Karabakh's Statuis and Security are Ultimate Priorities for Armenia, Mnatsakanyan Tells BBC
10:10 • 24.10.19
US Congressman Jim Costa Slams Turkey for Recent Actions and Urges Support of Armenian Genocide Recognition
16:12 • 18.10.19
LIVE: NASA Astronauts Spacewalk Outside the International Space Station
Analysis