Azerbaijani leader sees protests as a 'pretext' to go after the 'fifth column' - The Washington Post
13:21 • 30.07.20
Opinion by Editorial Board

Ilham Aliyev has blown a gasket. The president of Azerbaijan has never looked kindly on independent journalists or dissidents. The February parliamentary elections were deemed by international observers to be devoid of real political competition. Now, in the midst of the pandemic, low oil prices and tensions with archrival Armenia, Mr. Aliyev has suddenly discovered a "fifth column" of enemies, the political opposition, and has begun throwing them in jail. Mr Aliyev's tantrum is threatening to obliterate what remains of independent political forces in Azerbaijan.
In a speech to the nation on the Novruz holiday in March, Mr. Aliyev pledged to combat the coronavirus pandemic. He said Azerbaijan was being undermined by "the enemies who are among us, the elements calling themselves opposition, the traitors who receive money from abroad. Their main goal is to destroy Azerbaijan." The president said that during the pandemic, "the isolation of representatives of the fifth column will become a historical necessity."
Then, from July 12 to 16, Azeri forces fought with Armenia in the Tovuz district of northwestern Azerbaijan, the first conflict between them since 2016. Eleven Azeri servicemen, including a general, and a civilian were killed in fighting, and four Armenians died. The conflict set off a July 14-15 pro-military rally in Baku, the Azeri capital. Late in the protest, a group of people briefly stormed into the parliament building in Baku before they were removed by police, and several police cars were overturned by angry crowds.
Mr Aliyev saw the protest as a pretext to go after the "fifth column." In a screed delivered on July 15, the day after the rally, he attacked the largest opposition party, the Popular Front Party of Azerbaijan. The leader, Ali Karimli, had actually spoken out in support of the army, saying, "We are behind our state and the army." No matter; Mr. Aliyev put them squarely in his crosshairs. "We need to finish with the 'fifth column,' it cannot continue this way any longer," he declared, vowing to go after "its dirty and corrupt leaders, cowards and deserters who consider themselves leaders." He claimed the Popular Front is "worse than the Armenians."

After he spoke, Azeri security services began arresting party members and others. Sources in Azerbaijan say that as many as 120 people are currently held, including some deputy leaders of the party as well as journalists. The US State Department urged Azerbaijan on July 20 to avoid using the pandemic to silence "civil society advocacy, opposition voices, or public discussion." Mr Aliyev's foreign ministry promptly replied with a gratuitous comment about protests over racial inequality in the United States, saying, "In this situation, we cannot understand who the US State Department is worried about and why."
Let us explain. In the United States, protests are the lifeblood of a functioning democracy, one that has its problems but guarantees rights of free speech and assembly — including the right to criticize the president. Mr. Aliyev's use of the iron fist to destroy his critics is the opposite of democracy and why everyone should worry about this intemperate tyrant.
Videos
16:06 • 31.07.20
My Future: New Billie Eilish Song Attracts Millions of Views on YouTube
15:07 • 30.07.20
NASA launches Mars 2020 Perseverance Rover with First Aircraft to Fly on Another Planet
09:44 • 21.07.20
Armenian-made UCAV Strikes Azerbaijani Military Objective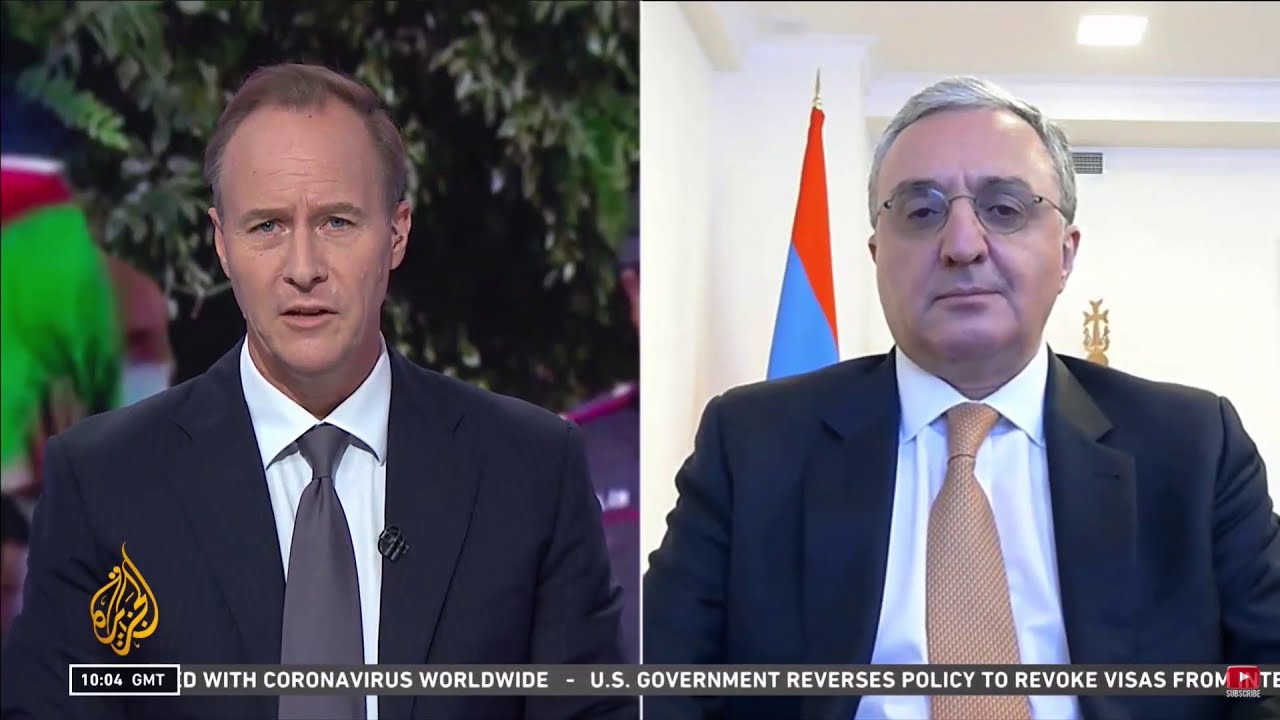 10:32 • 16.07.20
War is Not the Alternative to Peace Talks over Karabakh - FM Zohrab Mnatsakanyan's Interview to Aljazeera
15:33 • 15.07.20
Footage Shows How Azerbaijan Shells Armenian Villages in Jul. 13-14 Artillery Strikes
12:19 • 15.07.20
ANCA Calls for Action to Urge Congressional Condemnation of Azerbaijani Attacks against Armenia
12:13 • 14.07.20
Armenian Military Neutralize Azerbaijani Tank in Retaliatory Military Actions
12:42 • 07.07.20
Chilean Nurse Plays the Violin for Covid-19 Patients
17:38 • 01.07.20
US House Rep. Jackie Kanchelian Speier Discusses De-Mining Aid Program for Artsakh
14:59 • 26.06.20
Armenia's Prime MInister Under Criticism for Poor Handling of Coronavirus - BBC
10:07 • 24.06.20
Congressman Brad Sherman Testifies in Support of Continued US Aid to Artsakh
17:14 • 04.06.20
Meghan Markle says 'George Floyd's life mattered' in heartfelt message against racism
13:04 • 28.05.20
Armenia's Political Elite Celebtrates First Republic Anniversary in Sardarapat
14:13 • 15.05.20
3D Model of SARS-CoV-2 Virus at Atomic Resolution
13:25 • 09.05.20
Armenia's Political Leadership Marks 'Triple Victory Day' in Yerevan
16:29 • 04.05.20
Toyota Launches Karl Lagerfeld Limited-Edition SUV in Thailand
10:44 • 24.04.20
Armenia Commemorating 105th Anniversary of Genocide
12:31 • 23.04.20
Rep..Adam Schiff Discusses Genocide, US Aid to Armenia, Artsakh
09:22 • 23.04.20
Coronavirus: The World Has a Long Way to Go, Warns WHO Chief
15:33 • 21.04.20
Her Majesty, Queen Elizabeth II Celebrates Her 94th Birthday
13:59 • 18.04.20
Holy Fire at the Church of Sepulchre in Jerusalem
14:49 • 13.04.20
Andrea Bocelli Performs Eastern Sunday Concert From Italy's Duomo Di Milano
13:47 • 10.04.20
Kim Kardashian Does a Quarantine Makeup Tutorial With Kkw Beauty Products
16:59 • 08.04.20
Coronavirus Intensive Care: BBC's Special Coverage of London Hospital Where Doctors Fight to Save Lives
16:35 • 07.04.20
Seven-Year-Old Greek Piano Prodigy Pens 'Isolation Waltz'
12:35 • 27.03.20
World Coronavirus Update (Live)
23:27 • 16.03.20
Why Fighting Coronavirus Depends on You?
09:38 • 27.02.20
Kim Kardashian Spotted Throwing Punch at Sister Kourtney
10:53 • 22.02.20
Anna Turcotte: "Rooting Out Hatred toward Armenians Cannot Be Done By Brushing Aside History."
15:13 • 11.02.20
Virtual Reality 'Reunites' Korean Mother with Deceased 7-Year-Old Kid
09:35 • 23.01.20
Armenia is in a Unique Place to Act Like a Bridge Between Europe and Eurasia– Armen Sarkissian
16:03 • 21.01.20
US President Donald Trump Delivers Keynote Speech at Davos 2020
14:20 • 13.12.19
Pro-Armenian US Senators Issue Bipartisan Call on Genocide Recognition
09:49 • 12.12.19
I'm Not Going to Cease until We Do What is Morally Right - Menendez on Armenian Genocide
16:02 • 21.11.19
SpaceX Starship MK1 Explodes! At Boca Chica, Texas
10:10 • 08.11.19
Sen. Bob Menendez Calls for Passage of Armenian Genocide Resolution
16:07 • 30.10.19
Rep. Schiff on Recognizing the Armenian Genocide
11:03 • 26.10.19
Nagorno-Karabakh's Statuis and Security are Ultimate Priorities for Armenia, Mnatsakanyan Tells BBC
10:10 • 24.10.19
US Congressman Jim Costa Slams Turkey for Recent Actions and Urges Support of Armenian Genocide Recognition
16:12 • 18.10.19
LIVE: NASA Astronauts Spacewalk Outside the International Space Station
Analysis