Increasing number of tourists visit Akhtamar Island of Van in 2017 (photos)  
13:00 • 06.10.17
The number of international tourists visiting the Akhtamar Island of Van (Turkey) has increased to 109,000 from 27,000 compared to January-October 2016.

Apart from Armenians (including those from Diaspora communities), the historical site appears to be of interests also to visitors from Iran.

The Turkish authorities repaired the Armenian church of Holy Cross in 2005-2007, turning it into a museum.

After a century's silence, the church has been annually serving masses dedicated to the Feast of Cross since 2010.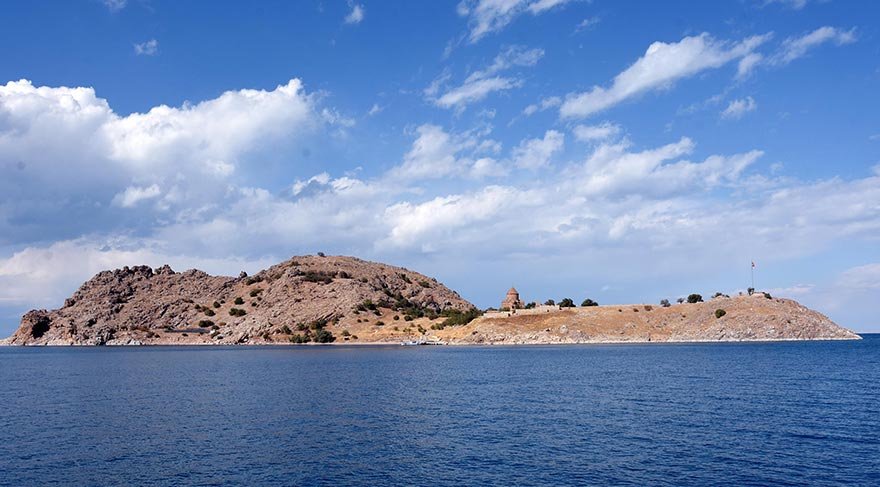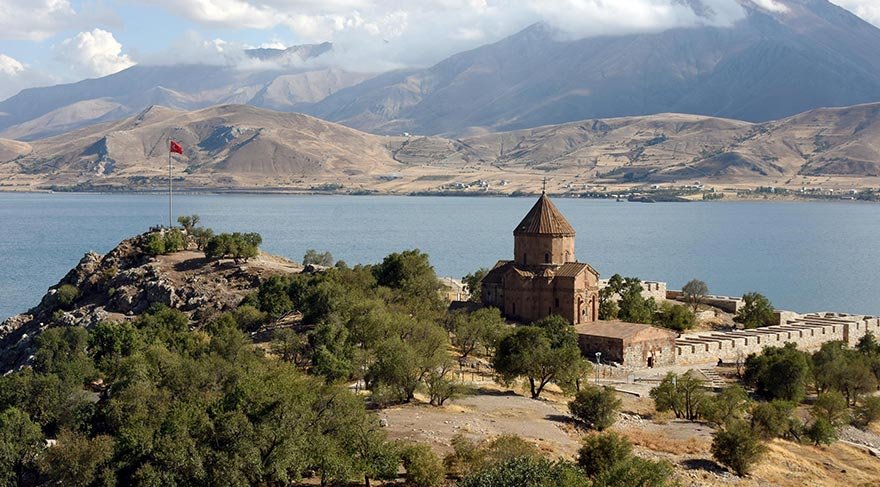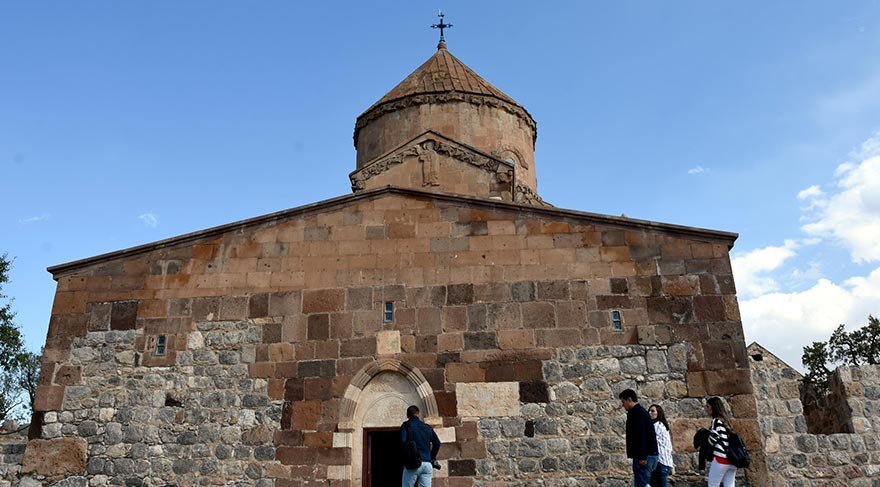 LATEST NEWS • All Today news
14:54 • 17/03
Parliamentary delegation visits Armenian church in St Petersburg
14:29 • 17/03
Russia expels 23 British diplomats as row over spy poisoning case deepens
14:18 • 17/03
Prince Harry rejects chance to safeguard £30m fortune as he is determined his marriage 'will work'
14:06 • 17/03
Small plane crashes outside Philippine capital, killing seven
13:47 • 17/03
Azerbaijan key impediment to Armenia-Turkey normalization – Thomas de Waal
12:47 • 17/03
Turkish court orders jailed journalist's release
12:23 • 17/03
Aravot: Azerbaijan conducting acitve lobbying in US, says Armenian analyst
12:02 • 17/03
11:32 • 17/03
Escalations in Karabakh conflict zone 'still possible' even though major war is ruled out, says Chatham House expert
10:43 • 17/03
Two Armenians killed in possible gang shooting in Valley Glen neighborhood
09:34 • 17/03
Putin blamed for attack on ex-spy Skripal
09:12 • 17/03
Oscars Academy chief 'faces harassment allegations'
18:45 • 16/03
Japanese artist creates photo-like portraits (photo set)
18:40 • 16/03
Apple appears 'totally cut off Iran' from the App Store
18:30 • 16/03
Asia's second-richest person Li retires
17:58 • 16/03
Armenian parliament vice speaker urges CSTO top body to condemn Azerbaijani aggression
17:31 • 16/03
Turkey controls 'three-fourths of Afrin', says Erdogan
17:20 • 16/03
White House joins European leaders to condemn poisoning of Russian spies
16:48 • 16/03
Islam does not belong to Germany, says new interior minister
16:38 • 16/03
Yerevan-Saratov plane lands at Moscow airport 'due to poor weather'
16:21 • 16/03
Baku 'intentionally protracting' Karabakh peace - European expert
15:19 • 16/03
Donald and Melania Trump join Irish Prime Minister for White House St. Patrick's Day event
13:15 • 16/03
Pentagon chief accuses Iran of 'mucking around' in Iraq's Elections
11:55 • 16/03
Online media resource which has long-term plans with readers: Tert.am celebrates 10th anniversary
10:16 • 16/03
Zhoghovurd: Armenia's isolation tightening amid plans for new regional transport projects
09:33 • 16/03
Estonian prime minister cancels trip to Russia
09:13 • 16/03
At least four killed in Florida university bridge collapse
17:54 • 15/03
Syria war: Thousands flee beseiged Eastern Ghouta 
17:26 • 15/03
World superpowers' interests 'above their priorities' in Karabakh peace – Thomas de Waal
16:40 • 15/03
French court fines baker for refusing to take a day-off
15:31 • 15/03
Wenger: AC Milan win gives Arsenal a 'psychological problem'
15:18 • 15/03
Russia discussing Karabakh peace 'with different partners', says Foreign Ministry spokesperson
15:04 • 15/03
To Kill a Mockingbird estate suing producers over Broadway adaptation
14:47 • 15/03
Turkey-US meeting postponed due to Tillerson exit
14:29 • 15/03
Russia vows retaliation for UK claims over ex-spy's poisoning
14:18 • 15/03
Moody's revises Ardshinbank's rating outlook to positive, reaffirming ratings on the level of sovereign
13:25 • 15/03
Anti-Iranian pressures would be 'unreasonable' for Armenia, warns expert
12:15 • 15/03
White House: Russia 'appears' behind poisoning of ex-spy
11:54 • 15/03
Media play paramount role in consumer protection – Karen Karapetyan
11:17 • 15/03
Slovenian Prime Minister Miro Cerar resigns
11:11 • 15/03
Terrified passengers left hanging upside down for 45 minutes after Six Flags' Batman roller coaster gets stuck on its tracks
10:47 • 15/03
UK resolutely supports Minsk Group efforts towards Karabakh peace – ambassador  
10:10 • 15/03
Bako Sahakyan visits ANCA office in Washington
09:46 • 15/03
Lamborghini launches bicycle edition
09:32 • 15/03
Libya seeks 205 over smuggling ring
09:13 • 15/03
US stands in solidarity with Ukraine over Russia
18:00 • 14/03
UK expels 23 Russian diplomats over ex-spy's poisoning
17:42 • 14/03
Mercedes Maybach to come with 2 megapixel smart headlights 'projecting warning symbols on roads'Maybach
17:12 • 14/03
PACE committee backs Armenian deputy chairman's proposal
16:33 • 14/03
UK's May plots to punish Russia amid deepening crisis over poisoned spy
16:21 • 14/03
Armenian American Museum project to attract additional $2 million
15:50 • 14/03
National AIDS prevention center to close down 'due to shortage of funds'
14:48 • 14/03
Kenyan model changes homeless couples to make them 'fashion models'
14:15 • 14/03
Dog dies in overhead locker on United Airlines plane
14:02 • 14/03
Germany's Merkel re-elected to fourth term
13:29 • 14/03
Russian politician says weapons trading with Azerbaijan 'revised' after April fighting
12:38 • 14/03
Google to ban ads on cryptocurrencies
12:23 • 14/03
Zayn Malik and Gigi Hadid split 'after more than two years together'
12:07 • 14/03
Duterte to withdraw Philippines from ICC over drugs inquiry
11:40 • 14/03
Armenian foreign minister to visit Denmark
11:14 • 14/03
Man Utd knocked out of Champions League after defeat by Sevilla
11:04 • 14/03
FM Nalbandian discusses EU-Armenia agenda with Swedish legislators
10:25 • 14/03
Glendale City Council to name street after Artsakh
10:11 • 14/03
Boston is top pick to win Amazon's HQ2 on Irish gambling site
09:47 • 14/03
Iran's foreign minister to visit Baku
09:24 • 14/03
Sacked Rex Tillerson issues Russia warning
09:12 • 14/03
Physicist Stephen Hawking dies aged 76
18:16 • 13/03
Serzh Sargsyan congratulates Pope Francis on fifth anniversary of election
18:03 • 13/03
Armenian official urges Baku 'to prepare society for peace'
17:33 • 13/03
Karabakh peace key priority on OSSCE agenda, says top official
17:17 • 13/03
Trump ousts Rex Tillerson as secretary of state, replaces him with Mike Pompeo
17:10 • 13/03
Apple, Google see reputation of corporate brands tumble in survey
16:38 • 13/03
Iran shares Armenia's stance on Karabakh peace but remains 'ostensibly neutral', says Armenian editor
15:42 • 13/03
Recognition for salvation 'sole viable concept in Karabakh peace' - lawmaker
15:06 • 13/03
Virginia man follows mother's advice to win $100,000 lottery prize
14:57 • 13/03
Rapper and P Diddy protégé Craig Mack dies aged 46  
14:36 • 13/03
Amazon founder unveils plan to spend his billions on 'making space travel cheaper'
14:22 • 13/03
US blames Russia for failed Syrian truce
14:11 • 13/03
Bako Sahakyan in Washington for working visit
13:56 • 13/03
Serzh Sargsyan receives IMF Dutch Sub-Group Executive Director
13:49 • 13/03
Turkey warns Germany over mosque attacks
13:36 • 13/03
Zhamanak: Handover of regions surrounding Karabakh 'legally worded demand' - Russian analyst
12:34 • 13/03
Aravot: Azerbaijan's existence real threat to region, says defense official
12:08 • 13/03
Germany on alert for possible attacks on Turkish sites
11:35 • 13/03
From Zurich Protocols to Nagorno-Karabakh – parliament official sums up Armenian delegation's visit to US
09:25 • 13/03
Trump heads to California 'with immigration on his mind'
09:12 • 13/03
Russia faces deadline over spy poison attack
17:58 • 12/03
French fashion icon Givenchy dies at 91
17:33 • 12/03
Moscow-Gyumri aircraft makes emergency landing 'due to smoking passenger'
17:10 • 12/03
Moody's changes outlook on Armenia's rating from stable to positive
16:30 • 12/03
Azerbaijan stringently abandons international commitments – MFA spokesperson  
16:01 • 12/03
EU extends Russia sanctions over Ukraine crisis
15:51 • 12/03
40 reported killed in US-Bangla plane crash
15:38 • 12/03
Asia and the Middle East lead rising trend in arms imports, US and Russian exports grow significantly, says SIPRI
15:03 • 12/03
Istanbul hosts Armenian dance concert (video, photos)
14:41 • 12/03
Global stocks rally on upbeat outlook; dollar declines
14:02 • 12/03
Putin's certain victory: What you need to know about the Russian presidential election – Deutsche Welle
13:32 • 12/03
Armenian customs services 'charge duty' for electromobile imports – human rights activist  
12:47 • 12/03
Amazing moment man jumps off the roof of oceanside hotel into crystal clear blue water in Sint Maarten
12:28 • 12/03