Nagorno-Karabakh issue 'impossible to settle' without consistent work, mutual respect, and balance – Nikol Pashinyan
09:49 • 21.11.19
It is impossible to settle the Nagorno-Karabakh issue without hard and consistent work, without compromise, mutual respect, and balance, Prime Minister Nikol Pashinyan said in his speech at the Institute for International Political Studies in Milan.

Below is the official text of his address delivered at the meeting
Ladies and gentlemen,
It is an honor for me to be here at the Italian Institute for International Political Studies – one of the top think-tanks in Italy and worldwide. I know that 2019 marks the 85th anniversary of the establishment of this institute. During its decades-long activity, combining policy-oriented research with an equally significant commitment to education, the institute has gone through volatile periods of history, bringing its contribution to policy-making worldwide.
So, once again thank you for the invitation to address this audience.
Ladies and Gentlemen,
I have no doubt that all of you here have heard about the non-violent, peaceful Velvet revolution that happened in Armenia in April, 2018. This revolution, being inner-driven without an outer support, was the hope of the Armenian people to reject decades-long era of corruption and fraud, to establish the rule of law over the rule of power.
Having assumed the responsibility to lead marches of protests, I clearly realized that in the history of the third Armenian statehood there has never been a time of greater promise, and, at the same time, a potential peril. I clearly realized that I had no right to let all those people down - women and men, the young and the old, who were following me.
We started a march of protest, walking from Armenia's second largest city Gyumri to capital Yerevan. With every step bringing us closer to the capital, the responsibility was rising at twice the speed. And we succeeded. The Armenian people proved that they are strong when they are mobilized and united.
With the Velvet Revolution we managed to return the authority into the hands of the people. The next thing we did was the snap parliamentary election. Last December we held parliamentary elections that were defined by our international partners as free, fair, democratic and competitive. This was the first parliamentary election in our country, the official results of which were not contested in the Constitutional Court and the first parliamentary elections, the results of which were unanimously adopted by all political forces and the public at large.

After the elections, I clearly realized that the expectations of the people were very high, the promise of the revolution was quite big. We needed to translate the energy and excitement generated by wide scale mobilization into the work of building democratic institutions.
No doubt that in terms of values and aspirations of the people, democracy has won a landslide victory in Armenia. Today democracy has already become a part of our identity. However, we realize that we need to strengthen democracy institutionally in order to make it irreversible. We need to protect democracy from those who want to make a revenge and turn the clock back.

With this end in view, we launched reforms aimed at ensuring the rule of law, accountable governance, protection of fundamental rights and freedom.
Today, in our reforms we put emphasis on building our institutions, and the judiciary, in this regard, is of primary importance. It is well known that without a truly independent judiciary and public trust towards the judicial system, it is not possible to establish a fully functioning democracy and the rule of law. But that trust has to be earned. It has been broken for a long period of time, and needs efforts to be repaired. With the help of our international partners, we are on the track of earning it back.
In this context, I want to emphasize the role of the European Union, which has become Armenia's primary partner in institution building and in implementing our reform agenda. The Comprehensive and Enhanced Partnership Agreement between Armenia and the European Union, is of a particular importance to this end. It is noteworthy that the CEPA is a reform-generating tool, and the fulfillment of its provisions entails qualitative changes in many areas of our society.
Dear friends,
Italy is one of the historic bridges bounding Armenia with Europe. Today it plays an important role in expanding cooperation and strengthening political, economic, and cultural relations between Armenia and the European Union. We value our friendly relations with Italy and intend to make every effort to move them even stronger and more substantive.
Close ties between our peoples go deep into the history when Armenia and the Roman Empire were neighbors, as it is depicted on four ancient maps on the wall of the Roman Forum. Back in the first century BC, Armenia was even declared a friend and ally of the Roman people.
The close ties between our ancient peoples are based on shared values and the common Christian traditions, which, of course, are one of the cornerstones of our friendship.
For Armenians it is of a great importance that the holy relics of the First Catholicos of the Armenian Apostolic Church are stored in the churches of San Gregorio Armeno of Naples and Nardo.
One of the most important centers contributing to the renaissance of the Armenian culture in the modern era is the island of St. Lazarus in Venice, where the Congregation of Mekhitarists was founded three centuries ago. The Congregation, which is still one of the major centers of Armenian studies, played an invaluable role in the enlightenment and cultural development of the Armenian people. It is yet another subject of a common pride for us and Italians.

This series can be continued indefinitely ...
Traditional friendship between our peoples have created a strong foundation for the development of cooperation between our countries. Today we are determined to do everything possible for further deepening our relations.
Trade and economic cooperation is an important component of our relations. Italy is Armenia's second largest trade and economic partner among the EU countries. In the first nine months of this year alone, trade between the two countries increased by about 14%. The Comprehensive and Enhanced Partnership Agreement between Armenia and the European Union and Armenia's participation in the Eurasian Economic Union open up additional prospects for the development of cooperation between our two countries.
The Armenian-Italian community is undoubtedly another factor contributing to our cooperation. We are grateful to the Italian Government for taking care of the Armenian cultural heritage existing in Italy. And last, but not least, we are grateful for the decision of the Italian Chamber of Deputies to recognize the Armenian Genocide in April this year.

Ladies and Gentlemen,
All of you here know, that Armenia is located in a volatile region with many security risks and challenges. Unresolved conflicts, which are producing ongoing tension, an arms race, and hate politics, are still alive in the South Caucasus.
Thirty years after the fall of the Berlin Wall, two out of Armenia's four borders – those with Turkey and Azerbaijan – have remained sealed for about three decades. By refusing to establish diplomatic relations with Armenia and overtly assisting Azerbaijan against Armenia and Nagorno-Karabakh, Turkey remains a serious security threat to Armenia and the Armenian people who experienced the first genocide of the 20th century in Ottoman Empire and continue to face the fierce denial of truth and justice.
Although the two other borders with our friends, Georgia and Iran, are open, however, in terms of economic efficiency, they can be considered only half-open. Foreign policy challenges of our two neighbors limit the potential for external relations of our economy and undermine the possibilities for a full-scale regional cooperation.
But the biggest security challenge for us is the Nagorno-Karabakh conflict. It still remains unresolved becoming a source of permanent tension, and threatening to escalate into another outbreak of hostilities.
Anyone interested in the Nagorno-Karabakh conflict should know the background of the conflict. This conflict is not a territorial dispute, as some have tried to present it in a simplified way. It is about the right to self-determination, human rights, and the physical security of the people that live there.
The roots of the conflict date back to early days of the Soviet Union when an Armenian region with 95 percent of Armenian population was assigned to Azerbaijan by an arbitrary decision of the Communist party. This happened as a result of an agreement reached between Bolshevik Russia and Kemalist Turkey in early 1920s.
During the Soviet era the conflict was manifested by systematic and violent discrimination against the Armenian population who formulated their bid for self-determination in 1988 - just on the eve of the demise of the Soviet Union. In response to the aspirations of the Armenians of Nagorno-Karabakh, the authorities of Soviet Azerbaijan undertook severe measures to crack down on this movement with the use of police force. Ethnic cleansing with mass atrocities against Armenians were exercised in many areas of Nagorno-Karabakh and Azerbaijan.
Then, as the Soviet empire was in the process of disintegration, Azerbaijan, like other republics, started its withdrawal from the USSR. In accordance with the Soviet Constitution, if a member-republic declared its intention to separate from the USSR, the autonomous regions under its jurisdiction were entitled to determine their status, which included the secession from that republic.
Making use of the Soviet Constitution, Nagorno-Karabakh autonomous region exercised its right to self-determination. Nagorno-Karabakh declared independence from Azerbaijan exactly in the same way as did Azerbaijan separating from the Soviet Union.
This time, Azerbaijani authorities used military forces against Armenians. They waged a full-scale war threatening the very existence of the people of Nagorno-Karabakh. In response to the existential threat, the Armenians, who constituted about 80% of the total population of Nagorno-Karabakh, resorted to self-defense. They succeeded in protecting their land and made Azerbaijan come to terms with the new situation. As a result, a ceasefire agreement among Azerbaijan, Nagorno-Karabakh, and the Republic of Armenia was signed on May 12, 1994.
The negotiation process on the settlement of the conflict was initiated back in 1992, even before the ceasefire agreement was signed. The OSCE Minsk Group, mandated by the international community to mediate the conflict resolution, defined that there were three parties to the conflict - Azerbaijan, Nagorno-Karabakh, and Armenia. This fact was reaffirmed by many international documents of early 1990s. Indeed, for a long time, Nagorno-Karabakh participated as a party on the negotiation process. In early 1990s even a number of meetings were held between the leaders of Nagorno-Karabakh and Azerbaijan, as well as the ministers of defense of Azerbaijan, Nagorno-Karabakh and the Republic of Armenia.
By the way, a prominent Italian politician and diplomat Mario Raffaelli, who rendered a lot of efforts towards normalizing the situation in the region, was the Chairman of the Minsk Conference – the first international officer charged to deal with the conflict in early 1990s. Minsk Group meetings, which among the other two parties to the conflict were also attended by the elected representatives of Nagorno-Karabakh, took place in Rome, in capital of Italy.

Unfortunately, despite the decades-long efforts of international mediators, the Nagorno-Karabakh conflict still remains unresolved.
What are the reasons behind this situation?
First and foremost, Azerbaijani authorities refuse to negotiate with the representatives of Nagorno-Karabakh. They claim that Nagorno-Karabakh should be considered an indivisible part of Azerbaijan. But this is really a very odd position. On the one hand, Azerbaijani authorities want Nagorno-Karabakh to be a part of their territorial integrity. On the other hand, they do not want to conduct a dialogue with the representatives of Nagorno-Karabakh. Is this not somewhat weird?
What does this position mean? It means that Azerbaijani authorities in fact do not want to negotiate with the people of Nagorno-Karabakh, just because they only want the territories but not the people. To be more precise - territories, without the people. It means that they hope to resolve the conflict by military means: occupy the territory of Nagorno-Karabakh, conduct ethnic cleansings, and get rid of both Armenians and the problem itself.
"Military solution is not ruled out" – that was a typical statement made by President Aliyev on many occasions. "Any time we can solve the issue by military means" – that was the statement made by president of Azerbaijan Ilham Aliyev in January 2017, at the government meeting discussing the economic development of the country. "We will increase our military power, and I believe that it is one of the most important factors for the negotiations." – that was the statement made by president Aliyev on November 5, 2018. On another occasion on December 17, 2018, he said that, I quote, "…our military forces and our power are the key factors among the all factors for the resolution of the Nagorno-Karabakh conflict", end of quote.
Indeed, there are many reasons to believe that the Azerbaijani authorities are preparing their society to a war. This is why they are inflaming anti-Armenian sentiments among their people. This is why they are spending enormous resources on armament. This is why the anti-Armenian hate speech has become actually official policy in Azerbaijan. This is why Armenophobia became a state policy in Azerbaijan.
I will bring some concret examples of that policy in action.
Any foreigner who visits Nagorno-Karabakh is blacklisted by Azerbaijan. This list already includes more than 850 people. Citizens of any country who bear an Armenian surname or suspected to have Armenian ethnic origin cannot enter Azerbaijan. This was the case with a Bloomberg journalist of the US citizenship Diana Markosyan who was banned to enter Azerbaijan in 2011.
In 2014 this was the case with a Turkish orchestra musician, Rafer Noyan, who had an Armenian-like surname. In 2016 it happened with an eight-year old child Luka Vardanian, and in 2018 with an eighty-year old pensioner from Russia Olga Barseghian.
In 2017, a woman of Armenian descent with her 4-years-old child was kept in the airport of Baku for three hours and then deported. This list can be continued.
But probably the most notorious case happened with Arsenal player Henrikh Mkhitaryan, who missed the final match of the Europe League in Baku, capital of Azerbaijan just a few months ago. Azerbaijani authorities even banned T-shirts with Mkhitaryan's name. And people wearing them were stopped by the police on Baku streets.
This policy sometimes has even ridiculous manifestations. Just a few days ago, a driver was detained in Baku merely for listening to an Armenian pop song.
But the most tragic and cynical case was the one with Ramil Safarov who murdered with an axe his Armenian classmate of a NATO seminar in Budapest. Safarov killed his Armenian classmate while he was asleep. Safarov was sentenced to life-imprisonment, then extradited to Azerbaijan by the Hungarian authorities, greeted as a national hero of Azerbaijan, pardoned by president Ilham Aliyev and released, promoted in military rank, and gifted an apartment.
Dear friends,
Notwithstanding all these circumstances, notwithstanding anti-Armenian policy of the Azerbaijani authorities, Armenia is taking concrete steps towards finding a mutually-acceptable solution to the conflict. With this end in view, about one year ago I publicly stated that any solution to the Nagorno-Karabakh conflict must be acceptable for the people of Armenia, people of Nagorno-Karabakh, and the people of Azerbaijan.
I was the first Armenian leader who voice such a position. I was heavily criticized in my country for such a formula which places the three parties of the conflict on an equal footing. Nevertheless, I strongly believe that this is the only way to the peaceful and lasting settlement of the conflict, because it offers a possibility for compromise, mutual respect, and balance.
In order to move forward, I expected a similar statement from Azerbaijan. Should we hear such a statement from President Aliyev, this would be a real breakthrough in the negotiation process.
However, the highest authorities of Azerbaijan remain on their position, which aims at a solution of the conflict acceptable only for the people of Azerbaijan. It gives me an additional reason to believe that Azerbaijan is nursing hopes to resolve the conflict by military means and doesn't want to find a solution at the negotiation table.
However, the Azerbaijani authorities should understand that there is no alternative to the peace talks and the peaceful solution to the problem.
First of all, it is absolutely useless to speak with Artsakh, with Nagorno Karabach and Armenia in a language of threat. It's a path to nowhere. Azerbaijan once tried to speak the language of violent force with the people of Nagorno Karabach and faced serious consequences despite its huge superiority over Nagorno-Karabakh in terms of both population and the armament. Attempts to avenge this military failure will not lead to anything good.
A military escalation in our region will have disastrous consequences with even a global impact. Apparently, Azerbaijan, being engaged in hostilities, could provide a fertile ground for those terrorists who lost ground in Syria and Iraq and now are looking for new territories to set up their operations. Geographically, Azerbaijan could become a perfect basis for them to penetrate in all four directions to the South, to the North, to the East, and to the West.
Dear friends,
The Nagorno-Karabakh is a very complicated and painful issue for the peoples of the region. It is impossible to settle it without hard and consistent work, without a compromise, mutual respect, and balance. But if we took responsibility for the future of our peoples, we must make efforts to achieve real changes. I mean government of Azerbaijan, Government of Nagorno Karabach and Government of Armenia.
We are sincere in our aspiration for peace in the region, and are open for a dialogue to reach a solution to the conflict, which will be acceptable for the peoples of Armenia and Nagorno-Karabakh and Azerbaijan. This is our approach, and we are ready to negotiate on the basis of this new paradigm.
Concluding my speech, I would like to tell you that before coming to you I went through the website of the institute, and one of the headlines of the discussions, you had, caught my eye. It read as follows: «Ink is better than blood». There was enough blood in this conflict. We need ink and firm hands to put an end to it and to bring peace to the peoples of our region.
Thank you for your attention.
Videos
16:06 • 31.07.20
My Future: New Billie Eilish Song Attracts Millions of Views on YouTube
15:07 • 30.07.20
NASA launches Mars 2020 Perseverance Rover with First Aircraft to Fly on Another Planet
09:44 • 21.07.20
Armenian-made UCAV Strikes Azerbaijani Military Objective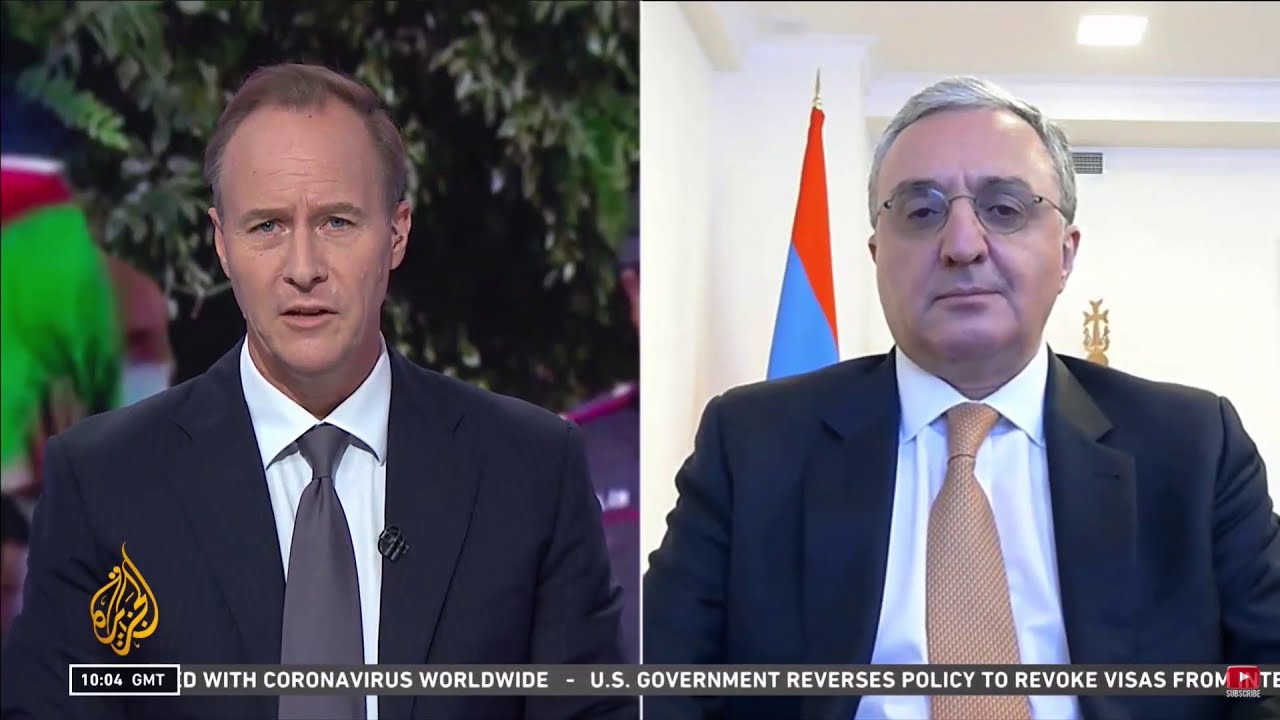 10:32 • 16.07.20
War is Not the Alternative to Peace Talks over Karabakh - FM Zohrab Mnatsakanyan's Interview to Aljazeera
15:33 • 15.07.20
Footage Shows How Azerbaijan Shells Armenian Villages in Jul. 13-14 Artillery Strikes
12:19 • 15.07.20
ANCA Calls for Action to Urge Congressional Condemnation of Azerbaijani Attacks against Armenia
12:13 • 14.07.20
Armenian Military Neutralize Azerbaijani Tank in Retaliatory Military Actions
12:42 • 07.07.20
Chilean Nurse Plays the Violin for Covid-19 Patients
17:38 • 01.07.20
US House Rep. Jackie Kanchelian Speier Discusses De-Mining Aid Program for Artsakh
14:59 • 26.06.20
Armenia's Prime MInister Under Criticism for Poor Handling of Coronavirus - BBC
10:07 • 24.06.20
Congressman Brad Sherman Testifies in Support of Continued US Aid to Artsakh
17:14 • 04.06.20
Meghan Markle says 'George Floyd's life mattered' in heartfelt message against racism
13:04 • 28.05.20
Armenia's Political Elite Celebtrates First Republic Anniversary in Sardarapat
14:13 • 15.05.20
3D Model of SARS-CoV-2 Virus at Atomic Resolution
13:25 • 09.05.20
Armenia's Political Leadership Marks 'Triple Victory Day' in Yerevan
16:29 • 04.05.20
Toyota Launches Karl Lagerfeld Limited-Edition SUV in Thailand
10:44 • 24.04.20
Armenia Commemorating 105th Anniversary of Genocide
12:31 • 23.04.20
Rep..Adam Schiff Discusses Genocide, US Aid to Armenia, Artsakh
09:22 • 23.04.20
Coronavirus: The World Has a Long Way to Go, Warns WHO Chief
15:33 • 21.04.20
Her Majesty, Queen Elizabeth II Celebrates Her 94th Birthday
13:59 • 18.04.20
Holy Fire at the Church of Sepulchre in Jerusalem
14:49 • 13.04.20
Andrea Bocelli Performs Eastern Sunday Concert From Italy's Duomo Di Milano
13:47 • 10.04.20
Kim Kardashian Does a Quarantine Makeup Tutorial With Kkw Beauty Products
16:59 • 08.04.20
Coronavirus Intensive Care: BBC's Special Coverage of London Hospital Where Doctors Fight to Save Lives
16:35 • 07.04.20
Seven-Year-Old Greek Piano Prodigy Pens 'Isolation Waltz'
12:35 • 27.03.20
World Coronavirus Update (Live)
23:27 • 16.03.20
Why Fighting Coronavirus Depends on You?
09:38 • 27.02.20
Kim Kardashian Spotted Throwing Punch at Sister Kourtney
10:53 • 22.02.20
Anna Turcotte: "Rooting Out Hatred toward Armenians Cannot Be Done By Brushing Aside History."
15:13 • 11.02.20
Virtual Reality 'Reunites' Korean Mother with Deceased 7-Year-Old Kid
09:35 • 23.01.20
Armenia is in a Unique Place to Act Like a Bridge Between Europe and Eurasia– Armen Sarkissian
16:03 • 21.01.20
US President Donald Trump Delivers Keynote Speech at Davos 2020
14:20 • 13.12.19
Pro-Armenian US Senators Issue Bipartisan Call on Genocide Recognition
09:49 • 12.12.19
I'm Not Going to Cease until We Do What is Morally Right - Menendez on Armenian Genocide
16:02 • 21.11.19
SpaceX Starship MK1 Explodes! At Boca Chica, Texas
10:10 • 08.11.19
Sen. Bob Menendez Calls for Passage of Armenian Genocide Resolution
16:07 • 30.10.19
Rep. Schiff on Recognizing the Armenian Genocide
11:03 • 26.10.19
Nagorno-Karabakh's Statuis and Security are Ultimate Priorities for Armenia, Mnatsakanyan Tells BBC
10:10 • 24.10.19
US Congressman Jim Costa Slams Turkey for Recent Actions and Urges Support of Armenian Genocide Recognition
16:12 • 18.10.19
LIVE: NASA Astronauts Spacewalk Outside the International Space Station
Analysis