Past: Turkey provokes 'renewed regional tension'
13:40 • 15.07.20
Below is an excerpt from the paper's editorial:

The arrangement of forces in our region makes external security challenges permanently actual for Armenia. The main security challenge comes Azerbaijan, which resorts to a vast variety of measures to achieve renewed military actions, refusing to recognize the independence of Artsakh (Nagorno-Karabakh).
Another major security threat, however, comes from the neighboring Turkey. With its population over 80 million, huge economic capacity (making it even a part of the G20 countries) and the incomparably powerful military potential (serving NATO's south-eastern flank), that country appears to be a completely different "weight class".
In the anti-Armenian policy frameworks, Turkey openly extends support to Azerbaijan. Hence no wonder at all that the Turkish side sets preconditions - including, but not limited to, a pro-Azerbaijani settlement of the Artsakh conflict - when it comes to opening the borders with Armenia and establishing diplomatic relations.
Besides, the Turkish-Azerbaijani tandem pursues the policy of encircling and isolating Armenia economically. This is why the regional strategic initiatives and major communication channels almost entirely overpass our country. And Turkey tries, in the course of time, to increase its engagement in - and even beyond - the region. No surprise that the Turkish army invades northern Syria and Iraq from time to time under the pretext of neutralizing Kurdish militants in violation of those countries' sovereignty.
Of interest is also the fact that Turkey tries to intensify its influence in the Mediterranean region. The Turkish side is implementing illegal drilling projects in the Cypriot exclusive economic zone and shallow coastlines (a in region rich in useful extracts).
Meantime, Turkey does not have any aversion at all to expanding its engagement in the Libyan Civil War. With its aspiration for gaining supremacy in the Islamic world, Turkey has created a complicated chain of geopolitical contradictions.
2023 marks the 100th anniversary since the proclamation of the Turkish Republic, and that country certainly aspires to re-establish the powerful empire status in the jubilee year.
In that context, of course, the Azerbaijani trend remains a Turkish "foreign policy priority". And that by definition accounts for the Turkish side's extremely pro-Azerbaijani reaction to the military incident on the Armenian-Azerbaijani border. It isn't strange at all that the Turkish Foreign Ministry - and later also Foreign Minister [Mevlut] Chavushoglu himself - condemned the actions by the Armenian side, extending an unconditional support to Turkey (coupled with the identical statements by Ibrahim Kalin, the spokesperson for the Turkish Presidency, and Omer Celik, the press secretary for the ruling Justice and Development party in Turkey).
With statements of the kind, Turkey provokes tension in the region in an attempt to gain its benefits from the "intensifying fire". No wonder that the press recently exposed confidential records revealing Turkey's invasion plans. Though the projects are not commonly considered in a serious light, they must give ground to a serious concern.
What is Armenia expected to do in this situation?
Our country is required to step up its foreign policy efforts towards restraining Turkey's "appetite" and deepen, to that effect, its cooperation with countries facing increasing contradictions with Turkey. Such partners' list may include Cyprus, Greece, Egypt, Syria - why not also Russia - the EU and the United States. This is how we need to restrain and counterbalance Turkey.
Videos
16:06 • 31.07.20
My Future: New Billie Eilish Song Attracts Millions of Views on YouTube
15:07 • 30.07.20
NASA launches Mars 2020 Perseverance Rover with First Aircraft to Fly on Another Planet
09:44 • 21.07.20
Armenian-made UCAV Strikes Azerbaijani Military Objective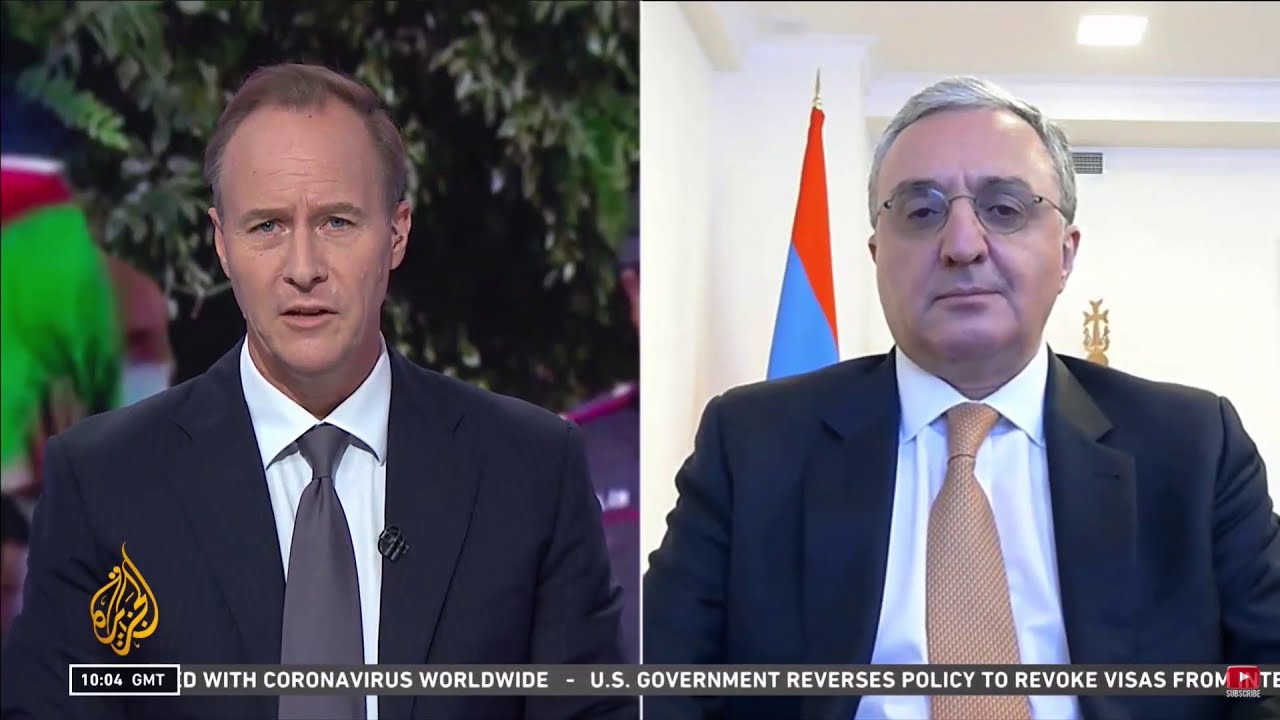 10:32 • 16.07.20
War is Not the Alternative to Peace Talks over Karabakh - FM Zohrab Mnatsakanyan's Interview to Aljazeera
15:33 • 15.07.20
Footage Shows How Azerbaijan Shells Armenian Villages in Jul. 13-14 Artillery Strikes
12:19 • 15.07.20
ANCA Calls for Action to Urge Congressional Condemnation of Azerbaijani Attacks against Armenia
12:13 • 14.07.20
Armenian Military Neutralize Azerbaijani Tank in Retaliatory Military Actions
12:42 • 07.07.20
Chilean Nurse Plays the Violin for Covid-19 Patients
17:38 • 01.07.20
US House Rep. Jackie Kanchelian Speier Discusses De-Mining Aid Program for Artsakh
14:59 • 26.06.20
Armenia's Prime MInister Under Criticism for Poor Handling of Coronavirus - BBC
10:07 • 24.06.20
Congressman Brad Sherman Testifies in Support of Continued US Aid to Artsakh
17:14 • 04.06.20
Meghan Markle says 'George Floyd's life mattered' in heartfelt message against racism
13:04 • 28.05.20
Armenia's Political Elite Celebtrates First Republic Anniversary in Sardarapat
14:13 • 15.05.20
3D Model of SARS-CoV-2 Virus at Atomic Resolution
13:25 • 09.05.20
Armenia's Political Leadership Marks 'Triple Victory Day' in Yerevan
16:29 • 04.05.20
Toyota Launches Karl Lagerfeld Limited-Edition SUV in Thailand
10:44 • 24.04.20
Armenia Commemorating 105th Anniversary of Genocide
12:31 • 23.04.20
Rep..Adam Schiff Discusses Genocide, US Aid to Armenia, Artsakh
09:22 • 23.04.20
Coronavirus: The World Has a Long Way to Go, Warns WHO Chief
15:33 • 21.04.20
Her Majesty, Queen Elizabeth II Celebrates Her 94th Birthday
13:59 • 18.04.20
Holy Fire at the Church of Sepulchre in Jerusalem
14:49 • 13.04.20
Andrea Bocelli Performs Eastern Sunday Concert From Italy's Duomo Di Milano
13:47 • 10.04.20
Kim Kardashian Does a Quarantine Makeup Tutorial With Kkw Beauty Products
16:59 • 08.04.20
Coronavirus Intensive Care: BBC's Special Coverage of London Hospital Where Doctors Fight to Save Lives
16:35 • 07.04.20
Seven-Year-Old Greek Piano Prodigy Pens 'Isolation Waltz'
12:35 • 27.03.20
World Coronavirus Update (Live)
23:27 • 16.03.20
Why Fighting Coronavirus Depends on You?
09:38 • 27.02.20
Kim Kardashian Spotted Throwing Punch at Sister Kourtney
10:53 • 22.02.20
Anna Turcotte: "Rooting Out Hatred toward Armenians Cannot Be Done By Brushing Aside History."
15:13 • 11.02.20
Virtual Reality 'Reunites' Korean Mother with Deceased 7-Year-Old Kid
09:35 • 23.01.20
Armenia is in a Unique Place to Act Like a Bridge Between Europe and Eurasia– Armen Sarkissian
16:03 • 21.01.20
US President Donald Trump Delivers Keynote Speech at Davos 2020
14:20 • 13.12.19
Pro-Armenian US Senators Issue Bipartisan Call on Genocide Recognition
09:49 • 12.12.19
I'm Not Going to Cease until We Do What is Morally Right - Menendez on Armenian Genocide
16:02 • 21.11.19
SpaceX Starship MK1 Explodes! At Boca Chica, Texas
10:10 • 08.11.19
Sen. Bob Menendez Calls for Passage of Armenian Genocide Resolution
16:07 • 30.10.19
Rep. Schiff on Recognizing the Armenian Genocide
11:03 • 26.10.19
Nagorno-Karabakh's Statuis and Security are Ultimate Priorities for Armenia, Mnatsakanyan Tells BBC
10:10 • 24.10.19
US Congressman Jim Costa Slams Turkey for Recent Actions and Urges Support of Armenian Genocide Recognition
16:12 • 18.10.19
LIVE: NASA Astronauts Spacewalk Outside the International Space Station
Analysis