Lockdown restrictions 'must be built on logic and common sense': ex-parliament speaker calls for revising quarantine rules
17:52 • 31.07.20
Davit Sargsyan
The main lessons learned from the global pandemic should not be limited to wearing masks, practicing social distancing and observing norms of hygiene, Ara Babloyan, a former speaker of the National Assembly and a former minister of health, said today, stressing the importance of proper state efforts to provide accurate reporting.
Babloyan, who currently heads Arabkir Joint Medical Center, also blamed the government for relying on people's responsibility and common sense in the fight against coronavirus. "The past months allowed us to recognize this virus to a certain extent, though even in clinically evident cases, it is not always possible to confirm its presence. Perhaps antibody tests help identify the disease after a certain period. Masks are not forever; we must wear them until the right vaccine is detected," he told ArmNews TV channel.
The doctor predicted two scenarios potentially leading to a twofold increase in the reported daily cases: either massive testing or a failure to observe the safety rules. "When the daily numbers were within the range of 700-750 cases, I predicted a decline and a gradual stabilization in the couple of weeks to come. The daily numbers now stand at 200-300. So we can circumvent the second wave as we have already reached a high peak which taught us important lessons indeed. It is now clear that reliance on proper organizational work rather than the people's consciousness is necessary to oversee the observance of rules."
Babloyan also emphasized the need of elaborating proper safety regulations for schools and universities. "With inbound tourism being in its full swing now, people are required to arrange their daily routine in such a way as to prevent their rest from leading to an increase in the disease dynamics. Also, we need to set the economy in motion and open educational institution," he said, calling for proper regulator procedures (to hire epidemiologists for schools, split classes into smaller groups, re-arrange classroom furniture, etc.).
Babloyan also stressed the urgency of revising the restrictions to make them more reasonable and logical (e.g. abolishing the requirement for TV commentators to wear masks on air when they are alone in the studio). "The state, employers and citizens must bear responsibility - each in their place. Even developed countries, where the state has pinned hope on their citizens' consciousness, faced problems and had to re-enforce stricter restrictions. It is important to save the healthcare sector to enable doctors to save people. The risks are especially high for polyclinics today," he added.
Videos
16:06 • 31.07.20
My Future: New Billie Eilish Song Attracts Millions of Views on YouTube
15:07 • 30.07.20
NASA launches Mars 2020 Perseverance Rover with First Aircraft to Fly on Another Planet
09:44 • 21.07.20
Armenian-made UCAV Strikes Azerbaijani Military Objective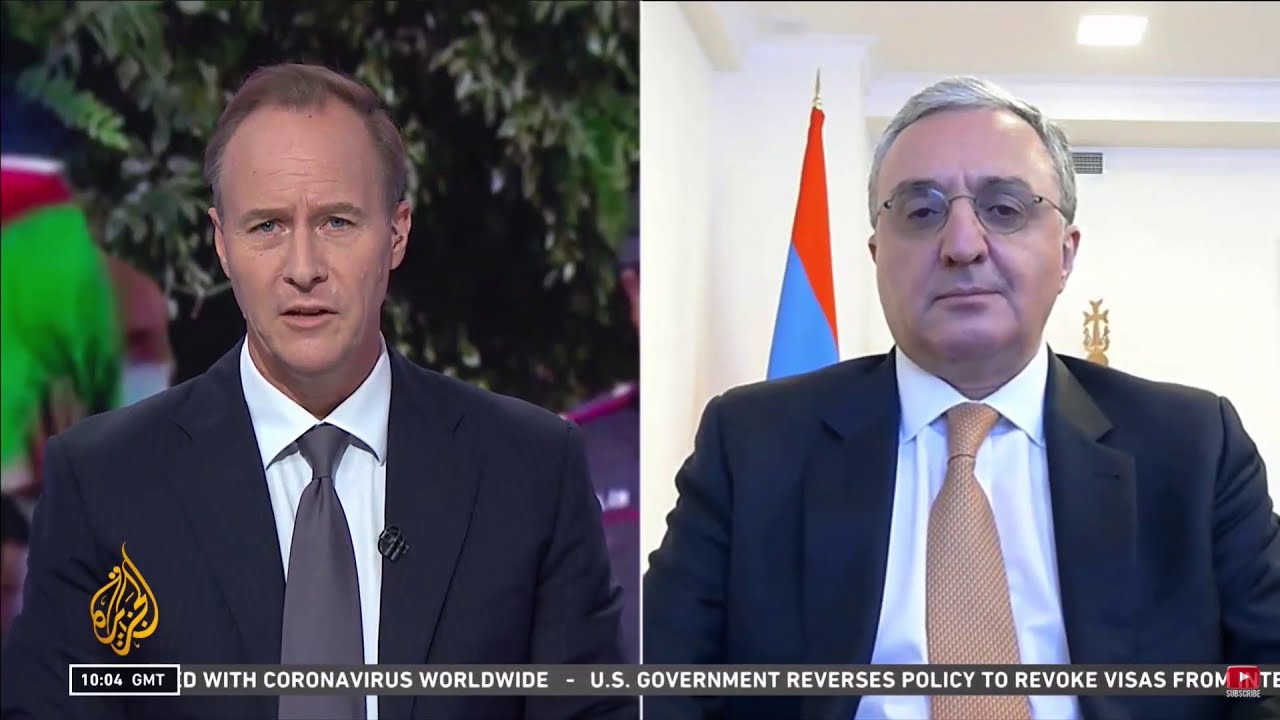 10:32 • 16.07.20
War is Not the Alternative to Peace Talks over Karabakh - FM Zohrab Mnatsakanyan's Interview to Aljazeera
15:33 • 15.07.20
Footage Shows How Azerbaijan Shells Armenian Villages in Jul. 13-14 Artillery Strikes
12:19 • 15.07.20
ANCA Calls for Action to Urge Congressional Condemnation of Azerbaijani Attacks against Armenia
12:13 • 14.07.20
Armenian Military Neutralize Azerbaijani Tank in Retaliatory Military Actions
12:42 • 07.07.20
Chilean Nurse Plays the Violin for Covid-19 Patients
17:38 • 01.07.20
US House Rep. Jackie Kanchelian Speier Discusses De-Mining Aid Program for Artsakh
14:59 • 26.06.20
Armenia's Prime MInister Under Criticism for Poor Handling of Coronavirus - BBC
10:07 • 24.06.20
Congressman Brad Sherman Testifies in Support of Continued US Aid to Artsakh
17:14 • 04.06.20
Meghan Markle says 'George Floyd's life mattered' in heartfelt message against racism
13:04 • 28.05.20
Armenia's Political Elite Celebtrates First Republic Anniversary in Sardarapat
14:13 • 15.05.20
3D Model of SARS-CoV-2 Virus at Atomic Resolution
13:25 • 09.05.20
Armenia's Political Leadership Marks 'Triple Victory Day' in Yerevan
16:29 • 04.05.20
Toyota Launches Karl Lagerfeld Limited-Edition SUV in Thailand
10:44 • 24.04.20
Armenia Commemorating 105th Anniversary of Genocide
12:31 • 23.04.20
Rep..Adam Schiff Discusses Genocide, US Aid to Armenia, Artsakh
09:22 • 23.04.20
Coronavirus: The World Has a Long Way to Go, Warns WHO Chief
15:33 • 21.04.20
Her Majesty, Queen Elizabeth II Celebrates Her 94th Birthday
13:59 • 18.04.20
Holy Fire at the Church of Sepulchre in Jerusalem
14:49 • 13.04.20
Andrea Bocelli Performs Eastern Sunday Concert From Italy's Duomo Di Milano
13:47 • 10.04.20
Kim Kardashian Does a Quarantine Makeup Tutorial With Kkw Beauty Products
16:59 • 08.04.20
Coronavirus Intensive Care: BBC's Special Coverage of London Hospital Where Doctors Fight to Save Lives
16:35 • 07.04.20
Seven-Year-Old Greek Piano Prodigy Pens 'Isolation Waltz'
12:35 • 27.03.20
World Coronavirus Update (Live)
23:27 • 16.03.20
Why Fighting Coronavirus Depends on You?
09:38 • 27.02.20
Kim Kardashian Spotted Throwing Punch at Sister Kourtney
10:53 • 22.02.20
Anna Turcotte: "Rooting Out Hatred toward Armenians Cannot Be Done By Brushing Aside History."
15:13 • 11.02.20
Virtual Reality 'Reunites' Korean Mother with Deceased 7-Year-Old Kid
09:35 • 23.01.20
Armenia is in a Unique Place to Act Like a Bridge Between Europe and Eurasia– Armen Sarkissian
16:03 • 21.01.20
US President Donald Trump Delivers Keynote Speech at Davos 2020
14:20 • 13.12.19
Pro-Armenian US Senators Issue Bipartisan Call on Genocide Recognition
09:49 • 12.12.19
I'm Not Going to Cease until We Do What is Morally Right - Menendez on Armenian Genocide
16:02 • 21.11.19
SpaceX Starship MK1 Explodes! At Boca Chica, Texas
10:10 • 08.11.19
Sen. Bob Menendez Calls for Passage of Armenian Genocide Resolution
16:07 • 30.10.19
Rep. Schiff on Recognizing the Armenian Genocide
11:03 • 26.10.19
Nagorno-Karabakh's Statuis and Security are Ultimate Priorities for Armenia, Mnatsakanyan Tells BBC
10:10 • 24.10.19
US Congressman Jim Costa Slams Turkey for Recent Actions and Urges Support of Armenian Genocide Recognition
16:12 • 18.10.19
LIVE: NASA Astronauts Spacewalk Outside the International Space Station
Analysis