PNG police officers attack parliament in APEC pay dispute
16:46 • 20.11.18
A group of police officers "stormed" Papua New Guinea's parliament on Tuesday over unpaid wages, damaging the building and reportedly assaulting staff, only days after international leaders attended a summit in the Pacific island nation, the CNN reports.

Security personnel entered the building in the country's capital Port Moresby after hearing they would not be paid for work done during last week's APEC Summit, according to Police Chief Superintendent Dominic Kakas.

"A group of police were disgruntled over allowances and this morning they were misled. They were thinking that they would not be paid their allowances for their security work during the APEC summit," Kakas told CNN.

"They vented their frustration by breaking glass and destroying items in the entrance to parliament. Police are on the scene now, trying to establish whether assaults have also taken place," Kakas added.

Bryan Kramer MP posted a video to Facebook in which he alleged that police "stormed parliament over their grievances" and disrupted an opposition party cabinet meeting.

"Numerous staff of parliament were assaulted during this confrontation," Kramer alleged.

Kakas said that the police needed to confirm if any assaults took place, adding that officers were attempting to impose calm.

A government official said he had left the area, but confirmed there was "damage done to parliament building despite the government having already paid 50% of all their allowances, and the invoice only received today for the remaining amount."

He said the allowances totaled 10mn kina ($3M).

It was the first time Papua New Guinea (PNG), the least economically developed of the 21 countries in APEC, hosted the summit.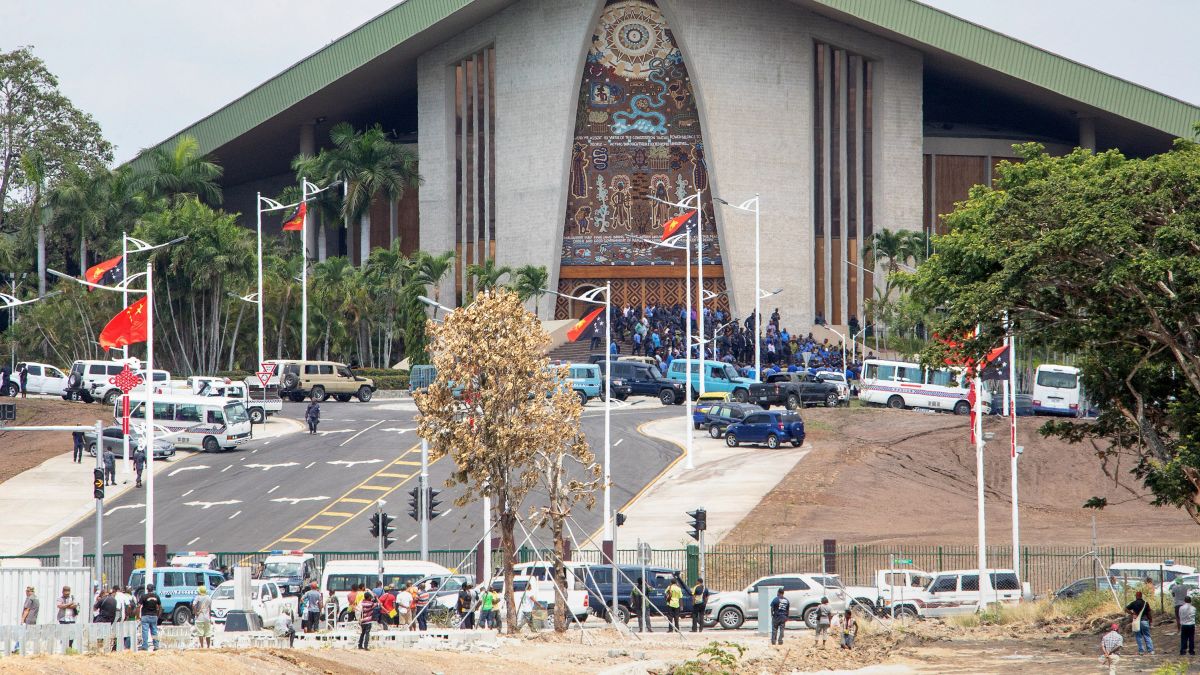 LATEST NEWS • All Today news
17:54 • 18/12
Costumed Santa dies at kindergarten party in Siberia
17:18 • 18/12
Russian-Armenian planned deal 'focused on civilian research labs'
16:43 • 18/12
Pregnant Meghan Markle shows burgeoning baby bump in printed dress paired with a £550 coat on visit to Royal Variety nursing home
16:05 • 18/12
Armenia and Russia negotiating 'to ban foreign presence in biological labs'
15:21 • 18/12
Mourinho sacked by Manchester United after worst start in 28 years
15:12 • 18/12
Armenia votes against anti-Russian resolution in UN General Assembly
14:49 • 18/12
Russian plan to bar foreign troops' presence in Armenia 'proposed as restraint against third states'
14:09 • 18/12
Oscar-winning director  and 'Leviathan' producer team up for pre-Holocaust doc
13:41 • 18/12
France will continue support to future reforms in Armenia - Macron issues congratulations to Pashinyan  
13:09 • 18/12
Trump did not promise Erdogan to extradite Gulen, says White House official
12:37 • 18/12
Apple slammed for 'violating' Chinese court order
12:09 • 18/12
168 Zham: What scenarios are proposed to sides of Nagorno-Karabakh conflict?
11:14 • 18/12
Iravunq: Artsakh president 'considering resignation' amid political tensions
10:44 • 18/12
Messi closes in on Ronaldo record
10:28 • 18/12
Zhoghovurd: Foreign remittances rise 4% in Jan-Oct 2018
09:57 • 18/12
Hungarian public broadcaster targeted 'slave law' protest
09:42 • 18/12
Strasbourg: Police make public appeal in manhunt
09:21 • 18/12
Former CBS boss denied $120m exit pay
17:59 • 17/12
Geraint Thomas named Sports Personality of the Year triumphs after Tour de France success
17:43 • 17/12
US TV channel stands up to Turkish and Azerbaijani government threats against broadcasting Armenian dancers
17:31 • 17/12
Artsakh officers, soldier 'hospitalized after gun incidents'
17:10 • 17/12
Armenian president, Georgian premier discuss bilateral cooperation agenda
16:35 • 17/12
Kim Kardashian proves how much daughter North, 5, looks like mom as she shares throwback shot of 'Baby K'
16:17 • 17/12
Moscow, Yerevan 'preparing document' to guarantee foreign servicemen's absence in Armenia
15:52 • 17/12
Sleepless nights over Sandra Bullock's blindfold, says Oscar-winning director
15:34 • 17/12
Toyota becomes presenting partner of Tokyo 2020 Olympic Torch relay
15:03 • 17/12
Pashinyan voiced concern 'over Russian-Azerbaijani arms trade' at meeting with Lukashenko
14:19 • 17/12
Trump working on Gulen's extradition, Turkey claims
13:34 • 17/12
Artsakh president and Armenian ambassador to Austria discuss foreign policy cooperation  
13:14 • 17/12
Georgian patriarch 'gives blessings' to Armenia president  
12:47 • 17/12
Artsakh president hosts Armenia's education minister
12:07 • 17/12
Boxing: Artem Dalakian beats LeBron to defend WBA title
11:55 • 17/12
Jaguar Land Rover to 'axe up to 5,000 jobs'
11:47 • 17/12
Georgia swears in first female president
11:07 • 17/12
Nasa takes closest image ever of the sun
10:47 • 17/12
Lukashenko 'rebukes' Pashinyan over failure to criticize Russian-Azerbaijani arms trade
09:54 • 17/12
Singaporean gay couple win landmark appeal to adopt surrogate child
09:06 • 17/12
At least 17 civilians reported killed in US-led coalition's airstrike in Syria
08:46 • 17/12
Strasbourg shooting: Toll in Christmas market attack rises to five
14:18 • 15/12
Best Picture Oscar From 1947 Sells for Nearly $500,000 at Auction
13:57 • 15/12
Nagorno-Karabakh reports more Azerbaijani ceasefire violations
13:45 • 15/12
Armenian president issues congratulations to political forces elected to parliament
13:00 • 15/12
Armenian football federation fined €18,000 over match with Gibraltar
12:24 • 15/12
Chicken-egg sized diamond found in Canada's frozen north
12:15 • 15/12
Erdogan: Khashoggi killer heard saying 'I know how to cut'
12:02 • 15/12
Peaceful resolution of Karabakh conflict requires genuine efforts of all parties
11:31 • 15/12
Senator Robert Menendez pledges to with new US envoy to Armenia on securing 'an honest acknowledgement of Genocide'
11:01 • 15/12
Christmas letter to Santa Claus from girl 'discovered after 120 years'
10:29 • 15/12
How to see the 'Christmas comet': Stunning photos show green space rock ahead of its closest approach, as astronomers reveal it will be visible all around the world
10:10 • 15/12
Emergency Ministry warns of heavy-going highways in Armenia
09:24 • 15/12
Erdogan, Trump discuss Syria amid Turkey's warning of new military operation
09:18 • 15/12
Australia 'formally recognizes' West Jerusalem as Israel's capital
09:01 • 15/12
Miracle six-day old baby survives Ebola in Congo
08:52 • 15/12
Macron pays tribute to Strasbourg terrorism victims
17:49 • 14/12
James Harden's 50-point triple-double, 4th of career, carries Rockets to victory over Lakers
17:34 • 14/12
Toyota recalls pickups, SUVs to fix air bag, brake problems
17:09 • 14/12
Yerevan court turns down motion to arrest ex-official
16:37 • 14/12
Mourinho: Man Utd 'far' from being built in my image
16:04 • 14/12
Lavrov: Russia expects renewed talks over Karabakh after cabinet formation in Armenia
15:35 • 14/12
Twitter releases first ever Transparency Report including policy violation stats for the first time
15:18 • 14/12
Armenian ombudsman visits jailed ex-President Robert Kocharyan
15:05 • 14/12
VEON appoints Ursula Burns as Chairman and CEO
14:53 • 14/12
Turkish military conducts airstrikes in northern Iraq
14:44 • 14/12
Pashinyan's issues condolences to France's Macron
14:08 • 14/12
Nagorno-Karabakh has new Minister of Defense; other government officials appointed  
12:52 • 14/12
That's Erie! Photographer snaps face in huge waves on windy day on the Great Lake
12:43 • 14/12
Demonstrators, police clash near Hungarian Parliament
12:25 • 14/12
Istanbul hosts Parajanov exhibition
11:50 • 14/12
Nancy Wilson, Grammy Winning US Jazz Singer, Dies at 81
11:31 • 14/12
Hraparak: Armenia's new government to have one deputy premier instead of three  
10:47 • 14/12
US Senate passes resolution to end US support for the Saudi war in Yemen
10:31 • 14/12
32 arrested at US-Mexico border in support of migrant caravan
09:46 • 14/12
White House to Officially Delay China Tariff Hike to March
09:34 • 14/12
Strasbourg Christmas market attacker shot dead
09:20 • 14/12
US Senate approves nomination of new ambassador to Armenia
17:40 • 13/12
Armenia 'will attend' BSEC summit in Baku
17:19 • 13/12
Pashinyan hosts Artsakh president to discuss domestic, foreign policy issues
16:33 • 13/12
Trump administration 'won't stand for Khashoggi'
16:14 • 13/12
Barack Obama beams as he accepts the Robert F Kennedy Human Rights Ripple of Hope award in New York  
15:37 • 13/12
Russia's Lavrov to meet with top Azerbaijani leaders in Baku
14:56 • 13/12
Apple to build new $1bn campus in Texas
14:47 • 13/12
OPEC exit frees Qatar from US legal concerns
14:14 • 13/12
Jennifer Lopez steps out in 12 different ensembles in just two days during whirlwind promotional tour for Second Act  
14:02 • 13/12
South African court jails men in cannibal case
13:19 • 13/12
Russia 'disposed to constructive dialogue' with Armenia
12:41 • 13/12
Pompeo urges UN to ban Iranian missile tests  
12:04 • 13/12
US voices 'grave concern' over Turkey's planned Syria operation
11:50 • 13/12
Gown worth $11m shown in Cairo International Film Festival closing event
11:36 • 13/12
Armenian elections: Time for Pashinyan to deliver on his vision of a 'new' Armenia – European Policy Center  
11:11 • 13/12
North and South Koreas cross border in peace
10:55 • 13/12
168 Zham: Russian president 'not supposed' to issue greetings to Pashinyan after parliamentary elections
10:12 • 13/12
Theresa May to join EU summit after surviving vote
09:58 • 13/12
High-speed train crashes in Ankara, killing at least four and injuring dozens
09:50 • 13/12
Nazarbaev hails developing relations with Armenia 'in the spirit of confidence'  
09:17 • 13/12
US condemns deadly gun attack in Strasbourg
18:02 • 12/12
Man City forward named Premier League player of the month
17:47 • 12/12
NASA releases InSight's first selfie from the surface of Mars
17:31 • 12/12
Oscar Academy looks warily at host options as board meeting looms
17:22 • 12/12
No Armenians reported among survivors of Strasbourg attack
17:08 • 12/12
Santa's chicest helper! A beaming Melania Trump wears a festive $1,050 plaid jacket and slouchy boots as she hands out Be Best backpacks