UAE policemen break world record of heaviest aircraft pulled by team
12:23 • 11.11.17
Dubai Police have broken the Guinness World Record of pulling an A380 Emirates aircraft for 100 meters as part of the 30-days Fitness Challenge, Al Arabiya reports.

The team consisted of 56 police officers who pulled the 302.68 tonnes aircraft to break the former record which was 218.56 tonnes for a Boeing 747 aircraft pulled in Hong Kong International Airport by 100 people in 2011.

A delegation from the Guinness World Records handed Guinness certificate to Major-General Abdullah Khalifa Al Merri, commander-in-chief of Dubai Police in present of other officials.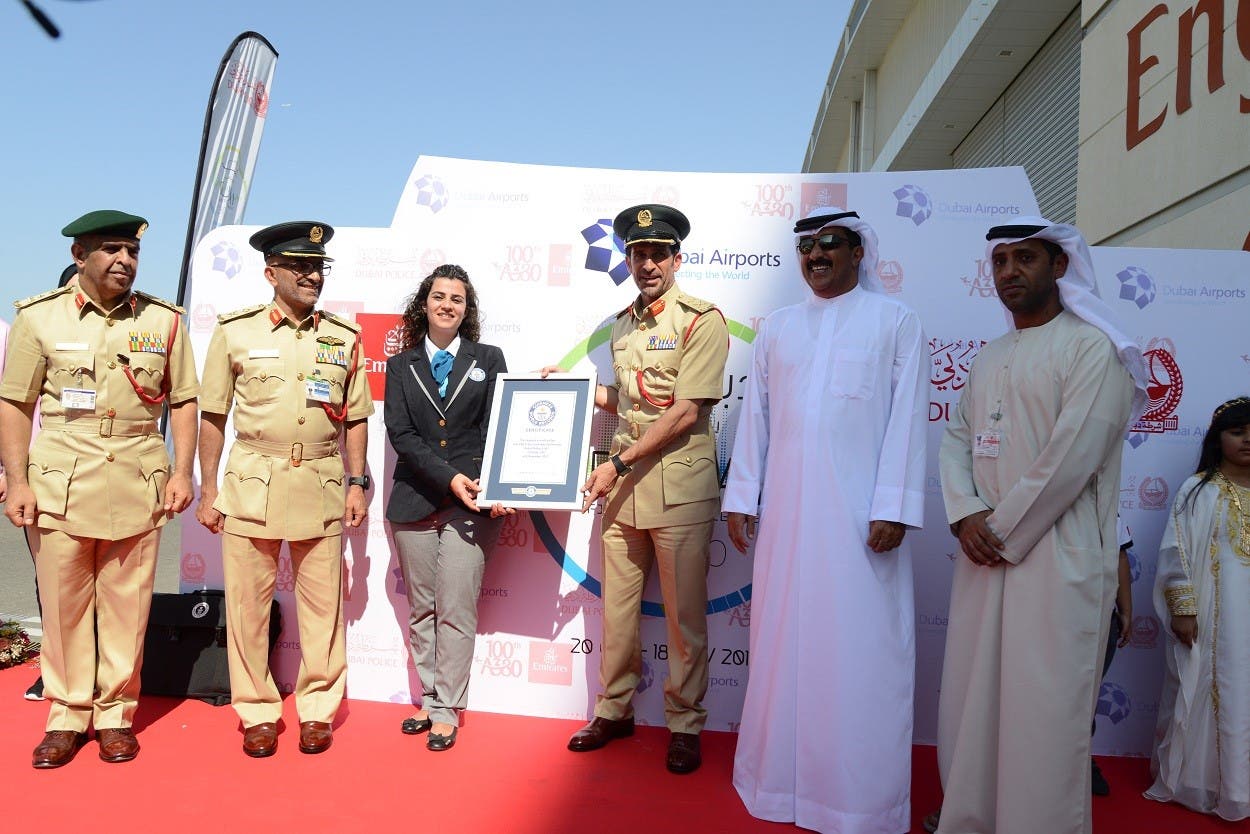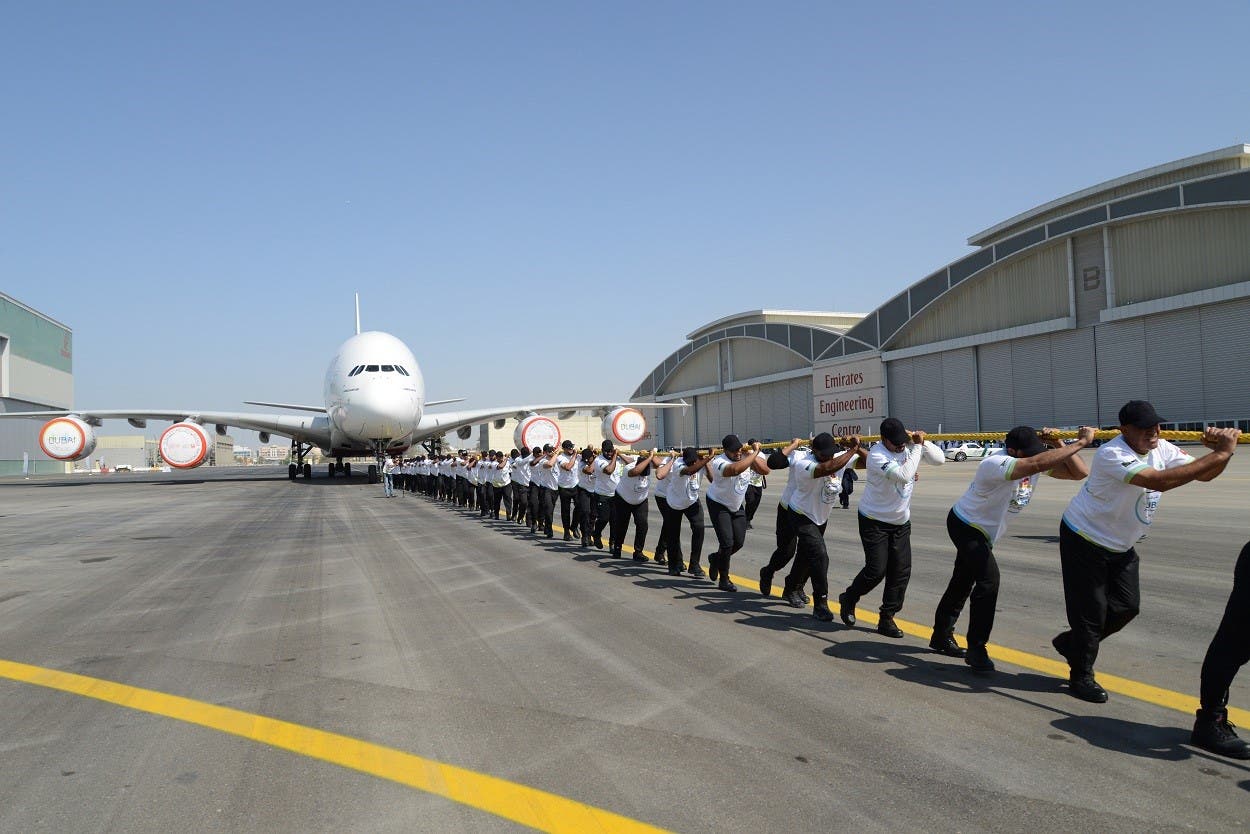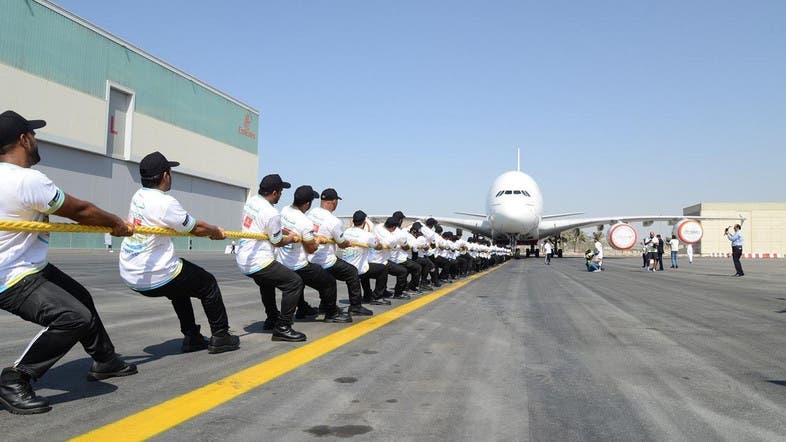 LATEST NEWS • All Today news
09:17 • 23/10
Trump calls Khashoggi's death 'a plot gone awry'
22:03 • 22/10
Ucom Management in Ucom Service Centers
17:53 • 22/10
Zohrab Mnatsakanyan hosts OSCE official to discuss regional developments
16:55 • 22/10
Bradley Cooper and Irina Shayk brave a chilly day in Manhattan with little girl Lea to the park
16:37 • 22/10
Electoral reforms key effort towards ruling out 'monolith parliament'
16:01 • 22/10
US scrapping INF to make world more dangerous, force Russia to 'restore balance'
15:37 • 22/10
World's longest sea-crossing bridge opens to connect Hong Kong and China
15:27 • 22/10
ARF-D to run for parliament 'as opposition party'
14:56 • 22/10
OSCE to assist in effective anti-corruption investigations in Armenia
14:10 • 22/10
Caravan of migrants swells to 7,000 and stretches more than a mile long as they continue marching towards the US border
13:33 • 22/10
Khashoggi 'given police protection' in Turkey
13:25 • 22/10
Budapest 2018: Armenian wrestler celebrates victory in opening match
13:05 • 22/10
Actor Selma Blair reveals she has multiple sclerosis
12:56 • 22/10
Syria describes US-led coalition's actions as genocide
12:46 • 22/10
Armenian parliament vice speaker conducts working trip to St Petersburg
12:17 • 22/10
Catholicos Garegin II in Italy for working visit
11:30 • 22/10
Stephen Hawking's wheelchair, thesis for sale
11:13 • 22/10
Saudi official provides another version of Khashoggi death
10:33 • 22/10
New chief architect of Yerevan appointed
09:47 • 22/10
Trump, Erdogan discuss Saudi journalist's murder in phone call
09:42 • 22/10
Gorbachev warns of Trump nuclear treaty plan
09:12 • 22/10
Egypt extends emergency for three months  
15:05 • 20/10
Nikol Pashinyan in Lebanon for two-day working visit  
14:44 • 20/10
Armenian writer wins Golden Knight literary award in Russia
14:22 • 20/10
Bako Sahakyan congratulates Catholicos Aram I on 50th anniversary of ordination
13:40 • 20/10
Doctors pluck 11 live worms from a five-month-old's eyeball
11:18 • 20/10
Macedonia votes to start name change process
10:41 • 20/10
Trump advisor Rudy Giuliani 'planning trip to Armenia'
09:19 • 20/10
Afghanistan holds parliamentary election amid threats of violence
09:10 • 20/10
Khashoggi case: Saudi TV says missin g journalist 'died after fight'
18:12 • 19/10
Kocharyan lawyers to file appeal with European court
17:10 • 19/10
No prison overcrowding in Armenia, says acting minister
16:21 • 19/10
Australian family's terror as bull shark jumps into tinny during fishing trip
16:07 • 19/10
Aliyev travels to Turkey for working visit  
15:35 • 19/10
Turkish violin virtuoso plays Komitas to commemorate Ara Guler (video)
15:07 • 19/10
eBay revenues up to take on Auto Trader in car ads
15:03 • 19/10
Azerbaijan rescues Iranian sailors 'poisoned by chemicals'
14:38 • 19/10
October 24 marks National Assembly's latest date to elect prime minister  
13:46 • 19/10
Facebook sued over video viewing figures
13:02 • 19/10
Russian animators producing screen version of Saroyan's 'The Summer of Beautiful White Horse'
12:07 • 19/10
Park dedicated to 2,800th jubilee of Yerevan to open in spring  
11:42 • 19/10
Customs beagle sniffs out pig head in luggage
11:30 • 19/10
Republican Party's Executive Board discusses electoral reform
11:15 • 19/10
Jenna Bush Hager convinced the White House is haunted
10:43 • 19/10
Forthcoming elections will be the most important in the history of modern Armenia, says international expert
10:16 • 19/10
US-led coalition strikes civilian homes in Deir ez-Zor 
10:11 • 19/10
Apple announces iPad Pro and Mac event for October 30
09:38 • 19/10
Mexico sends police to southern border
09:15 • 19/10
ISIS take 700 hostages including US and European nationals and will 'execute 10 people a day', Putin says
18:04 • 18/10
UK minister steps out of Saudi summit
17:52 • 18/10
Hamilton says chasing Schumacher's record was never the plan
17:33 • 18/10
Republican politician 'confident' about party's future success
17:02 • 18/10
100-year-old woman in wheelchair gets married to 74-year-old man 
16:46 • 18/10
ECHR fines Armenia over procedural violations in March 1, 2008 criminal cases
16:04 • 18/10
Washington Post publishes Saudi journalist's final column
15:22 • 18/10
Kocharyan vows to create political party after 'comeback'
12:22 • 18/10
ADB to offer $50m worth budgetary assistance to Armenia
12:06 • 18/10
168 Zham: EU and Russia have different political expectations from Armenia
11:10 • 18/10
Hraparak: Koharyan stepping aside
09:52 • 18/10
Elon Musk 'planning to buy' $20 million of Tesla stock
09:22 • 18/10
Venezuela arrests military officers over Maduor assassination attempt
09:12 • 18/10
World-renowned Turkish-Armenian photographer Ara Guler passes away
09:02 • 18/10
Norway issues apologies to WW2 'German girls'
17:54 • 17/10
Google unshackles Android-device firms
17:06 • 17/10
Ariana Grande takes social media break
16:36 • 17/10
Armenia improves positions on Global Competitiveness Index
16:29 • 17/10
Huawei Mate 20 Pro launches with in-screen fingerprint sensor
16:09 • 17/10
Crimea terrorist attack: 13 killed, dozens injured in Kerch college explosion
15:34 • 17/10
Turkey closed border with Armenia for Azerbaijan, says former envoy
15:10 • 17/10
World stocks extend rise after blockbuster US earnings
14:37 • 17/10
Pashinyan introduces new acting minister of economic development and investments
14:09 • 17/10
Fabregas in Guinness World Records for reaching 100 PL assists
13:50 • 17/10
Turkey 'hopes to enter Saudi consul's residence' on Wednesday  
13:29 • 17/10
Chinese woman kills herself and two kids after husband fakes death
12:43 • 17/10
Armenia's position on Karabakh 'clearly enshrined' in government program – Foreign Ministry
12:15 • 17/10
Kourtney Kardashian jumps with joy as she ignores sister Kim's most exciting comment
11:33 • 17/10
Hraparak: Anti-Armenian status for Karabakh 'unnegotiable'
11:01 • 17/10
Man who illegally crossed Armenia- Turkey border 'identified as ethnic Kurd'
10:48 • 17/10
Nations League: Armenia beat Macedonia 4-0
10:15 • 17/10
Kocharyan critical about plan to hold snap elections
09:42 • 17/10
Pashinyan tenders resignation to pave way to snap elections
09:32 • 17/10
At least 30 killed by hurricane Michael
09:12 • 17/10
Canada legalizes marijuana and cannabis
18:09 • 16/10
Thirty years in a metal container damaged by enemy firings
17:41 • 16/10
Moody's assigns B1 rating to Inecobank
17:26 • 16/10
Russian expert slams Moscow's weapons trading with Azerbaijan  
16:59 • 16/10
All Ucom TV Subscribers to Enjoy 4 Most Demanded TV-Series' Channels
16:29 • 16/10
ARF-D not 'not planning to nominate' prime ministerial candidate
15:57 • 16/10
Outgoing US ambassador to Armenia speaks of 'occupied terrritories' surrounding Karabakh
15:34 • 16/10
Google pulls out of Saudi investor conference
14:49 • 16/10
Turkey gets representation in IMF executive directorate
14:44 • 16/10
Bulgaria not to join Eurovision 2019 Song Contest
13:23 • 16/10
Armenian president signs decrees to appoint new cabinet ministers
13:03 • 16/10
Armenian arm wrestling athlete named world champion in Turkey
12:40 • 16/10
Armenia: Three new regional governors appointed
12:04 • 16/10
2018 marked period of unique democratic reforms in Armenia, Zohrab Mnatsakanyan says at EaP ministerial summit
11:08 • 16/10
Mike Pompeo to meet Saudi Arabia's king
10:47 • 16/10
CSTO Parliamentary Assembly 'to conduct session in Moscow' instead of Yerevan
10:09 • 16/10
Hraparak: European institutions 'against' early elections in Armenia
09:44 • 16/10