Viva-MTS sums up the results and celebrates milestones over the last 15 years
21:20 • 01.07.20
From a telecommunications operator to a digital services provider
Armenia's leading telecommunications operator Viva-MTS, sums up the results of its activities led over the last 15 years. The main stages and achievements, as well as underlying values, are presented in the Facebook video message of the General Manager of the Company Ralph Yirikian and also on its official YouTube channel.
Viva-MTS has gone through a challenging path, making its powerful mobile network available to 99.8% of the population. The achievements of the years are especially tangible in the field of innovative technologies. Viva-MTS was the first in Armenia to launch both the third generation (3G) nationwide network and the fourth generation (4G) network in 2010, including Armenia in the top ten countries with 4G network. This was a significant step for positioning the country on the worldwide technological map, thus, strengthening and enhancing the country's image internationally. As a leader in the field of information and communication technologies (ICT), Viva-MTS also implements programs aimed at the development of the ICT sector, including the development of startup companies in Armenia.
Corporate social responsibility (CSR) has a special place in Viva-MTS mission. Over the past 15 years, the Company has invested about 29 billion drams in various areas of public life. Within the framework of the CSR programs, the Company also uses innovative solutions, particularly, installing modern and cost-effective lighting and heating systems that are powered by alternative energy in regions, including borderland communities.
Viva-MTS is unique in that it is a modern technology company integrating national mentality. In the Facebook video message, Ralph Yirikian presented the key values that allowed the Company to set a solid foundation and ensure its further development. "The Viva-MTS network has been built from scratch, and that's why our team is so strong and friendly. We understand each other, and our collective willpower is very strong. A strong team is the whole of strong individuals, professionals who have created and developed value from scratch – and it is our greatest value. We are a family. We care for each other, we rejoice together, we grieve together, we forgive each other and ask for forgiveness, as it happens in any strong family. We got stronger together, we have learned from each other, we are people who have come a long path together by supporting each other and getting to know each other. And we are strong together with our dearest customers," Mr. Yirikian said.
Entering the market in 2005, Viva-MTS radically changed the situation that had existed for years: monopoly in the field of mobile communications in Armenia disappeared and the network became fully available. A healthy competitive environment was ensured and the subscriber was given freedom of choice. Postpaid and prepaid cards were issued, as well as corporate solutions were provided for large, medium and small enterprises. People got the opportunity to communicate freely at affordable prices. Base transceiver stations have been set up in the most remote and sparsely populated villages, in areas with difficult terrain, with this, the Company often ignored the business principle of return on investment.
"We have been VivaCell, we have become Viva-MTS. The core is Viva, the value created by Armenians, which has an Armenian identity, an Armenian mentality and an Armenian spirit. Viva-MTS is an established structure, an embodiment of the feelings, of willpower, energy and creative thinking of a hard-working Armenian," said the General Manager of the Company.
Today Viva-MTS has more than 2 million subscribers. According to Ralph Yirikian, the Company is still very young and very promising. The General Manager noted the great contribution of the subscribers to the Company's success. "Dear subscribers, we are thankful to you for our Company's success. Your attitude - loyalty and trust, sympathy and criticism, appreciation and insistence - have helped us become what we are today. The Armenian spirit has contributed to the establishment and development of this 15-year-old youngster we call Viva-MTS," Ralph Yirikian said.
The achievements of Viva-MTS are numerous in the areas of technology, innovations, as well as in terms of a number of ISO international standards utilized in various fields. The main achievements of the Company in various fields, as per the last years, are presented in the YouTube video
"Having well-established brands is extremely important in the 21st century. Along with the achievements of culture and art, the civilized world today appreciates the economic value created by nations, and Viva-MTS is truly one of those values," Yirikian concluded.
Viva-MTS has also reached new heights in the field of business management. By breaking traditional management stereotypes and relying on rich global experience, the Company is creating a new, unique Armenian model of productivity culture.
Viva-MTS, which maintains about 59% of the mobile communication market in the face of fierce competition, has a unique model of strategic development. The Company is currently in the process of a digital transformation from a telecommunications operator to a company offering digital services, the scope of which is much more than just telecommunications services. It is in line with global trends, as well as the growing needs and expectations of customers. Accordingly, today Viva-MTS offers a number of entertainment and educational mobile applications, e-wallet, mobile TV, cloud services, useful solutions for effective business and finance management, etc.
15 years… Thank you for being with us
Videos
16:06 • 31.07.20
My Future: New Billie Eilish Song Attracts Millions of Views on YouTube
15:07 • 30.07.20
NASA launches Mars 2020 Perseverance Rover with First Aircraft to Fly on Another Planet
09:44 • 21.07.20
Armenian-made UCAV Strikes Azerbaijani Military Objective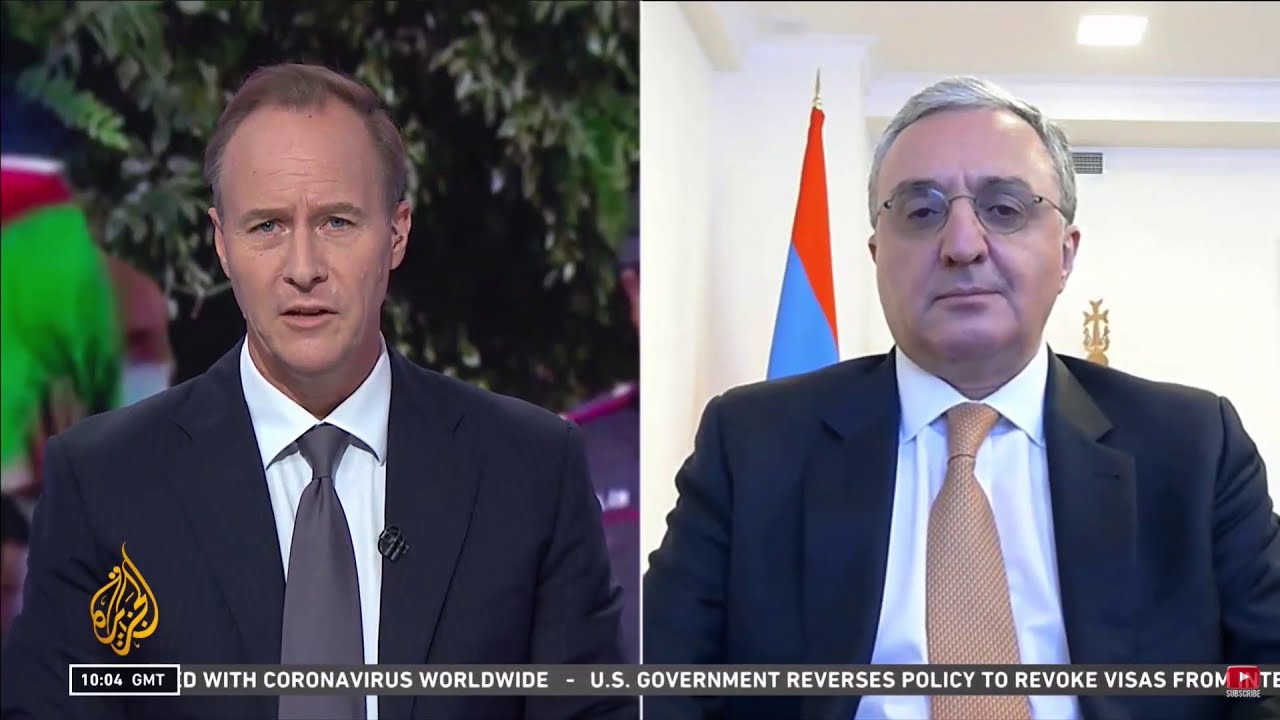 10:32 • 16.07.20
War is Not the Alternative to Peace Talks over Karabakh - FM Zohrab Mnatsakanyan's Interview to Aljazeera
15:33 • 15.07.20
Footage Shows How Azerbaijan Shells Armenian Villages in Jul. 13-14 Artillery Strikes
12:19 • 15.07.20
ANCA Calls for Action to Urge Congressional Condemnation of Azerbaijani Attacks against Armenia
12:13 • 14.07.20
Armenian Military Neutralize Azerbaijani Tank in Retaliatory Military Actions
12:42 • 07.07.20
Chilean Nurse Plays the Violin for Covid-19 Patients
17:38 • 01.07.20
US House Rep. Jackie Kanchelian Speier Discusses De-Mining Aid Program for Artsakh
14:59 • 26.06.20
Armenia's Prime MInister Under Criticism for Poor Handling of Coronavirus - BBC
10:07 • 24.06.20
Congressman Brad Sherman Testifies in Support of Continued US Aid to Artsakh
17:14 • 04.06.20
Meghan Markle says 'George Floyd's life mattered' in heartfelt message against racism
13:04 • 28.05.20
Armenia's Political Elite Celebtrates First Republic Anniversary in Sardarapat
14:13 • 15.05.20
3D Model of SARS-CoV-2 Virus at Atomic Resolution
13:25 • 09.05.20
Armenia's Political Leadership Marks 'Triple Victory Day' in Yerevan
16:29 • 04.05.20
Toyota Launches Karl Lagerfeld Limited-Edition SUV in Thailand
10:44 • 24.04.20
Armenia Commemorating 105th Anniversary of Genocide
12:31 • 23.04.20
Rep..Adam Schiff Discusses Genocide, US Aid to Armenia, Artsakh
09:22 • 23.04.20
Coronavirus: The World Has a Long Way to Go, Warns WHO Chief
15:33 • 21.04.20
Her Majesty, Queen Elizabeth II Celebrates Her 94th Birthday
13:59 • 18.04.20
Holy Fire at the Church of Sepulchre in Jerusalem
14:49 • 13.04.20
Andrea Bocelli Performs Eastern Sunday Concert From Italy's Duomo Di Milano
13:47 • 10.04.20
Kim Kardashian Does a Quarantine Makeup Tutorial With Kkw Beauty Products
16:59 • 08.04.20
Coronavirus Intensive Care: BBC's Special Coverage of London Hospital Where Doctors Fight to Save Lives
16:35 • 07.04.20
Seven-Year-Old Greek Piano Prodigy Pens 'Isolation Waltz'
12:35 • 27.03.20
World Coronavirus Update (Live)
23:27 • 16.03.20
Why Fighting Coronavirus Depends on You?
09:38 • 27.02.20
Kim Kardashian Spotted Throwing Punch at Sister Kourtney
10:53 • 22.02.20
Anna Turcotte: "Rooting Out Hatred toward Armenians Cannot Be Done By Brushing Aside History."
15:13 • 11.02.20
Virtual Reality 'Reunites' Korean Mother with Deceased 7-Year-Old Kid
09:35 • 23.01.20
Armenia is in a Unique Place to Act Like a Bridge Between Europe and Eurasia– Armen Sarkissian
16:03 • 21.01.20
US President Donald Trump Delivers Keynote Speech at Davos 2020
14:20 • 13.12.19
Pro-Armenian US Senators Issue Bipartisan Call on Genocide Recognition
09:49 • 12.12.19
I'm Not Going to Cease until We Do What is Morally Right - Menendez on Armenian Genocide
16:02 • 21.11.19
SpaceX Starship MK1 Explodes! At Boca Chica, Texas
10:10 • 08.11.19
Sen. Bob Menendez Calls for Passage of Armenian Genocide Resolution
16:07 • 30.10.19
Rep. Schiff on Recognizing the Armenian Genocide
11:03 • 26.10.19
Nagorno-Karabakh's Statuis and Security are Ultimate Priorities for Armenia, Mnatsakanyan Tells BBC
10:10 • 24.10.19
US Congressman Jim Costa Slams Turkey for Recent Actions and Urges Support of Armenian Genocide Recognition
16:12 • 18.10.19
LIVE: NASA Astronauts Spacewalk Outside the International Space Station
Analysis