Putin, Erdogan discuss situation on Armenian-Azerbaijani border
09:36 • 28.07.20
The situation on the Armenian-Azerbaijani border was among the topics discussed over the phone by Russian and Turkish Presidents, Vladimir Putin and Recep Tayyip Erdogan.
The two presidents stressed that there are no alternatives to diplomatic settlement of the conflict, TASS.ru reportsm citing the Kremlin press service.
"The presidents exchanged views on the situation in the South Caucasus in the context of the aggravation of the situation on the Armenian-Azerbaijani border. Vladimir Putin stressed the importance of prevention of any actions promoting further escalation. Both sides said they are interested in settling the conflict situation only by peaceful means, through talks," an official statement said.
The leaders expressed readiness to coordinate efforts to stabilize the situation in the region. Putin and Erdogan also noted that "there are no alternatives to political and diplomatic settlement of the Nagorno-Karabakh (Artsakh) conflict on the basis of the principles of international law in the interests of the peoples of Armenia and Azerbaijan," the Kremlin said.
Azerbaijani combat troops launched series of attacks against north-eastern Armenian military outposts on July 12. In the early morning hours, the Ministry of Defense reported an incursion attempt by several Azerbaijani servicemen who wanted to cross into the Tavush region in a jeep car. After a warning by the Armenian side, they returned to the starting positions, leaving the vehicle on Armenia's territory.
The adversary repeated the border transgression attempt about an hour later, opening fire in the same direction, but was subsequently suppressed and pushed back with losses. Armenia reported no casualties at the time.
Azerbaijan kept the north-eastern outposts under fire also on July 13 and 14. The tensions gradually abated the following days.
--
The Armenian-Azerbaijani conflict over Nagorno-Karabakh broke out in 1988 when the Armenian majority of the then autonomous region declared its intention to break away from Azerbaijan. In a referendum held on December 10, 1991 (days before the collapse of the USSR), the population voted overwhelmingly in favor of independence (99.89%). The move was followed by Azerbaijan's large-scale military operations against Nagorno-Karabakh and seven neighboring regions. The armed violence left around 25,000-30,000 people dead; thousands were internally displaced. The Ceasefire Accord, which went into effect in May 1994, formally put an end to the armed attacks in the conflict zone, but sporadic fighting in the area breaks out time and again. Since 1994, the OSCE Minsk Group, a mission co-chaired by France, the United States and Russia, has been spearheading the efforts towards a peaceful solution to the conflict. .
The hostilities escalated to an unprecedented degree in April 2016 in what was later dubbed a Four-Day War. In the early hours of April 1, 2016, Azerbaijan's armed forces launched heavy offensives along the Line of Contact, provoking large-scale confrontations with the Defense Army of Nagorno-Kkarabakh. The adversary also shelled civilian settlements, particularly the southern and north-eastern regions of Hadrut and Marakert.
A ceasefire was reached on 5 April between the chiefs of the armed forces of Azerbaijan and Armenia in Moscow. The Nagorno-Karabakh authorities also welcomed the verbal agreement.
Videos
16:06 • 31.07.20
My Future: New Billie Eilish Song Attracts Millions of Views on YouTube
15:07 • 30.07.20
NASA launches Mars 2020 Perseverance Rover with First Aircraft to Fly on Another Planet
09:44 • 21.07.20
Armenian-made UCAV Strikes Azerbaijani Military Objective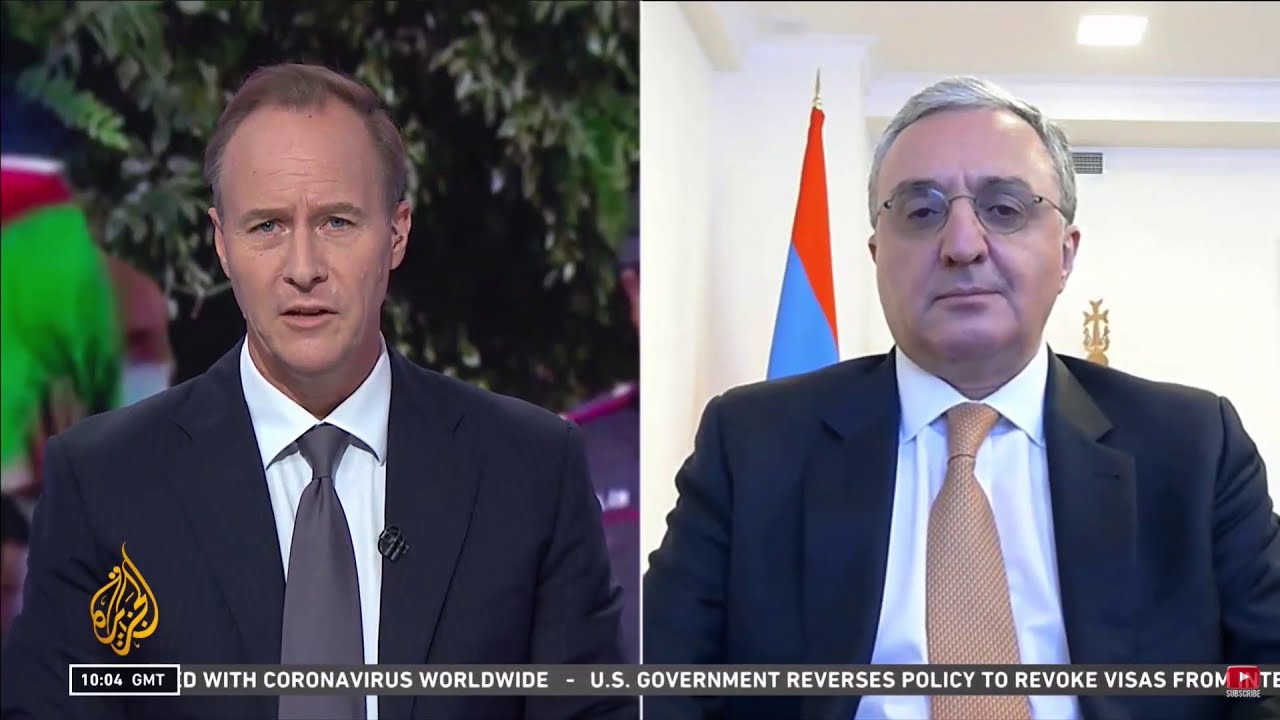 10:32 • 16.07.20
War is Not the Alternative to Peace Talks over Karabakh - FM Zohrab Mnatsakanyan's Interview to Aljazeera
15:33 • 15.07.20
Footage Shows How Azerbaijan Shells Armenian Villages in Jul. 13-14 Artillery Strikes
12:19 • 15.07.20
ANCA Calls for Action to Urge Congressional Condemnation of Azerbaijani Attacks against Armenia
12:13 • 14.07.20
Armenian Military Neutralize Azerbaijani Tank in Retaliatory Military Actions
12:42 • 07.07.20
Chilean Nurse Plays the Violin for Covid-19 Patients
17:38 • 01.07.20
US House Rep. Jackie Kanchelian Speier Discusses De-Mining Aid Program for Artsakh
14:59 • 26.06.20
Armenia's Prime MInister Under Criticism for Poor Handling of Coronavirus - BBC
10:07 • 24.06.20
Congressman Brad Sherman Testifies in Support of Continued US Aid to Artsakh
17:14 • 04.06.20
Meghan Markle says 'George Floyd's life mattered' in heartfelt message against racism
13:04 • 28.05.20
Armenia's Political Elite Celebtrates First Republic Anniversary in Sardarapat
14:13 • 15.05.20
3D Model of SARS-CoV-2 Virus at Atomic Resolution
13:25 • 09.05.20
Armenia's Political Leadership Marks 'Triple Victory Day' in Yerevan
16:29 • 04.05.20
Toyota Launches Karl Lagerfeld Limited-Edition SUV in Thailand
10:44 • 24.04.20
Armenia Commemorating 105th Anniversary of Genocide
12:31 • 23.04.20
Rep..Adam Schiff Discusses Genocide, US Aid to Armenia, Artsakh
09:22 • 23.04.20
Coronavirus: The World Has a Long Way to Go, Warns WHO Chief
15:33 • 21.04.20
Her Majesty, Queen Elizabeth II Celebrates Her 94th Birthday
13:59 • 18.04.20
Holy Fire at the Church of Sepulchre in Jerusalem
14:49 • 13.04.20
Andrea Bocelli Performs Eastern Sunday Concert From Italy's Duomo Di Milano
13:47 • 10.04.20
Kim Kardashian Does a Quarantine Makeup Tutorial With Kkw Beauty Products
16:59 • 08.04.20
Coronavirus Intensive Care: BBC's Special Coverage of London Hospital Where Doctors Fight to Save Lives
16:35 • 07.04.20
Seven-Year-Old Greek Piano Prodigy Pens 'Isolation Waltz'
12:35 • 27.03.20
World Coronavirus Update (Live)
23:27 • 16.03.20
Why Fighting Coronavirus Depends on You?
09:38 • 27.02.20
Kim Kardashian Spotted Throwing Punch at Sister Kourtney
10:53 • 22.02.20
Anna Turcotte: "Rooting Out Hatred toward Armenians Cannot Be Done By Brushing Aside History."
15:13 • 11.02.20
Virtual Reality 'Reunites' Korean Mother with Deceased 7-Year-Old Kid
09:35 • 23.01.20
Armenia is in a Unique Place to Act Like a Bridge Between Europe and Eurasia– Armen Sarkissian
16:03 • 21.01.20
US President Donald Trump Delivers Keynote Speech at Davos 2020
14:20 • 13.12.19
Pro-Armenian US Senators Issue Bipartisan Call on Genocide Recognition
09:49 • 12.12.19
I'm Not Going to Cease until We Do What is Morally Right - Menendez on Armenian Genocide
16:02 • 21.11.19
SpaceX Starship MK1 Explodes! At Boca Chica, Texas
10:10 • 08.11.19
Sen. Bob Menendez Calls for Passage of Armenian Genocide Resolution
16:07 • 30.10.19
Rep. Schiff on Recognizing the Armenian Genocide
11:03 • 26.10.19
Nagorno-Karabakh's Statuis and Security are Ultimate Priorities for Armenia, Mnatsakanyan Tells BBC
10:10 • 24.10.19
US Congressman Jim Costa Slams Turkey for Recent Actions and Urges Support of Armenian Genocide Recognition
16:12 • 18.10.19
LIVE: NASA Astronauts Spacewalk Outside the International Space Station
Analysis