US congressmen pledge to Redouble Efforts to ensure Administration funding for Artsakh de-mining
11:11 • 12.10.19
Congressional Armenian Caucus Co-Chair Jackie Speier's (D-CA) and leading Artsakh security advocate Rep Judy Chu's (D-CA) commitment to expanded Artsakh de-mining soared this week after the US House members visited The HALO Trust to review the decades of life-saving progress made possible by ongoing US assistance, Asbarez reports, citing the Armenian National Committee of America.
"HALO's landmine clearance program in Nagorno Karabakh is a lifeline for many communities," Rep. Chu told HALO's Artsakh Representatives after she and Rep Speier had an in-depth tour, which included a detailed overview of their meticulous demining process. "Over 80 percent of the region's population has benefited from cleared landmines. I will continue to engage USAID to ensure the continuation of HALO's life-saving program."
Congresswoman Speier told Armenia's H1 Television, "one of my biggest takeaways today is that our USAID funding is inadequate to complete this project. So, we are going to redouble our efforts and tomorrow, when we meet with the [U.S.] Ambassador in Armenia, we are going to make the case that more money is needed."
Similar sentiments were expressed last week by Congressional Armenian Caucus founding Co-Chair Frank Pallone (D-NJ) during his visit to Stepanakert. "The State Department believes, mistakenly, that the [HALO Trust de-mining] program is no longer needed, in other words, that most of the de-mining has already occurred," Rep. Pallone told reporters following his visit. "What we learned today from The HALO Trust people is that's not the case. There is still more work to be done. So, we are going to go back to the U.S. and stress to the State Department, when we meet with them, that there's still more work to do."
Chu and Speier arrived in Stepanakert for their first visit to the Republic of Artsakh, sending a powerful message to Azerbaijan's Aliyev regime that threats to "blacklist" U.S. legislators will not deter them from traveling to Artsakh and engaging in democratic dialogue with its citizens, elected officials, and civic leaders.
The two US lawmakers took part in a series of high-level meetings with Artsakh government officials, in addition to their field visits. They were joined in Artsakh by ANCA Western Region Board Member Raffi Sarkissian and ANCA Government Affairs Director Tereza Yerimyan.
Representatives Chu, Speier and Pallone visited Artsakh against the backdrop of standard State Department warnings issued to American travelers, and over the strident objections of the Azerbaijani government – which has placed them on a "blacklist" preventing future travel to Azerbaijan.
All three US Representatives voiced their strong support for increased Artsakh aid, particularly in light of the Administration's recent controversial bid to shut down US funding for The HALO Trust. Each legislator recently joined with over 100 of their House and Senate colleagues in formally protesting USAID's proposed cuts. In June, the U.S. House adopted an amendment to the FY20 foreign aid bill, spearheaded by Rep. TJ Cox (D-CA) and supported by Representatives Pallone, Jackie Speier (D-CA) and Adam Schiff (D-CA), calling for continued U.S. assistance for de-mining and rehabilitation services in Artsakh. The ANCA is currently working with Senate leaders to include similar language in their version of the bill, which is set to reach the Senate floor in the next few weeks.
Videos
16:06 • 31.07.20
My Future: New Billie Eilish Song Attracts Millions of Views on YouTube
15:07 • 30.07.20
NASA launches Mars 2020 Perseverance Rover with First Aircraft to Fly on Another Planet
09:44 • 21.07.20
Armenian-made UCAV Strikes Azerbaijani Military Objective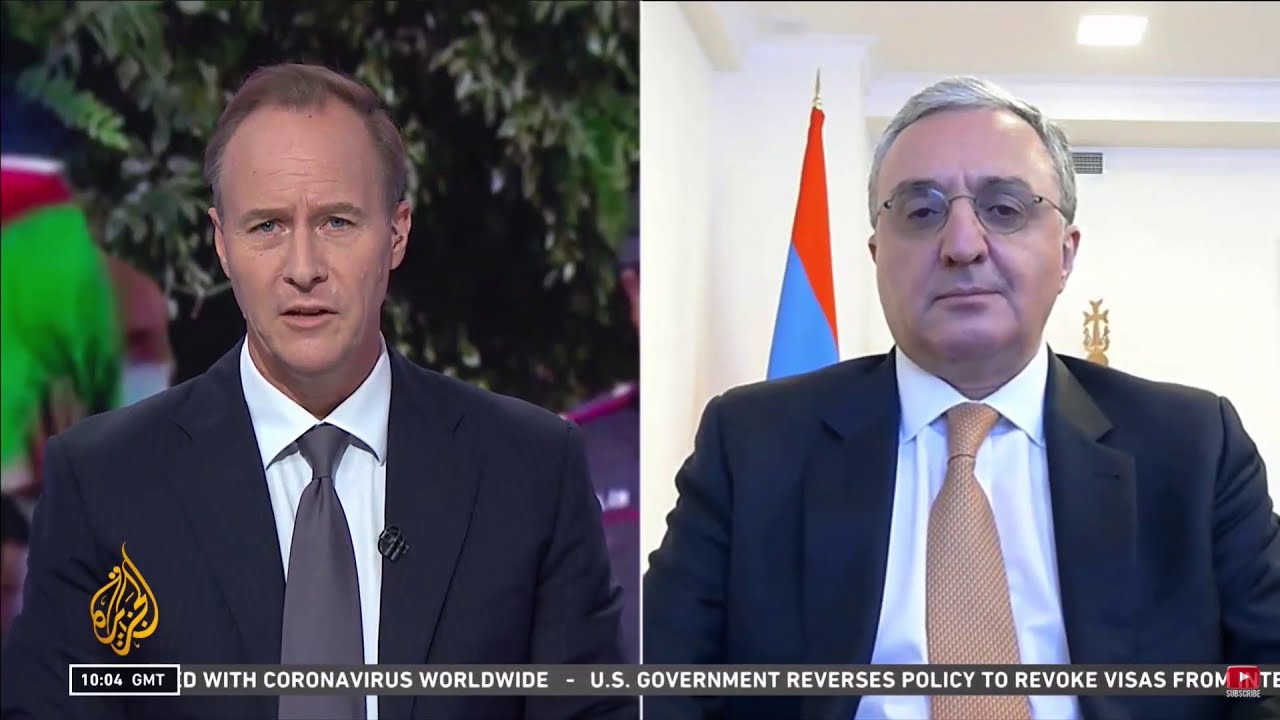 10:32 • 16.07.20
War is Not the Alternative to Peace Talks over Karabakh - FM Zohrab Mnatsakanyan's Interview to Aljazeera
15:33 • 15.07.20
Footage Shows How Azerbaijan Shells Armenian Villages in Jul. 13-14 Artillery Strikes
12:19 • 15.07.20
ANCA Calls for Action to Urge Congressional Condemnation of Azerbaijani Attacks against Armenia
12:13 • 14.07.20
Armenian Military Neutralize Azerbaijani Tank in Retaliatory Military Actions
12:42 • 07.07.20
Chilean Nurse Plays the Violin for Covid-19 Patients
17:38 • 01.07.20
US House Rep. Jackie Kanchelian Speier Discusses De-Mining Aid Program for Artsakh
14:59 • 26.06.20
Armenia's Prime MInister Under Criticism for Poor Handling of Coronavirus - BBC
10:07 • 24.06.20
Congressman Brad Sherman Testifies in Support of Continued US Aid to Artsakh
17:14 • 04.06.20
Meghan Markle says 'George Floyd's life mattered' in heartfelt message against racism
13:04 • 28.05.20
Armenia's Political Elite Celebtrates First Republic Anniversary in Sardarapat
14:13 • 15.05.20
3D Model of SARS-CoV-2 Virus at Atomic Resolution
13:25 • 09.05.20
Armenia's Political Leadership Marks 'Triple Victory Day' in Yerevan
16:29 • 04.05.20
Toyota Launches Karl Lagerfeld Limited-Edition SUV in Thailand
10:44 • 24.04.20
Armenia Commemorating 105th Anniversary of Genocide
12:31 • 23.04.20
Rep..Adam Schiff Discusses Genocide, US Aid to Armenia, Artsakh
09:22 • 23.04.20
Coronavirus: The World Has a Long Way to Go, Warns WHO Chief
15:33 • 21.04.20
Her Majesty, Queen Elizabeth II Celebrates Her 94th Birthday
13:59 • 18.04.20
Holy Fire at the Church of Sepulchre in Jerusalem
14:49 • 13.04.20
Andrea Bocelli Performs Eastern Sunday Concert From Italy's Duomo Di Milano
13:47 • 10.04.20
Kim Kardashian Does a Quarantine Makeup Tutorial With Kkw Beauty Products
16:59 • 08.04.20
Coronavirus Intensive Care: BBC's Special Coverage of London Hospital Where Doctors Fight to Save Lives
16:35 • 07.04.20
Seven-Year-Old Greek Piano Prodigy Pens 'Isolation Waltz'
12:35 • 27.03.20
World Coronavirus Update (Live)
23:27 • 16.03.20
Why Fighting Coronavirus Depends on You?
09:38 • 27.02.20
Kim Kardashian Spotted Throwing Punch at Sister Kourtney
10:53 • 22.02.20
Anna Turcotte: "Rooting Out Hatred toward Armenians Cannot Be Done By Brushing Aside History."
15:13 • 11.02.20
Virtual Reality 'Reunites' Korean Mother with Deceased 7-Year-Old Kid
09:35 • 23.01.20
Armenia is in a Unique Place to Act Like a Bridge Between Europe and Eurasia– Armen Sarkissian
16:03 • 21.01.20
US President Donald Trump Delivers Keynote Speech at Davos 2020
14:20 • 13.12.19
Pro-Armenian US Senators Issue Bipartisan Call on Genocide Recognition
09:49 • 12.12.19
I'm Not Going to Cease until We Do What is Morally Right - Menendez on Armenian Genocide
16:02 • 21.11.19
SpaceX Starship MK1 Explodes! At Boca Chica, Texas
10:10 • 08.11.19
Sen. Bob Menendez Calls for Passage of Armenian Genocide Resolution
16:07 • 30.10.19
Rep. Schiff on Recognizing the Armenian Genocide
11:03 • 26.10.19
Nagorno-Karabakh's Statuis and Security are Ultimate Priorities for Armenia, Mnatsakanyan Tells BBC
10:10 • 24.10.19
US Congressman Jim Costa Slams Turkey for Recent Actions and Urges Support of Armenian Genocide Recognition
16:12 • 18.10.19
LIVE: NASA Astronauts Spacewalk Outside the International Space Station
Analysis